Last updated on February 7th, 2013 at 05:04 pm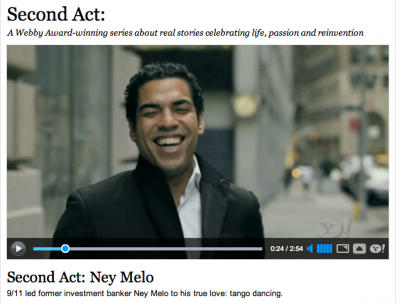 There's something about linking the ten year observance of 9/11 with my topic of personal finance mastery that makes me deeply uncomfortable.
I admit that you can't hardly go anywhere on the internet right now and not find someone linking something to 9/11. Understandable, because everyone is thinking about 9/11, and rightly so. Bloggers write about what people are thinking and talking about. I have no criticism of anyone including 9/11 in a blog post this week.
Still, there's something about money talk that feels small and mean compared with the sacrifice we solemnize this Sunday on the tenth anniversary of 9/11.
So I am not going to speak of personal finance mastery today. Instead I'm going to speak of life. But first, please watch this video below. It's about a guy who emerged from Ground Zero with a different life.
On September 10, 2001, Ney Melo was an investment banker.
On September 10, 2011, Ney Melo is a tango instructor.
Watch the video. He tells the story much better than I ever could. I'll wait for you to be done.
Did you cry? I did. I cried each and every one of the five times in a row that I watched it.
So here's what I want to say to commemorate 9/11.
Our lives can change. No matter how caught up we are in earning money, spending money, accumulating things with money, or losing things we got with money, we can learn that money is not the central factor. After we learn that, we can live it. Â Right now, the economy is offering most of us, to a greater or larger degree, and opportunity to do just that.
Each of us has something like 9/11. I know -whatever that is, Â it's not the same as it was for the people who perished on that awful day.
Whatever each of us has lost, it's not the same as it has been for those who lost loved ones on 9/11.
But that is exactly the point. Whatever trials we each face, they are not the same trials faced by those standing next to us. It doesn't make our trials meaningless in comparison, or their more meaningful or significant than ours. It's not a competition.
Rather, it's life – it's the way life is.
In life, we are given obstacles, challenges, and disasters. No life proceeds from birth to death without them. It's not about what those challenges were, in their details. It's about what we did with them in the moment, and in the aftermath.
Did we change? Did we choose a better, healthier, truer path? Or did we pause, recover, and resume the life we led before, as though the thing had never happened?
I personally feel a sense of shame, commingled with a sense of possibility, when I watch Ney Melo.
My shame is because I've had my disaster (one or two of them, actually), and they've changed me in the moment. Then, years later, I've looked up and noticed that I've fallen back into the old way. I'm disappointed in myself. I don't hold up well in comparison to Ney Melo.
On the other hand, my sense of possibility is because Ney Melo proves that a person can change for the better, can hold on to the sense of meaning in life, can turn a disaster into a chance to live better, and can go on to live truthfully.
In other words, Ney Melo reminds me I'm not done yet.
Change is hard. We face it every minute of every day. Then along comes A Big Change – a cancer, an abandonment, the loss of work and home, or whatever that may be. For us as a nation, and even for the world, 9/11 was A Big Change.
What have we done with our lives since that day?
I hope some of you will share an experience in the comments below. Speaking experience is one way to honor the memory of that terrible day and the ways it could change the world if we let it.
Jayne

Enjoy this special 8WomenDream Guest Contributor story submitted by new and experienced big dreamers throughout the world, edited and published to capture a dream perspective from different points of view. Do you have a personal dream story to share with 8WomenDream readers? Click here to learn how to submit dream big articles for consideration.
Note: Articles by Guest Post Contributors may contain affiliate links and may be compensated if you make a purchase after clicking on an affiliate link.