Last updated on May 17th, 2012 at 07:52 am
For my 9/11 tribute, I want to focus on the positive – the people who are proactively working to make a difference in the world. They are plenty of people in the category. I'm sure that you are one of them, even if in just a small way.
While it's impossible to list all the change makers and positive influences on our world here, I give you someone unique: Max McManus.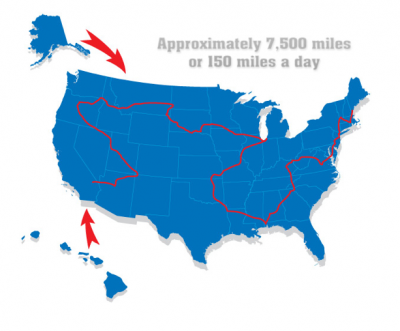 Photo: Freedom 50 50 The Map of Max's Travels
Max is traveling–by cycling–across all 50 states in 50 days to honor the victims of 9/11 and raise money. (He raised about $30K)
His big idea is to connect all the states together. He traveled about 150 miles a day. Find out how he managed to work in Alaska and Hawaii in this interview:
Even though he is honoring 9/11 in a big, almost impossible way, he incorporated his passion of cycling into his 9/11 tribute mission.
For me, that's a powerful thing. We can't all conquer outrageous feats, but we can all do something, and this man is proof that we can find a way to weave our passion and natural talents into what we do to give back. I believe Oprah calls this, "using your life."
Max's Mission and Story:
"As a tribute to the victims and the 10 year anniversary of the 9/11 attack on America, I, Max McManus, am going to "connect" the United States by riding my bike through all 50 states in 50 consecutive days. I'm starting July 24, 2011 and finishing at ground zero in New York City on 9-11-2011. 

Riding 8-10 hours a day, 50 straight days is extremely difficult but it will be my patriotic contribution to the freedom and sovereignty of our country to connect and hopefully "unite," in some way, all the States of America.

Along the way I hope each U.S. State, in its own way, will make a charitable contribution towards the 10th anniversary of TheHelpAmerica 9-11 Foundation. Growing up in many countries as a son of an Air Force pilot LT. Colonel, one thing that's apparent is the patriotism, pride and appreciation one ends up with knowing you are a citizen of the United States of America. I think the relevance of this became evident on that fateful day of September 11, 2001.

Defending and protecting the freedom of our country did not start on that horrific day, but it is the one day that's been the most disturbing to me. Recognizing this has lead to my motivation to attempt such a challenging and unique test.

Ultimately my success will be defined by how well I can make a difference by uniting as many people as possible in my quest. There were thousands of innocent lives lost and countless families affected by this attack. Reflecting on those lost, not taking our freedom for granted and appreciating how fortunate we are to live in this country is what I hope we never forget."
Again, anything you can do to use your talents, beliefs and passions to impact in anyone's life -even your own – is a big accomplishment. On the day after 9/11, those are the kinds of people I am honoring. As I end today's post, I'm not going to ask you what you are doing, but rather prompt you to think about it and be grateful for those, like Max, who are doing something to better our world.
Katie

Enjoy this special 8WomenDream Guest Contributor story submitted by new and experienced big dreamers throughout the world, edited and published to capture a dream perspective from different points of view. Do you have a personal dream story to share with 8WomenDream readers? Click here to learn how to submit dream big articles for consideration.
Note: Articles by Guest Post Contributors may contain affiliate links and may be compensated if you make a purchase after clicking on an affiliate link.