Last updated on February 14th, 2019 at 05:46 pm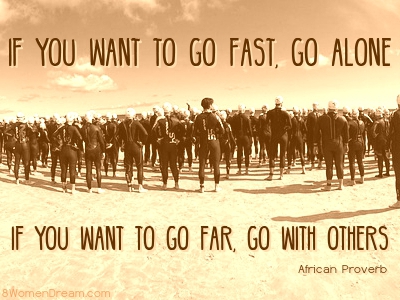 If your big dream is to become a triathlete after the age of 40 then you are going to need a support network.
According to research, there are two types of motivation: extrinsic (reward or punishment) and intrinsic (personally rewarding). But it's intrinsic motivation that leads to the long-term, continuous behavior change needed to participate in marathons and improve your health.
Research by a psychology professor, Dr. Gail Matthews, revealed that people who were held accountable to a support group were more successful at healthy goal achievement compared to those who tried to achieve greater health on their own.
But if you find that you don't have a support group or you are not surrounded by a supportive network of people, you can turn to the Internet to find like-minded souls who will support you with your triathlete dream.
But how do you find your supportive fitness tribe? Hashtags can be the answer!
If you don't understand the value of a hashtag, know that hashtags work like file categories in your office file cabinet. Hashtags are a way to search social media platforms for other people sharing and commenting on a particular topic. It's a way to join in on an ongoing conversation and follow people who are into fitness and health.
To help you find your triathlete fitness tribe online, I've put together a list of 64 fitness and healthy eating hashtags for triathletes that you can use to find the support you need to succeed at your fitness dream.
The following fitness hashtags are geared to Twitter, but they can also be used on Pinterest, Instagram, and Facebook. Instagram usually places an #insta before the word.
64 Hashtags for #Triathletes
• 8 Hashtags for Getting and Staying Healthy
#getmoving
#healthiswealth
#healthtalk
#healthtips
#healthychoices
#healthylife
#healthylifestyle
#wellness
• 8 Hashtags for Healthy Eating
#eatclean
#healthychoices
#healthyeating
#healthyfood
#healthyrecipes
#nutrition
#plantbased
#vegan
• 8 Hashtags for Fitness Motivation
#fitnessgirl
#fitnessjourney
#fitnessmotivation
#gymmotivation
#keepgoing
#noexcuses
#trainhard
#youcandoit
• 8 Hashtags for Becoming a Triathlete
#fitfam
#fitnessmotivation
#marathon
#swimbikerun
#tri
#triathlete
#triathlon
#triathlontraining
• 8 Hashtags for Distance Cycling
#bikeracing
#cyclocross
#cyclelove
#cycling
#cyclingcommunity
#cyclinglife
#roadcyclist
#triathloncycling
• 8 Hashtags for Runners
#100miletraining
#marathonrunners
#run
#runhappy
#runner
#running
#runsteady
#runstrong

• 8 Hashtags for Swimming
#goswim
#openwater
#openwaterswimming
#swim
#swimmer
#swimming
#swimmingcompetition
#swimtraining
• 8 Hashtags for General Fitness
#bodybuilding
#cardio
#exercise
#fitness
#gymtime
#training
#weighttraining
#workout
Pushing yourself to become a triathlete after the age of 40 as I have done is a lot easier with support. Try using these hashtags to find the perfect social media stream that will keep you motivated and help support you and your fitness dream.
See you at the next triathlon.
Heather Montgomery

Heather Montgomery is a fitness writer, triathlete, and serial entrepreneur who is devoted to sharing what she has learned about becoming a triathlete after age 40. She uses her Metabolic Training Certification to help other women struggling to get fit in mid-life. She lives and trains in Santa Rosa, California, the new home of the Ironman triathlon. You can find her biking the Sonoma County wine trails.
Note: Articles by Heather may contain affiliate links and will be compensated if you make a purchase after clicking on an affiliate link.