Last updated on September 28th, 2017 at 01:40 pm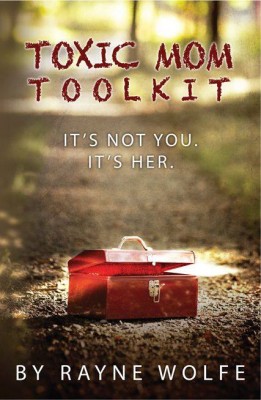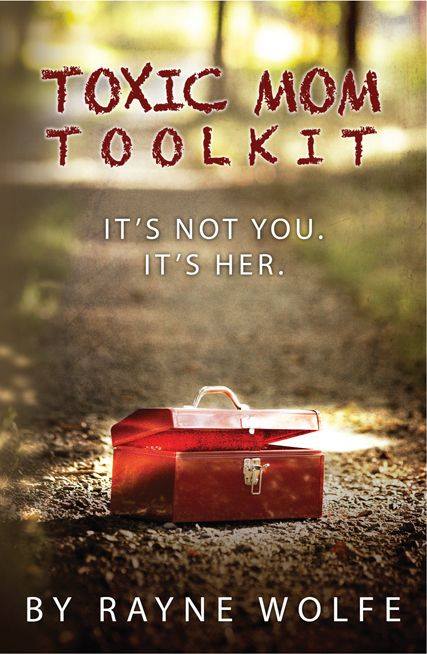 In 2009, I was a reporter working for a New York Times regional newspaper in Northern California's Wine Country. With ten years of daily news-gathering under my belt, I had survived multiple rounds of brutal layoffs and the stress was getting to me.
I thought it might be time to take a break before I broke.
With my husband's support, I left my job to write my memoir about growing up with three mothers: two very toxic, and one wonderful stepmother. I had a notion that I knew a lot about resilience and I could help others. I had also been collecting women's stories for years, focusing on how they survived their own very toxic mothers.
I was aware that I should build a platform to support my book writing and research led me to 8 Women Dream and Lord-have-mercy they were coincidentally looking for a new blogger to join their slate of online dreamers. I slaved over my presentation; agonized over my story and plans — and dreams!
And after a considered vetting process I was turned down with apologies and encouragement to try again.
The Universe Gives You What You Need When You Need It
It was the most important turn down of my life. I believed what they said: That they loved my project. That they wished me well. That they wanted me to apply again.
That "rejection" fueled my early work. Not in an I'll-show-them sort of way, but more in a Wait-till-they-see-this! way. I created a Toxic Mom Toolkit Facebook page, which I grew from 35 friends to currently over 250,000 visitors per month.
By the time it was possible to apply to be on 8 Women Dream again, I had much more to talk about and was deep into the creative process. Finally accepted as a member of 8 Women Dream, I wrote about my dream of publishing my first book.
From the platform of 8 Women Dream, I found and interviewed hundreds of women from all over the world. I curated extensive Toxic Mom Toolkit questionnaires developing them into a wide range of mini-memoirs. Every person I spoke to increased and informed my work and made it richer.
I realized that writing my own memoir was nice, but what would be epic would be to marry my story with a rainbow of stories, each illustrating a different type of toxic mom. And, after my year at 8 Women Dream was up, I was fueled to tackle the hard work of editing, polishing and publishing my manuscript.
Women had trusted me with their stories and told me amazing things; things they had never told another living soul.
They laughed and cried with me. They also encouraged me. I remember one lady, in particular, saying that each morning while she was driving she prayed for my book. For three years of writing, which included many challenges, the idea of a lady on the freeway praying for my book, kept me focused.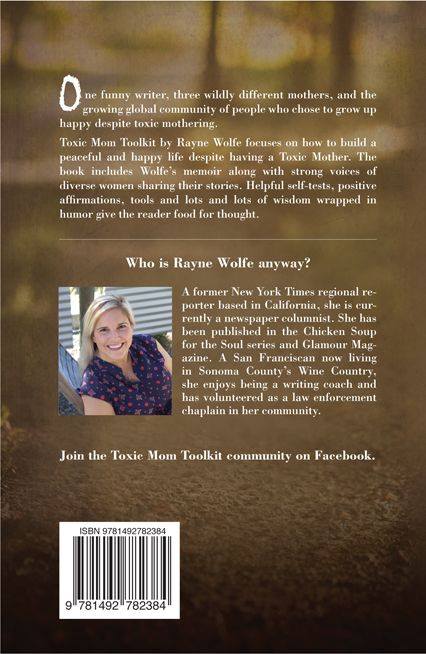 Starting from a broken place, with lots of help, I am now healed and an author. Along the way, I've learned that it is in sharing our stories that we heal others.
Toxic Mom Toolkit is available on Create Space and Amazon.com, thanks in large part to the energy and encouragement I received from everyone at 8 Women Dream and all the people I met during my online tenure.
What I find very poignant is that my book owes so much to 8 Women Dream – literally. It seemed that as each obstacle arose – one of my friends from 8 Women Dream popped up with offers of help and encouragement.
I have dreamer colleagues, designer, Iman Woods to thank for creating a killer book cover and photographer, Remy Gervais to thank for taking my "sane and approachable" book cover headshot.
It would have been great to write my memoir.
But I'm so glad I opened myself up to the energy and creativity of the 8 Women Dream community. When readers hold a copy of Toxic Mom Toolkit in their hands, they may not know the story behind it.
But we will. We will.
Rayne Wolfe
To connect with Rayne personally, please visit her at her website, toxicmomtoolkit.com.
BUY TOXIC MOM TOOLKIT: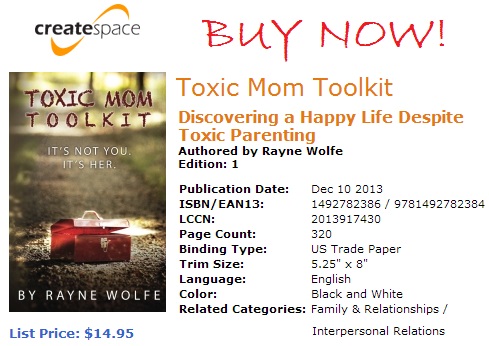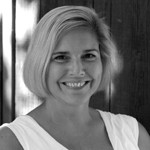 Rayne Wolfe is a freelance writer, and a former New York Times, Seattle Times, San Francisco Chronicle, and Sonoma Media, journalist. Her first book, Toxic Mom Toolkit: Discovering a Happy Life Despite Toxic Parenting (CreateSpace) was released in December 2013 and is available on Amazon. Rayne's non-fiction work is published in the Chicken Soup for the Soul series and Glamour Magazine.
Note: Articles by Rayne may contain affiliate links and may be compensated if you make a purchase after clicking on an affiliate link.