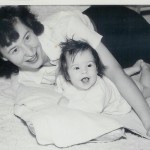 In committing to the dream of writing Confessions of an Undutiful Daughter Toxic Mom Toolkit I had to be absolutely sure I was right about my mother.
I've given a lot of thought to her life experiences and challenges, her choices and deeds.
I've been as objective as I can about my mother in her twenties, thirties, and beyond, comparing her life to mine at similar ages and I've concluded that in the pantheon of toxic moms mine is ranked somewhere between Joan Crawford in "Mommy Dearest" and Norma Bates in Psycho.
You remember Norma — the lady who wouldn't hurt a fly.
Which might make you wonder how toxic is your mom?
She might have dressed you funny or refused to let you go to sleep-away camp, but was she really so bad?
To be fair, you could factor in times when money was tight or her cat died and cut her some slack.
Or you could take a deep breath and look at my unscientific test to help you decide if your mother is truly toxic.
One point for every time you say to yourself, oh yeah.
YOUR MOTHER MAY BE TOXIC IF:
1. When you see her number on caller I.D. you freeze.
2. When it takes more than 15 minutes to warn new friends about how to act around her and the silent signal for we're leaving!
3. You are certain that she views you as social or sexual competition.
4. You really don't know very much about her life story or extended family.
5. She lies about your age.
6. If you've lost track of more than five uncles.
7. Gifts from her regularly include silent messages of the need for improvement.
8. She is quick to cut off family members who cross her.
9. She keeps no photos from a significant portion of her life or she always has a faraway look or smirk on her face in family photos.
10. She compulsively measures and monitors household supplies.
11. Movies with strong mother/daughter themes get you weepy.
12. You feel your mother loves you only when you are successful.
13. You feel anxious in the days leading up to family gatherings.
14. Your mother was or is addicted to alcohol, drugs, sex, or other destructive activities.
15. She enjoys pitting one family member against another.
16. She left you in the care of an irresponsible adult or an immature sibling; or if she ever left you home alone for extended periods of time.
17. If she gave you luggage for your high school graduation.
Usually these lists have a ranking at the end, but I'm going to leave that to you. Is ten okay? Is one too much? Maybe it depends on which one. I left out several that apply only to me, like: if you were ever kidnapped and your mother didn't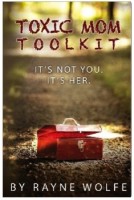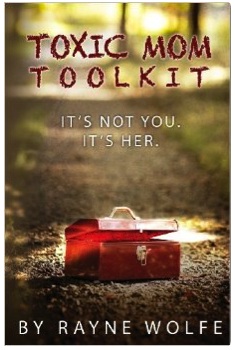 notice.
Have a good week and remember undutiful daughters survivors of toxic mothers need to be kind to themselves.
Rayne Wolfe
It's Not You. It's Her.
Rayne Wolfe accomplished her dream of publishing her first book Confessions of an Undutiful Daughter Toxic Mom Toolkit. You can find her at Toxic Mom Toolkit on Facebook.
[fbcomments]