Last updated on July 2nd, 2012 at 12:25 am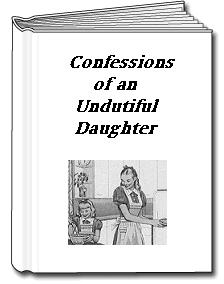 The thunder and lightning storm beating Northern California has taken down my computer.
So here are my top 8 posts from 2010 on dealing with toxic mothers/parents, as I pieced together the sections of my book, Confessions of An Undutiful Daughter over the past 7 months.
Drum roll please.
My Top 8 Posts For 2010 On Dealing With Toxic Parents –
Massages can be tricky things. Each masseuse has an individual style and vibe. Growing up in a family that spent weekends at Wine County hot springs, I know a good massage and I've come to expect a restorative experience . . . but this one in Hawaii was life-altering.
My dad always said, "Be careful what you wish for." I wished for a photograph of my mother as a young woman. I had plenty of pictures of my adoptive mother, the mother who raised me; and a few of my darling step-mother. But I had no photos at all of the teenager who gave me life and then gave me up.
6. Eat, Pray, Cope: What Kind Of Toxic Mother Do You Have?
My introduction to someone else's wonderful book, Coping with your Difficult Older Parent: a Guide for Stressed-Out Children by social workers Grace Lebow and Barbara Kane (with Irwin Lebow) was published in 1999 by Quill (Harper Collins).
My unscientific test to help you decide if your mother is truly toxic. I offer one point for every time you say to yourself, oh yeah.
Where I answered my own Undutiful Daughter questionnaire for all to see. Read with caution.
Having friends seems risky to a kid who doesn't trust her own mother. What is your experience with friendships?
Where I ask my readers to consider being part of my book, Confessions of An Undutiful Daughter by completing my Confessions of An Undutiful Daughter questionnaire(pdf).
My little mantras, little affirmations to shield me from toxic mother fall-out. They can help you too. This is my number one, most popular post by our readers. If you are suffering with a toxic parent, you might want to spend a few moments reading this post.
There you have it – my top 8 posts on 8 Women Dream.
Remember you are not alone in dealing with toxic parents. I am always here to lend an ear.
Would you like to fill out my questionnaire, Confessions of an Undutiful Daughter, and tell me about your experience with your toxic mother?
Until next Sunday,
Rayne Wolfe's dream is to write her first book Confessions of an Undutiful Daughter by the end of 2011. She completed her dream journey May of 2011 on 8WD after a year living her dream. You can find her at Toxic Mom Toolkit on Facebook.

Enjoy this special 8WomenDream Guest Contributor story submitted by new and experienced big dreamers throughout the world, edited and published to capture a dream perspective from different points of view. Do you have a personal dream story to share with 8WomenDream readers? Click here to learn how to submit dream big articles for consideration.
Note: Articles by Guest Post Contributors may contain affiliate links and may be compensated if you make a purchase after clicking on an affiliate link.