Last updated on January 1st, 2011 at 09:23 pm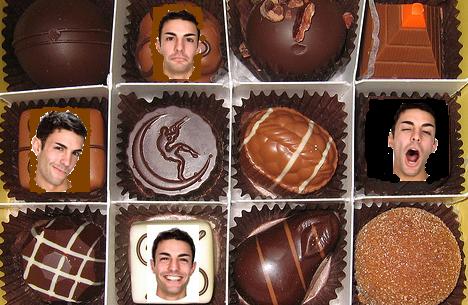 Dating Successfully is Like Sampling A Box of Chocolates . . .
What does it feel like to actually complete the act of dating? Did I say complete?
The correct phrase is more likely "accomplish the act of beginning dating." You know, the move-forward-to-a red-blooded-live-man-directly-in-front-of-me part. The part where in order to converse with him, I have to go somewhere and actually look into his eyes.
Ladies: hold your breath.
Miracle of miracles it actually happened: I met men.
Did I choke?
I can say that I did not choke. In fact, everything went perfectly. Not only with Contestant Number 1, but it also went well with Contestant Number 2 – and (round of applause) well, it went with Contestant Number 3.
Now I know you ladies and you are all probably wondering –
Were they potential future partners?
Are they potential dating partners?
Or perhaps the potential for a new best friend?
First things first.
Meeting them went so well that I had to ask myself:
What have I been afraid of these last few years?
Why was it so difficult to believe that it would be alright to date?
Was I afraid I would fall in love over coffee?
Or shall I possibly believe that if I do open my heart, that it's okay to get hurt AND it's okay that (perhaps) love might not hurt this time?
This week I discovered that it is okay to take a chance on dating, my dreams and facing my fears.
And the future . . . ?
I did not fall in love.
The contestants did not fall in love.
This being said, I do look forward to meeting men and dating in the future. I am now completely open to whatever life has to offer.
I am sure that perfect partner is out there waiting for me. Will I meet him, maybe next month or next year. It doesn't matter. What does matter is that I will stay on this dating path and continue moving forward with my dreams.
I know! I know! You want details! You want to know what was in my dating box of chocolates –
Contestant Number 1 –
We were scheduled to meet at 9am over morning coffee. I wanted to make sure I arrived well before him, get myself coffee and find a great place for us to sit, where I could get a good view of everyone as they walked into Starbucks. Then I prayed I would be able to recognize him.
There he was – looking exactly like his photos. A little shine to his balding blond head, wrinkles in the corners of his blazing blue eyes, as he looked my way and smiled.
He was such a nice guy. So kind and complimentary. He had a good sense of humor and definitely had a great outlook on life.
As the time drew near for me to stroll down the street and meet with Contestant Number 2, I needed to wrap this up. I thanked him and let him know what a great time I had and it was nice to meet him, suggesting that he have a nice day. Did he ask to see me again? Of course. Will I be dating Contestant Number 1 anytime in the near future?
Then . . .
Contestant Number Two –
After having had such a nice time with Contestant Number 1. I was barely on time for Contestant Number 2 at Peet's Coffee Shop, just three short blocks down the street from Starbucks.
We actually entered the coffee shop at the same time. Being 6'1″ and 220 pounds, he was quite easy to spot. He was in a position as to open the door for me. We both knew immediately who the other was. We got in line together and he offered to purchase our coffee, which I accepted.
Our conversation wasn't quite as cheerful as with Contestant Number 1. Contestant Number 2 was a much more intense person with the conversation centering on his up-and-coming divorce. People who are not divorced yet are still married – they just don't see it.
Needless to say, I ended up falling back on my profession and counseled him, then ended the "date" with a "gotta run".
Then . . .
Contestant Number 3
It happened. I did not recognize him. The photo online looked nothing like the man who walked into the coffee shop. Thank God he had the ability to locate me from my photo.
We all know that looks are important, but they are not my number one priority. In my book, chemistry is the most important criteria. Values, morals and ethics are next.
Honesty is everything when you are dating.
After I purchased Contestant Number 1, a white chocolate mocha and a poppy seed muffin, while he located very uncomfortable seating for us to chat. We were going to walk around the Petaluma's Theater District but I made the decision that I wanted to get this speed date over with as soon as possible.
So I did.
I discovered that I am capable of doing this. I survived. It was an adventure. Dating can be like travel. Some places you visit are wonderful and amazing and other places are interesting but you would never want to travel there again, and some places you can't leave fast enough. But each place gives you a story, a memory, a laugh to share with friends.
Dating is like a box of chocolates. I think I will take a little bite out of each one and decide which flavor I like best.
Now what's in your dream box of chocolates this week?
Veronica
Veronica rotated off 8 Women Dream in December of 2010 after successfully completing 2 dreams.

Enjoy this special 8WomenDream Guest Contributor story submitted by new and experienced big dreamers throughout the world, edited and published to capture a dream perspective from different points of view. Do you have a personal dream story to share with 8WomenDream readers? Click here to learn how to submit dream big articles for consideration.
Note: Articles by Guest Post Contributors may contain affiliate links and may be compensated if you make a purchase after clicking on an affiliate link.