Last updated on August 31st, 2012 at 12:53 pm
Bruno Mars glorifies it in his currently hit, The Lazy Song. In Eat, Pray, Love, Elizabeth Gilbert discovered it in Rome Italy while taking a day to read the paper and make her self a slow-cooked breakfast. So what it is?
"Il Dolce Far Niente" – the art of doing nothing.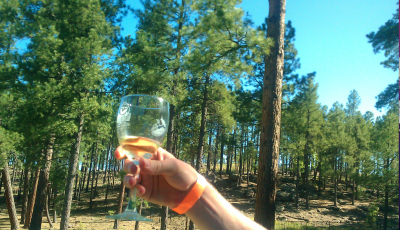 Cheers to the Art of Doing Nothing–and bright orange wristbands.
The time you spend with yourself or friends with no attention paid to time or no specific agenda or hounding plans to rush off to. You're just there–in the moment. Appreciating the fact that you are just there–or rather here, on earth as the wonderful person you are.
Today I don't feel like doing anything

I just wanna lay in my bed

Don't feel like picking up my phone, so leave a message at the tone

'Cause today I swear I'm not doing anything

Nothing at all, nothing at all
-Bruno Mars The Lazy Song
At my day job now, I am responsible for launching a couple hundred websites in the coming months. This past week in particular included completing five of them.
Needless to say, I was a little tried from the all nighters and constantly high-stress pace.
This weekend, however, I slowed down. I blocked out my calendar, turned off my ringtone, and focused on one thing I had been looking forward to–attending a food and wine fest.
I sipped local wines, sampled local tapas on sat on a picnic blanket with my boyfriend surrounded by soft acoustic music swirling through soaring pine trees and mountains. It was magical :)
Sure it wasn't a lot, or a big deal. It didn't advance my career, it didn't make me money, but it made me smile–boundlessly. (It probably slowed my heart rate, eased my nervous system and increased serotonin, too.)
When I took the time to savor the art of doing nothing, I realized that this is exactly what I dream about doing when I am working my life away at behind an electronic screen.
I dream about doing nothing.
I dream about sitting in the sunshine with a bottle of good wine and hearty food and watching the clouds drift over the mountaintops. Laughing and sharing great conversation with people I love.
Our dreams don't have to be big to make us happy. They just have to be something to look forward to.
This reminds me of something one of my favorite medical doctors/health pioneers, Dr. Mark Hyman, once said, along the lines of:
Isn't the dream to live a long, happy life so that when you die you can go to a cabin on a lake somewhere with your lover, cook a healthy, organic meal together, enjoy a wonderful bottle of wine, skinny dip under the stars, make love and then pass away in each others' arms?
Again, it's simple, but it's real. I feel too often we set dreams for ourselves that might never happen. I'm guilty as charged. Instead, let's focus on what really makes us happy and what we can do now to taste that bliss.
Here's my simple steps to achieve the art of doing nothing:
Do nothing!
I am only half-way kidding with that one. How about this–think back to the time in your life when you were the happiest. How did you relax back then? Now do that, and see how it feels.
What do you do when you indulge in the art of doing nothing?
Katie

Enjoy this special 8WomenDream Guest Contributor story submitted by new and experienced big dreamers throughout the world, edited and published to capture a dream perspective from different points of view. Do you have a personal dream story to share with 8WomenDream readers? Click here to learn how to submit dream big articles for consideration.
Note: Articles by Guest Post Contributors may contain affiliate links and may be compensated if you make a purchase after clicking on an affiliate link.