Last updated on December 10th, 2010 at 12:06 pm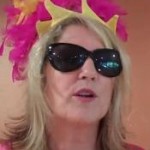 Hey all you Dreamer's,
Sometimes you just have to go for your dream.
I've finally got my rap videos going.
This week's rap is "Pretty Pink Plea" featuring myself, and my girlfriend Toni –
"Pretty Please Pink Plea"
By : White Chocolate (me)
Hey there Pink
Here's the thing
I think I can rap
And I know you can sing
So
Pretty please Pink
Collaborate with me
I wanna realize a dream
I want girl's to see
The value of divine femininity
I love your style
You tell it like it is
You've got what it takes
To thrive in the biz
You have soul
And you have heart
And I'm a little crazy
That's a good start
You've already inspired
Women young and old
But it's much much more than that
The truth be told?
You've mastered the art
Of being femininely bold
So
Pretty please Pink
Collaborate with me
On a power rap to
Set girl's free
Let's write something seriously fun
Something wild that'll get the job done
A warrior beat
An ode to the moon
Can't wait to meet you
So call me . . . soon.
I'm sure we will be hearing from Pink as soon as she sees this video.
Leave a comment and let me know what you think.
We sure had a fun time doing it. My girlfriend – the So Yo girl in the video, is always up for some fun and I so appreciate her support. It can only get better.
Tune in for my next video shout out – An Ode To Oprah.
One more thing. I went to a meditation, healing, chanting thing last night in San Francisco with my daughter and my hubby. Totally cleared my head . . . and that leaves some space for dreaming.
So three deep breaths and a couple of OMS can't hurt.
Namaste' and have a GROOVY week!
Big Love,
Laurie
Laurie has several amazing dreams going on in her life at this time. She left 8 Women Dream in November of 2010 to work on Club B and her NIA business.


Enjoy this special 8WomenDream Guest Contributor story submitted by new and experienced big dreamers throughout the world, edited and published to capture a dream perspective from different points of view. Do you have a personal dream story to share with 8WomenDream readers? Click here to learn how to submit dream big articles for consideration.
Note: Articles by Guest Post Contributors may contain affiliate links and may be compensated if you make a purchase after clicking on an affiliate link.