Last updated on June 23rd, 2011 at 10:37 am
Okay, I admit it. I'm addicted to doing research on Ancestry.com.

You know Ancestry.com.
It's the one whose commercials feature little green leaves and encourage users not to worry where they are going — to just plunge in and see what they can find.
It's a bargain at $19.95 per month and some libraries offer it for free if you have a library card, but you have to sit at a computer station in the library to log on.
They say start with what you know.
Nearly two years ago, I began a personal research effort in preparation for writing my first book "Confessions of an Undutiful Daughter" which focuses on how I grew up (relatively) sane and happy despite my toxic mothers.
I typed in my name and birthday and watched my laptop think. Not only did Ancestry.com find my amended (adoptive) birth certificate, it quickly coughed up my original birth certificate – the Sally Ann version – that was sealed for most of my life, but apparently isn't anymore.
In quick order I confirmed the births, marriages and some deaths of my birth parents and adoptive parents. I reviewed overlapping family trees (created by other members) and scanned newspaper obituaries as well as census, military and prison rolls.
I stumbled over my mother's father's newspaper funeral notice where in teeny-tiny print I discovered a relative of which I had never heard.
That's how I found my adoptive mother's older sister, my Aunt Elaine, when I was 53 and she was 88.
She lived about two hours away by car. I figured the best way to make contact was to write her a letter. Within days we were exchanging letters every day — sometimes two-a-day coming from her. In them she explained she was mostly deaf, had a heart condition and had had several mild strokes.
She couldn't really talk on her phone because she couldn't hear, but, man, she could write!
Her letters were filled with occasional undecipherable scrawls, tons of funny malapropisms and she always signed off with the directive to — Bee Happy.

She was desperate to have contact with her baby sister, my 84-year-old mother, with whom she had lost contact in the '70s. I thought it was sweet when she wrote that she prayed for her sister every night.
Coincidentally, my mother had been in contact with me, asking me to visit her.
We had a long phone conversation about visiting during which I explained that we had had no contact for nearly 20 years because I felt that she was not a nice mother.
News to her my elderly mother said.
I've written about this key conversation in previous posts. It was a biggie, because it was the first time I realized that my mother had not only lost her power to intimidate, hurt or upset me. I also noted that her brain had become butter-fingered with any combination of who-what-when-where or why.
So, I hatched a plan to reunite the sisters via letters – something they could both do and might both enjoy. Plus, if I was lucky, neither would remember that I existed. But first, I wanted to capture the story of my mother's early life.
I had to do my research.
If you are in a position to do this type of digging I say pick up the shovel, baby. Sooner is always better than later. Elderly relatives can be goldmines, but you can't wait till next summer, next Christmas.
You have to do it now.
The point of family research is to gather data, confirm or reject past stories, enrich your understanding of early influences including things like The Depression, wars or loss, so snap stuff up while you can.

For those of us trying to make better sense of our early lives few things are more valuable than old-fashioned fact checking.
Start by double-checking your birth date and your parents marriage date. Counting on your fingers could put a whole lot into sharper perspective.
Facts are wonderful things.
Facts are the cold water that put out old arguments.
The crazy thing about my correspondence with my Aunt is that it quickly digressed to digs and complaints in her shaky hand mainly about my not visiting and not writing sufficient letters. (Well, she is my mother's sister.)
Eventually I drove up to meet her, took her to lunch and listened to many disturbing stories including her need to padlock her refrigerator because some man was breaking in at night and eating her food so she bought a second smaller fridge and stocked it with things he didn't like.
She told me how she adopted a baby from a lady who already had too many children after God told her to drive to the edge of town and knock on the first cabin door she saw. The detail that makes this story: she later got a call from the same family who asked her to adopt another baby they didn't really want – which she did.
This is my family!
It was my aunt to told me the story of her alcoholic mother kidnapping my mother from school when she was six and taking her to San Francisco. This is a story that my mother never knew. It greatly increased my understanding of my mother's life.
My Aunt further explained that it took years to track their mother down and bring her back to face a judge who asked my mother who she would prefer to live with. My mother's childish choice to go with a boozey broad ever in search of her next male mark was a sad one.
Meanwhile, as most good deeds do, this one backfired.
Not only did my mother spurn her sister's epistolary overtures, she was furious at me for setting the postage stamp reunion into motion. To this day, I can only speculate on the origin of the sisterly rancor. But I have plenty of guesses.
I learned so much from my aunt before she fired me as her new found niece. After months of writing nearly daily letters full of concern and stamps she had decided that I was selfish and obviously "in it for the money when everyone knew she was giving everything to her church in her will anyway."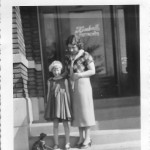 She absentmindedly cut contact with me in a series of nearly identical kiss-off letters.
My mister said if I ever wrote to her again he would shoot me and I had to agree. It was one thing to do research, collect oral histories, compile family stories and exchange vintage photos. It was another to accept nuttier-than-a-fruitcake abuse.
So I wrote her a final letter full of thanks and well wishes and when fresh letters from her arrived in my mailbox I slipped them in a folder unopened.
Eventually they stopped.
Was I selfish or had I simply realized that I didn't need my aunt's permission to Bee Happy? I guess I already knew how to Bee Happy on my own.
And you, what about you?
Rayne Wolfe's dream is to write her first book Confessions of an Undutiful Daughter by the end of 2011. She completed her dream journey May of 2011 on 8WD after a year living her dream. You can find her at Toxic Mom Toolkit on Facebook.

Enjoy this special 8WomenDream Guest Contributor story submitted by new and experienced big dreamers throughout the world, edited and published to capture a dream perspective from different points of view. Do you have a personal dream story to share with 8WomenDream readers? Click here to learn how to submit dream big articles for consideration.
Note: Articles by Guest Post Contributors may contain affiliate links and may be compensated if you make a purchase after clicking on an affiliate link.