Last updated on March 30th, 2012 at 12:38 am
Happy Positive Thursday friends and fellow dreamers!
I hope you're enjoying a tall cup of coffee, sunshine beaming through the window and warm weather this morning.
I certainly am!
Last week, I shared with you the importance of celebrating your dreams, your achievements, your accomplishments.
Even if we haven't accomplished everything on our "dream to-do list", it's important to take time to celebrate and appreciate just how far you've come. I am faaaaaar from completing all the dreams I've set out to do this year — but I am proud and happy to check a few off my list. Even more, I'm proud to be living out my dreams each and every day.
Celebrations are in my nature – and boy, do they feel fantastic!
This week, I'm unfortunately feeling the "downside" of celebrations. When you are planning and anticipating something so, so good – do you ever feel a little let down when it's over and done with? For me, I was BEYOND excited to go home and graduate college and the few weeks following the trip home were a bit of a "buzzkill."
I was feeling a bit mopey and down – as in, all my energy was focused on this specific event (my trip home) rather than the larger picture (life in general). Â Although the past few days have been harder than I planned and less exciting and glitzy than I prefer, I'm going to take the experience with a grain of salt.
One thing that has honestly helped me this week was my personal Thursday Thankful List post on my own blog. In today's post, I shared:
I was feeling overwhelmed with the future until I was cheerfully reminded by the sheer goodness of life. Goodness is honestly chasing us every single day – but we have to be willing to open up and really look for it!

Why should I – and CAN I – be negative, discouraged and overall just down when I have so many blessings in my life?

Nothing I am going through can overshadow the innumerable gifts of grace and goodness I'm given daily.
It's definitely not easy -but I encourage you to look for and appreciate the little things in the middle of your struggles.
I'm talking about things most people don't notice – being awestruck at the thousands of colors in a butterfly's wings, the way your body heals itself, the sounds of wind blowing. The past few days, turning these "little things" into big things has been so vital and beneficial to my well-being and happiness.
Although we all have "off" days or weeks or months, it's nothing something we are stuck in.
This position does not have to be permanent. Rather than convincing yourself everything is "absolutely okay and perfect!", accept where you are at and start small. Start being truly amazed at things that most people don't even notice – then you will truly realize how insanely wildly blessed you are.
Thank you for the opportunity to share with you on this site – although I am genuinely a positive, upbeat and cheerful person, sometimes I do have down or "off" days. Today is one of those days where I am trying to work and live in the midst of feeling not myself.
Optimism seems a little more forced – which is why I'm starting small.
There are so many little things that we completely pass by – and in my weird funk of a mood, I'm letting myself shift to thinking and appreciating these things. If I can't seem to grasp why a certain situation is happening, at least I can grasp that life is good – and that there is beauty and sheer goodness is almost every situation.
Thank you for your consistent support, prayers and feedback. You are so appreciated! What are some "little things" you are thankful for today?
Turn those little things into big things.
Until next positive Thursday, xo!
xoxo – Andi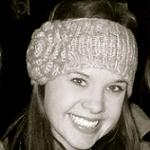 Andrea's dream is to graduate college from Ohio University in spring 2011, to find a job that allows her to utilize her public relations education and skills; to launch her own personal website www.polish-my-crown.com; and to become a certified life coach and motivational speaker. Andrea's post day is Thursday.

Enjoy this special 8WomenDream Guest Contributor story submitted by new and experienced big dreamers throughout the world, edited and published to capture a dream perspective from different points-of-view. Do you have a personal dream story to share with 8WomenDream readers? Click here to learn how to submit dream big articles for consideration.
Note: Articles by Guest Post Contributors may contain affiliate links and 8WD will be compensated if you make a purchase after clicking on an affiliate link.