Last updated on April 2nd, 2012 at 11:28 am
Good morning and happy positive Thursday friends!
I hope you're having a refreshing start to the day and are ready for a long weekend – can't complain about THAT, right?!
Last week, I wrote  Positive Thursday: 8 Things You Are Not — about the 8 things you definitely are not. As women, it's so easy to get caught up in myths about "what matters" when in reality, these things are not all encompassing. Yes, your job is important. No, it will not save your life. Yes, your family is important. No, they do not define you.
I shared:
You are not your job, your family, your relationships, your material possessions, others' perceptions, your past, your success, your body. You are of value completely outside of these eight aspects of life. And you are loved and worthy right where you are at.
I'm excited to announce I think I reached a new goal, a small "dream" if you will. As many of you know, one of my dreams in life is to become a certified life coach.
I'm passionate about encouraging, motivating and inspiring others to live their lives to the fullest, to approach life confidently and optimistically, to embrace themselves for who they are.
While that full-fledged dream can't become a reality today, I am not giving up.
Which is WHY….I decided to check out some volunteer opportunities! In a past post called The Importance of Living Daily Dreams I wrote about small steps we can take everyday to reach dreams – and realize that living life in the HERE and NOW is so, so vital.
Some of these daily dreams included working hard, staying strong, thinking positively, volunteering, worrying less. The reason volunteering was a great "daily dream" for me to stay proactively work on is because I can't fully dedicate my life to being a life coach at this given moment.
I can, however, live outside of myself by giving my time to others.
I've been applying and interviewing for a position as a Girls Action Coach with Girls for a Change, a national organization that empowers girls to create social change. GFC empowers and inspires girls to have a voice, ability and problem solving capacity to speak up, be decision makers, create visionary change and realize their full potential (taken from their website).
Hollllla! This is WHAT I am all about.  Here's a little more info taken directly from their website:
Girls For A Change empowers young women to create change in their own communities with the guidance of adult women. About 5-10 girls and two women "coaches" make up a Girl Action Team. Teams design and implement a social change project that will make a lasting change in their neighborhood, city or school.

Being a volunteer GFC coach weekly is just what I need. It's so important to be excited about these "little dreams" which are actually big opportunities leading to your larger dream. Living out your daily dreams leads to fulfilling these "little dreams."
I am beyond excited to have the opportunity to coach a group of young girls and inspire them to make a difference at their schools and in their communities. What good practice for me. What a way to impact others. What a way for me to live outside of myself, stop staring at my computer, stop thinking about MY life, MY to-do list, myself.
Although this opportunity isn't the overarching huge life coach dream I'm hoping to accomplish, it is a big deal to me. Right now, this is the best I can do and right now, I am extremely happy about it.
Wise words, my friends:Â Do what you can with what you have when you can.
As usual, THANK YOU for reading!
I totally appreciate your comments and feedback and support. Thank you also for checking out my personal blog Polish My Crown– which I'm working on growing and expanding as a go-to source for inspiration and a little "crown polish" if you will. You'll have to start reading to fully understand what that means.
Enjoy your POSITIVE Thursday – yipee!
Almost the weekend!
xoxo – Andi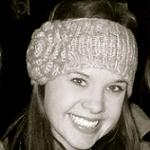 Andrea's dream is to graduate college from Ohio University in spring 2011, to find a job that allows her to utilize her public relations education and skills; to launch her own personal website www.polish-my-crown.com; and to become a certified life coach and motivational speaker. Andrea's post day is Thursday.

Enjoy this special 8WomenDream Guest Contributor story submitted by new and experienced big dreamers throughout the world, edited and published to capture a dream perspective from different points of view. Do you have a personal dream story to share with 8WomenDream readers? Click here to learn how to submit dream big articles for consideration.
Note: Articles by Guest Post Contributors may contain affiliate links and may be compensated if you make a purchase after clicking on an affiliate link.