Last updated on February 17th, 2023 at 11:20 am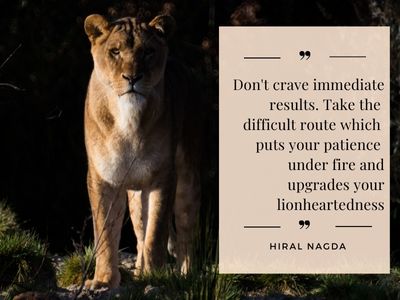 Recently I wrote the story, Dare to Trust Yourself and Your Big Dream, where I shared the importance of T R U S T when going after your big dreams.
I wrote:
You will never be 100% absolutely, positively certain about the future. Even if you plan, research, strategize, analyze and organize something to happen, it might not happen. Things might not go exactly according to your plan.
Along those lines, we will never be 100% absolutely, positively certain about the present. I tracked my commute online before I left work today to make sure I was at the bus stop on time and mapped what time I would arrive home.
Did that happen? No. President Obama came to town and all manner of public transportation turned into a big mess. Setbacks happen. Roadblocks happen.
As I waited for the very late bus to arrive, this quote by actor Lee Majors came to mind:
I've had disappointments and heartbreaks and setbacks and roles I didn't get, but something always came along that either made me better or was an even better role.
It's important to maintain perspective when faced with dilemmas, roadblocks, and setbacks. Sometimes these situations happen, but we have a conscious choice to make when they do. We can sit, complain and pout or we can take a higher path.
One thing I know for sure is that I will not complain about commuting two hours because I know how it feels to commute for 3.5 hours. Without pestering setbacks and roadblocks, we wouldn't be able to embrace quick trips. Without challenges, we wouldn't be able to enjoy opportunities.
Without winter, we wouldn't enjoy spring.
Each and every one of us will face challenges. We will all have annoying days. It's vital to remember that sometimes these things can be unplanned.
They come when we least expect them and when we definitely don't want them.
Try to remember this: The right place often seems like the wrong place, and the right time often seems like the wrong time. What's important is that we realize these setbacks in day-to-day life are temporary. Temporary can mean three hours, three days, three months, or three years. It just depends. As you are pursuing your dreams, roadblocks will happen.
Don't let the setbacks and roadblocks define you or weaken you.
My commute was annoying, but I can still sit here and say I had a good day and I will have a good night. These things just make the ride a little bumpier. That doesn't mean it's not enjoyable.
May today be the day you let your setbacks, challenges, and traffic jams overwhelm you.
May today be the day you don't complain about roadblocks, but view them as an opportunity to enjoy something better.
May today be the day you embrace spring in the midst of your winter.
—
Andi Teggart
Andi Teggart is an adjunct instructor, a multi-faceted entrepreneur, and a digital communications strategist with 10+ years of experience focused on strategic social media, public relations, blog writing, email marketing, brand, and influencer marketing, and event planning. She's worked in a wide range of professional settings including at a top PR firm (Edelman Digital), at small tech startups, in-house managing social media at Facebook, and runs her own digital marketing and communications consulting agency Lucky Collective.

Enjoy this special 8WomenDream Guest Contributor story submitted by new and experienced big dreamers throughout the world, edited and published to capture a dream perspective from different points of view. Do you have a personal dream story to share with 8WomenDream readers? Click here to learn how to submit dream big articles for consideration.
Note: Articles by Guest Post Contributors may contain affiliate links and may be compensated if you make a purchase after clicking on an affiliate link.