Last updated on July 1st, 2022 at 05:05 pm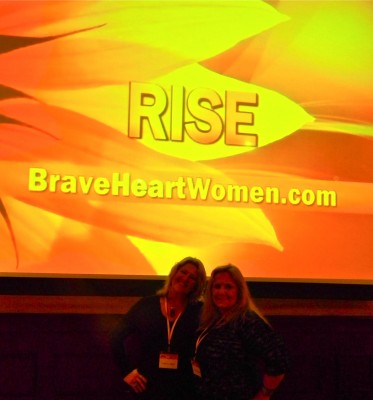 Personal growth can be an aphrodisiac for your dreams.
It allows you to peel away those nasty layers of:
Insecurity
Uncertainty
Fear of failure
Self-doubt
Those qualities hold you back from being your true self and deny you your ability to pursue your unique purpose in life.
My friend, Laurie, and I attended the BraveHeart Women's Rise Event (rising up to the next level of your life) in Los Angeles, California. It was held at the swanky Hyatt Regency Century Plaza in Beverly Hills. This life-altering three-day event was a gathering of women from all walks of life, from all different parts of the world.
It was graciously hosted by the creator of BraveHeart Women, mega goddess, Dr. Ellie Drake. She was born in Iran and fortunate enough to escape with her family to the United States when she was twelve years old.
She was so grateful that her family was no longer under the tyrannical grasp of a regime that ruthlessly suppressed its people, that she made a vow to become a beacon of hope for other women.
Ellie's sense of calling has led her to teach women how to evolve as a woman flourishing energetically from the inside out.
The panel at this conference was filled with beautiful, vibrant, intelligent women including Dr. Lisa Nichols ("The Secret"), Debra Wilson (actress-Mad TV, Avatar), Gloria Loring singer and entertainer, and Dr. Sugar Singleton, cellular memory expert.
They graciously offered some very sage advice:
Climb out of the box that so many people put you in
Get your hustle hat on and get a running
By watching your friends playing their A-game, it makes you look at your own
Get rid of the negative people in your life
Set your attention and the law of action = dream
Have balance in your life
Fail forward – you will make mistakes – learn from them
Set healthy boundaries
Honor that tingly feeling in your gut-it's your passion meter
Internal + External value = purpose
Look for signs from the universe for affirmation
Braveheart Women's mantra is to assist women to grow personally in order for them to blossom. To connect the women of the world together in order to receive and give inspiration in the areas of self-esteem, empowerment, purpose, passion, and personal prosperity while enhancing the world by being Brave Women who live from the heart.
And boy did we! We met some of the most supportive, accepting, non-competitive, beautifully inspired women. We are 250,000 women strong! This online community masterfully uses social networking with a purpose. Check out their website: www.braveheartwomen.com.
I cried, laughed, rejoiced, learned, danced, sang, gained empowerment, meet so many memorable people, and soaked up so much inspiration to confidently continue on with my dream.
We were given a boxed set of 52 daily reminders to live in the art of Ease-ology, "It's Easier Done Than Said". You can obtain these at: www.BraveHeartProductions.com.
These cards will assist you to truly experience that success can be infused with Ease.
All of the guests were also blessed with receiving the book Brave Heart Women – How to be Inspiration in Action. Wow, I can't wait to delve into this book and read the insightful words of 30 women from all different professions and points of view.
The biggest gift Ellie gave us was the practice of Oxytocin breathing. For example, if you're driving and someone cuts you off. Before you get pissed off, say to yourself, "Okay", place your arms horizontally palms up, take a breath and really concentrate on the exhale. This will release a hormone from your pituitary gland that will allow you to relax. Try it, it really works!
The morning we left for home, I pulled the Certainty card from the "It's Easier Done Than Said" deck and it read:
When my certainty far exceeds the worlds' doubt, that is when they will follow me. My level of certainty will be nourished and strengthened when I connect with a purpose that is larger than myself.
We were on our return flight home and our plane was flying over the San Francisco Bay approaching the airport when I noticed the colorful windsurfers on the water. We were enjoying the view when Laurie noticed the Blue Angels in formation (like an arrow) flying directing towards us! What a magnificent sight! It took me a few minutes to come down from that once-in-a-lifetime experience for it to dawn on me that this was a sign from the universe that I'm on the right path!
Have you gone to a personal growth convention? If so, how has it helped you with your dream?
On the screenwriting front, I have a little gem to share with you. It's called Inktip. It's a service for screenwriters to submit their scripts online for producers, directors, and other people in the movie industry to take a look at your work.
You will need to sign up at: Inktip.com, fill out the form, print out all the pages and sign where indicated. Return ALL the pages either by snail mail or fax. This is a wonderful opportunity for screenwriters who don't have an agent or connections to have your work seen. And it's FREE!
Toni Schram

Enjoy this special 8WomenDream Guest Contributor story submitted by new and experienced big dreamers throughout the world, edited and published to capture a dream perspective from different points of view. Do you have a personal dream story to share with 8WomenDream readers? Click here to learn how to submit dream big articles for consideration.
Note: Articles by Guest Post Contributors may contain affiliate links and may be compensated if you make a purchase after clicking on an affiliate link.