Last updated on July 1st, 2022 at 02:56 pm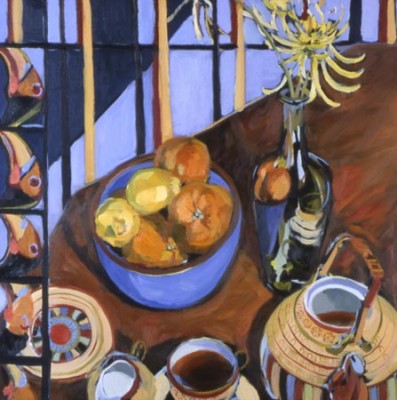 The killer cream puffs are all gone.
Every year I make cream puffs from scratch for our family gathering on Christmas Eve at my dad's. It is about a seven-hour process but worth it. I have to say they are heavenly.
Friday was spent soaring through the sherbet-colored skies of Pandora.
We did our traditional go to the movies on Christmas and this year we saw Avatar with its visual colors resembling how I love to paint.
This week has been one of gluttony and rest.
I am already excited about the next semester of grad school at SF Academy of Art since my classes include a landscape course and a cityscape. Painting in San Francisco has always been one of my smaller dreams but I was never able to motivate myself to travel to the city and paint alone. Starting in February I will be painting there weekly.
As for my 2010 dreams of a trip to Italy and a mini-triathlon, I have been working on a plan. Lately, my exercise has fallen by the wayside and the double recipe of Christmas fudge did not help.
This week, I decided to start slow by walking our dog every day and doing a 20-minute exercise video in the mornings.
The Italy dream feels more like a fantasy than reality at this moment. Especially after buying Christmas gifts on a limited artist budget. My ideas for raising funds for this trip have included making greeting cards from my artwork, a calendar, and even smaller more affordable studies.
I am great at consistently moving forward with my artwork but I am admittedly horrible at organizing and marketing.
Another thought I had to help raise funds for the trip is to have a special exhibit of my paintings. A few years ago I did a show in March at a winery with live music and it was very successful. By March everyone has recovered from the holidays and is ready to get out.
I am open to suggestions.
Wendy Brayton


Enjoy this special 8WomenDream Guest Contributor story submitted by new and experienced big dreamers throughout the world, edited and published to capture a dream perspective from different points of view. Do you have a personal dream story to share with 8WomenDream readers? Click here to learn how to submit dream big articles for consideration.
Note: Articles by Guest Post Contributors may contain affiliate links and may be compensated if you make a purchase after clicking on an affiliate link.