Last updated on October 1st, 2014 at 03:38 pm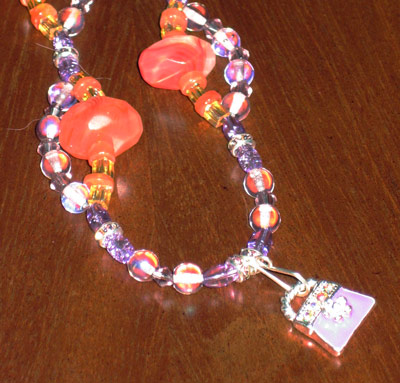 This week my jewelry business dream was right up in my face.
Nothing like being reminded of your dream by someone else.
My 10 year old niece was my reminder this past Saturday – I realized I had one last Christmas gift to handle . . .
For her!
Once I recovered from the shock of forgetting entirely, the next thought was what the heck to do. I had a few clues from her Mom but were missing several pieces to the puzzle. Here's where the fun began.
Here's how to go about choosing a jewelry pattern –
Color
I got off easy on this one. A quick text to her Mom and I now know that my niece's current favorite colors are Purple, Orange and Yellow. In that order. With most projects I start, this element usually takes me a while. I look back on the pieces I've done in a certain time period and definitely notice a trend in color.
Shape
I decide on a necklace for the project so now, what shape should it be? It seems a silly question, but within the basic circle of a necklace, I like to find a shape or pattern I can use to break it up or keep the eye moving. With this project, I used the loop sections to highlight different beads with the secondary colors.
Age of wearer
Obviously I have this information but its not always the case. Since I know I'm designing for a 10 year old, I kept something fun in mind. Movement rather than elegance. she has plenty of years for that, so the pattern needed to be fun.
Size of beads on hand
I have a lot of beads. But have you ever noticed that when you want to do the project in your head, you never seem to have the materials?
After looking in my stash for the purple, orange, and yellow beads (in that order) I realized that although I love orange, my selection in different sizes were lacking.
I had no time to head to one of my favorite local bead shops, Legendary Beads. Good news is that I have a strand of variegated agate that fit the bill.
Time required
I had a time crunch situation otherwise known as 1 day – or a few hours. Once I gathered all the beads and figuring out the pattern I had to decide how to get it done. Would I use all beading wire, or include some chain? Do I have wire elements that will highlight the sections? Did I mention I had a couple hours? This helped determine a few of these decisions.
I found this adorable charm in my stash in lavender. With this as a highlight I ran into a problem with making it the center focal bead as the bail it came with was facing the wrong way.
Since I didn't have a bail handy I made a simple center curve to hang the purse. It seems to work well and lets the charm hang off center for a whimsical effect.
Now I'm off to finish the beaded tree charms as a gift to the family members. I might do this tomorrow morning too.
Enjoy the sparkle  –
Heather

Heather Montgomery is a fitness writer, triathlete, and serial entrepreneur who is devoted to sharing what she has learned about becoming a triathlete after age 40. She uses her Metabolic Training Certification to help other women struggling to get fit in mid-life. She lives and trains in Santa Rosa, California, the new home of the Ironman triathlon. You can find her biking the Sonoma County wine trails.
Note: Articles by Heather may contain affiliate links and will be compensated if you make a purchase after clicking on an affiliate link.