Last updated on May 17th, 2012 at 07:52 am

It's my pleasure today to start your week off with another inspirational travelin' trailblazer:Â  Twenty-Something Travel blogger, Steph.
A world traveler. A successful blogger. A fantastic writer. And a girl who can't sit still.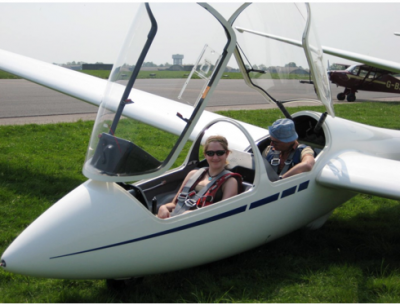 Twenty-Something Travel is personally one of my favorite blogs for travel information, great stories from the world and inspiration to know that leaving the job to travel the world solo is most certainly possible.
What I love about Twenty-Something Travel is a lot of things:
1. She's transparent. She'll pair the travel highs with the honest travel lows. (Even though they are not that low.)
2. She's not rich–at least not yet :) Â Despite what people think about world travelers, this blogger scraped up the cash from her entry-level job and made sacrifices for her trip around the world. (Even disclosing her savings progress towards $20K for the trip.)
3. She's brilliant, funny and encouraging. Every post keeps me engaged, provokes thought, makes me laugh and leads me to keep my travel dreams alive.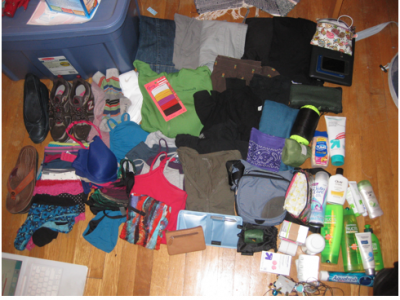 She even discloses her packing list.
Twenty-Something Travel has convinced me that now is the best time in my life to travel the world.
No excuses.
Some people will tell you to wait to travel until after you are established. Wait until you are making more money. Wait until you are retired. But just when is that perfect time actually going to arrive? Chances are that never again in your life will you have the resources, lack of commitments, energy and good health that you (hopefully) have right now.

You don't need a ton of money.

You don't need to speak a foreign language.

You don't need any special skills.

All you need is a little courage and some serious determination.

There will always be a million reasons not to go. You can always find an excuse. Ignore them. Your friends won't change while you are gone. Your career will still be waiting when you get back. You can pursue higher education later. You will already be getting one of the greatest educations you can give yourself by seeing the world.

It can be daunting but there is no better time than now.

So Go!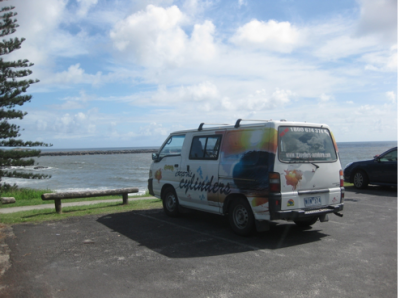 Twenty-Something Travel taking a camper-van through Australia.
In case you need more encouragement, I picked the brain of the mastermind behind Twenty-Something Travel to get specifics on how she was able to confidentially leave her job, her country and travel the world as a young, solo female.
Here's my interview:
Congratulations on recently celebrating your two-year blog anniversary! Most blogs don't last the first few months. And most travel expeditions don't last longer than a few weeks. What the secret to keeping up your blogging and travel momentum?
Passion mostly. I have always had trouble sticking with projects- I'm definitely more of an idea person than a do-er, but I absolutely love travel and I love writing, so the two have come ridiculously easy to me.
It was only a little over two years ago that you were living with your childhood room and working at a job you describe as, "bearable." When did your dream to travel the world first sink in?
It was really only one year ago! Times do change. 

After I graduated college I took a year off to live and work in Europe. It was wonderful, but eventually I ran out of money and had to come home. Even when I started my just "bearable" job I had the idea that eventually I would engineer a bigger travel experience. It took me two years of working, living at home and writing my little heart out before I could finally make it happen.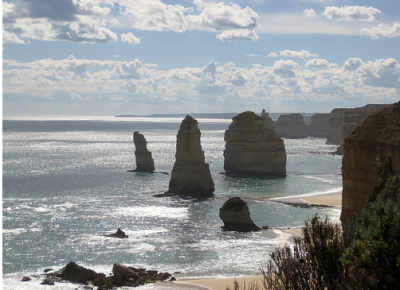 Australia
Do you recall the tipping point—the last straw-that took your from being a travel dreamer to a travel doer–even if just in your mind?
Well, as I said above I knew for a long time that I wanted to do a big trip, but it was mostly just an abstraction until I took a week-long trip to Iceland in June 2009. It's such a fascinating and strange country, and my experiences there reminded me how happy travel makes me. I came home, bought some guidebooks and started a blog.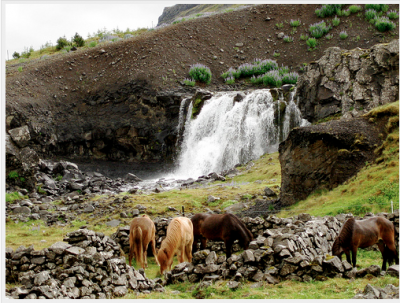 Iceland
What was the best advice you received about following this dream?
When I started telling people my travel plans, many of my peers were skeptical. However anytime I told someone older they'd always have the same response: "I wish I'd done that." That really got me thinking- WHY should we put off the thing we really want to do? Isn't it better to travel when you're young and have more energy and less responsibility? That really lead to the premise of my blog, which is that your twenties are an ideal time to go traveling.
When you left your job to travel, what did you initially think you would do when you got back? How has travel changed your career aspirations?
Initially I was envisioning a round-the-world trip/career break, where I would return to the real world and finally settle down with some sort of as-yet-undefined career. You know, really get serious. As my blog started to gain more traction though, I realized that I'm already doing the things I'm passionate about: writing and traveling, and maybe the 9-5 thing isn't really for me.
Nowadays I work hard, much harder than I ever did at my old job. I'm writing and fundraising and selling ads and basically doing everything I can to keep my new career as a travel blogger and freelance writer afloat. It's hard but I love every freaking minute of it.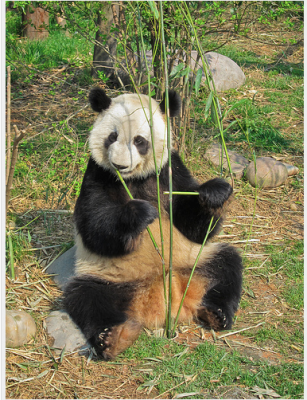 Many twenty-somethings feel they can't travel long-term because they will sacrifice careers, starting a 401K, relationships, and maybe even an affordable mortgage rate. Did these thoughts ever cross your mind? If so, how did you outweigh the benefits of travel against them?
While these are all important things to consider, I think that a lot of these worries get blown way out of proportion. Taking one year out of the workforce is not going to have a long-term affect on your 401K or your future mortgages. It's not going to hurt your career (it may even help it if you know how to spin your new experiences and skills). Thousands of people take career breaks every year and their lives do not completely fall apart. With a little research and planning neither will yours.
All of these things are important, but they are also excuses for not living your life to the fullest. It's your life and you only get one of them — do you really want to spend it worrying about your 401K?
In your opinion, what would it take to get more twenty-something women out of the cubicle and into the world, even if it's by themselves?
I think that there is a serious misconception that traveling as a woman alone is dangerous. The media really does it's best to scare-monger and convince people it's a scary world out there. It simply isn't. I've traveled solo in Europe and Asia and I've honestly never felt threatened or unsafe. As long as you are using common sense the majority of the world is just as safe, if not safer then your own hometown.
The more we can remove the stigma and fear of traveling alone, the more women will feel free to travel as they please. I'd also stress that traveling alone is not just a last-resort option. Many people find it more freeing and inspiring than traveling with a partner.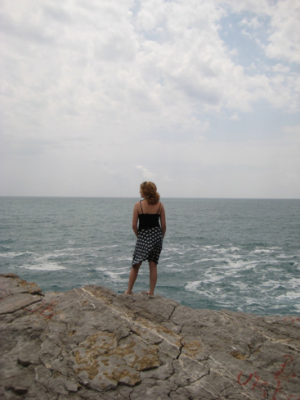 What would your life be like today if you didn't take this trip or start your blog?
It's so hard to imagine. My life would be entirely different. I would never have met my boyfriend (also a traveler). I would never have realized my career ambitions as an internet writer. I would never have found the strength and self-confidence I've realized on the road. I would never have seen the beautiful and fascinating things that make this world whole, and that might be the most depressing bit of all.
These days anyone can start a travel blog. What would you say to twenty-somethings who want to follow in your footsteps?
I meet a lot of people who think travel blogging is easy money and that anyone can do it. They are half right- anyone can start a travel blog, but if you're hoping to make some quick cash I'd find another way. Travel blogging is a lot of work for not so much money- if you break it down to an hourly wage you're probably better off at McDonalds.
Which doesn't mean you shouldn't travel blog! Writing has been incredibly rewarding for me in both tangible and intangible ways. It requires a lot of patience and persistence, but if you truly love writing about travel that's a reward in itself.
Traveling the world and documenting it is a tough act to follow. What's next for you?
More traveling and more documenting! I'm busier than ever these days. I'm headed to Latin America in the fall, starting a documentary project with my boyfriend, writing an e-book, launching a freelance writing career and of course continuing to blog my adventures!
——-
My gratitude and appreciation to the amazing Twenty-Something Travel blogger for taking the time to talk to 8 Women Dream.  I can't wait to see how the blog evolves and the documentary project comes to life.
It's truly people like Twenty-Something Travel who directly and indirectly impact our dreams to stretch further than we ever imagined.
In the spirit of twenty-somethings – and if you still have your doubts about traveling the world – I leave you with this life-changing quote:
"Twenty years from now you will be more disappointed by the things that you didn't do than by the ones you did do. So throw off the bowlines. Sail away from the safe harbor. Catch the trade winds in your sails. Explore. Dream. Discover."
Katie

Enjoy this special 8WomenDream Guest Contributor story submitted by new and experienced big dreamers throughout the world, edited and published to capture a dream perspective from different points of view. Do you have a personal dream story to share with 8WomenDream readers? Click here to learn how to submit dream big articles for consideration.
Note: Articles by Guest Post Contributors may contain affiliate links and may be compensated if you make a purchase after clicking on an affiliate link.