Last updated on December 15th, 2019 at 02:20 pm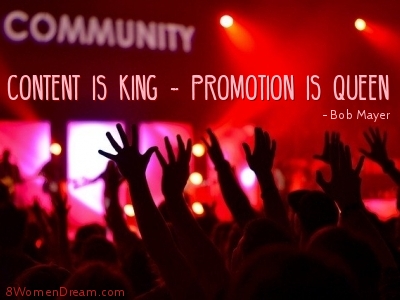 Excerpt from the book, "Build Your Author Platform: The New Rules: A Literary Agent's Guide to Growing Your Audience in 14 Steps"
Starting out is always humbling, yet we all must start out somewhere on our big dream path upward. That first step is the one that counts most. The first step takes the most courage and faith, especially when there is no evidence of success in sight.
My own first book signing had an audience of three people: one was the owner of the store and one was the janitor. Of the three people. The janitor was the only one who bought our book that night.
Later on, as our book climbed up the bestseller lists, we attracted more people to our book signings.
However, I remember one night when Mark Victor Hansen and I were signing books at a Waldenbooks store at a large shopping mall in Los Angeles, and the foot traffic had slowed down in the store.
Mark left the store and walked up to people out in the mall and said, "You can't believe what's happening down here at Waldenbooks store. Jack Canfield and Mark Victor Hansen are signing their Chicken Soup for the Soul book. It's a rare opportunity to get a book signed by two famous authors! And they are perfect gifts for your friends and family members."
Pretty soon a line of people would find there way into the bookstore where Mark and I would then sign their books. Sometimes we would hear "Wait, weren't you the guy out in the hall!" and that point, we'd already hooked them with our humor into buying our book.
With our first Chicken Soup book, we truly dedicated ourselves non-stop to doing anything and everything to get our book into the hands of people everywhere. We completely believed in what we were doing. So we next started working on something we called the "Rule of Five." This is probably the most important message for authors to hear:
The "Rule of Five" means that every single day, without any lapse, you do five action steps–in this case, five action steps to help build an audience, promote or sell your book.
On Monday, for example, we would choose to contact five churches and say, "Do you have a bookstore? Would you carry our book in your bookstore? Can we speak to the minister?" And if we were able to get through to the minister, we would say, "How would you like to have a Sunday off where you don't have to prepare a sermon? We have prepared a sermon using stories from Chicken Soup for the Soul to illustrate biblical principles. We are offering to come in and do a great talk for your congregation on some future Sunday."
By that point we had a track record, so people already knew we were strong speakers, and we found people trusted us to deliver an inspirational message.
All we asked in return was to be able to sell our books somewhere afterward; it didn't matter where–in the back of the room, outside on a table, or in the bookstore. Almost everyone agreed with a big "yes." That's dedication! Even on Sunday when most people take a day off to relax, we were out there selling our books.
Sometimes we would draw a blank on five places to send books or five things to do next to promote our book. When we couldn't think of anything else, we would just choose five celebrities and send them each a free book. I remember coming across a book in a Vons supermarket called The Celebrity Address Book, which seemed like a major find for us!
I've since learned that 90% of these addresses were the celebrity's agent's addresses, but we didn't know any better then. We just used the addresses to send out five books to people like Harrison Ford, Sidney Poitier, Paula Abdul, or whoever was listed there.
And this is the best part of this story:
One day the earth moved. We got a call back from a woman, the producer for the television show Touched by an Angel. Here it was for us, the reward for our perseverance and our belief: this woman had decided that the quality of the stories in our book mirrored the exact quality that she wanted to project in Touched by an Angel.
She bought copies for all of her writers and asked them to read our book to get the feel for the kind of stories she wanted to portray in the series. She bought a book for everyone on her staff and production crew. That was one of the most important sets of books we ever sold. She gave copies of our book to the sound people, the cameraman, the gaffers, the lighting people, and to the editors, in addition, to the writers and the actors. She asked everyone that had any role in the show to read Chicken Soup for the Soul, stating, "I just want this feeling to come through on the set."
The new term for the way our idea took of is viral, which is a pretty good term for how the word spread from there.
Next, the story made news in the Hollywood Reporter. Then Variety picked up the story. Then The Associated Press wrote up the story, and onward from there until it became a national press story. The significance of Chicken Soup for the Soul and our story found a readership in about a hundred newspapers.
Well, needless to say, once our book became known and loved by so many, even more people went running out to buy our book. Our audience began to expand beyond our wildest dreams.
So every day we continued with the question, always asking, "What are five things we can do today?"
We were constantly looking for ways to promote, no matter what. With everything we looked at we'd constantly ask, "How can we use this to promote the book?" — Jack Canfield
It Takes an Audience
Authors need readers and to build an audience is not the time to remain anonymous! You need to build your author platform and public persona to serve as a magnet for building up your audience. Like every strong relationship, your readers need to feel they can trust you, that they can talk to you, that you are the authentic "real deal," and that you have the expertise in the subject matter or entertainment they are interested in.
This isn't about advertising or selling. It's about informing, entertaining, and knowing sales will follow.
Strong author platforms that combine these very elements usually accompany best-selling book titles. Exemplary platforms include the author websites of best-selling authors Malcolm Gladwell (author of Talking to Strangers: What We Should Know about the People We Don't Know, Outliers: The Story of Success, The Tipping Point: How Little Things Can Make a Big Difference, Blink: The Power of Thinking Without Thinking, David and Goliath: Underdogs, Misfits, and the Art of Battling Giants; GladwellBooks.com) or Stephen Levitt and Stephen Dubner (Freakonomics.com).
Try this self-assessment now. Google search the name Dan Brown (thriller fiction) or David Meerman Scott  (nonfiction), both authors with a well-developed web presence. Immediately on the search results page, you'll see their website's URLs, photos, books, Wikipedia bios, considerable social media network accounts, quotes, blogs, and more.
Now type in your own name into search and see what appears. If your presence is not easily identifiable, that should give you all of the motivation that you need!
The principles and strategies outlined in the book are based on new tools and rules that work for and apply to all authors, whether you write fiction, children's books, graphic novels, or whatever.
Carole Jelen and Michael McCallister
Build Your Author Platform: The New Rules: A Literary Agent's Guide to Growing Your Audience in 14 Step
Forward Excerpts

Enjoy this special 8WomenDream Guest Contributor story submitted by new and experienced big dreamers throughout the world, edited and published to capture a dream perspective from different points of view. Do you have a personal dream story to share with 8WomenDream readers? Click here to learn how to submit dream big articles for consideration.
Note: Articles by Guest Post Contributors may contain affiliate links and may be compensated if you make a purchase after clicking on an affiliate link.