Last updated on April 1st, 2012 at 02:35 pm
I started writing when my boss of twelve years started planning his own retirement.
That was about 15 years ago. Concerned about my next career move "Sir" encouraged me to strike out and try something completely different, like journalism. Â He insisted on paying for any class I wanted to take.
I was grateful, yet dubious.
I didn't really believe in myself, but I cashed his checks anyway.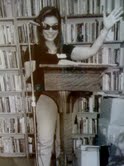 At the time, independent bookseller Book Passage in Corte Madera, California offered a few classes taught by local journalists and novelists.
Today their class roster (in Marin and San Francisco) is a Who's Who of bestsellers and I often leave drool marks on their catalog.
Book Passage also hosts free author nights, where writers talk about their books and what led them to writing careers. Here's a link to this month's classes: www.bookpassage.com/classes
Those free nights were so exciting because a dope like me could ask super famous writers anything at all.
I remember cringing one night when I asked Dave Barry how many drafts it took to go from smile funny to laugh-out-loud funny.
He answered that he hadn't nailed that down yet, which was pretty funny. I asked Angela's Ashes author Frank McCourt if he ever cried while writing. That's what I wanted to know.
"No, I never cried," he said adding, "But I've wept."
One evening Joyce Carol Oates spoke.  I was so in awe of her prowess as a writer, I couldn't think of a thing to ask. I mean, c'mon; she's had the chops for 40 years. She's a queen.
Around this time my first marriage ended and I was rewarded with a –surprise! – ten grand tax lien. Short of prostitution, I had no idea how to work full time, attend my beloved writing classes and make enough dough quickly to pay it off. So I went to bartender's school in the Tenderloin and landed a job at a swanky inn where we all worked in tuxedos and did a lot of fancy-schmancy stuff with martini's.

That's where I met legendary S.F. Chronicle columnist Herb Caen. We'd swap San Francisco stories at the end of the bar on opera nights. Indeed, it was Herb who told me to keep writing just like I talked. If I could do that, he said, I could do what he did for a living.
All this encouragement and still, I wasn't so sure.
Gee, whose class didn't I take? Anne Lamott, Jon Carroll and Adair Lara should have given me discounts for multiple sign ups, I swear. Adair had a 10-week deal at her house where about a dozen aspiring writers met each week to take instruction, speed write and read aloud.
It cost a lot of money so I didn't feel right asking Sir. I wrote her a check for half the amount to hold my place and had no idea where the other half would come from. By this time I had placed quite a few freelance pieces in newspapers in multiple markets.
When an unanticipated tax refund arrived, I was able to dive into an intense period of learning my craft. In addition to amazing and truthful instruction from Adair, I bonded with classmates, Terry Norton and Eileen Mitchell, who now writes the pet column for the S.F. Chronicle. (We both write for BARK Magazine, too.)
During this time we three wrote 500 words a day on any topic, per Adair's instruction to get "all that lousy writing out of the way."
I finally worked up the nerve to start writing about my family.
One funny piece about my birth mother got  published in the S.F. Chronicle with a shorter version appearing in Glamour Magazine. That success proved to me once and for all to get over my self and just WRITE.
With great instruction from amazing writers at Book Passage courtesy of "Sir" other people started thinking of me as a writer. Sally Smith, publisher of the Noe Valley Voice showed me the ropes of reporting and taught me to laugh at my early newsie nerves.
I began teaching a class at Book Passage and I launched my column, What Works. Somehow I transitioned from corporate research to journalism, eventually landing a job as a daily reporter surprising no one more than myself.
My step-mom Robbie recently asked me if someone had told me I needed to take 17 classes, attend 139 author events, read 1,000 books, write 500 words a day for years, sell bags full of freelance pieces to newspapers and magazines and self-syndicate a business column to multiple papers, would I have ever started?
"I probably would have laid down until the impulse faded," I said with a laugh.
Dreaming about becoming a writer was the start of my journey. The fun part was all the learning and encouraging friendships.  Without the friends who believed in me before I believed in myself, no doubt I'd still just be dreaming about being a writer.
What about you?
Rayne Wolfe's dream is to write her first book Confessions of an Undutiful Daughter by the end of 2011. She completed her dream journey May of 2011 on 8WD after a year living her dream. You can find her at Toxic Mom Toolkit on Facebook.

Enjoy this special 8WomenDream Guest Contributor story submitted by new and experienced big dreamers throughout the world, edited and published to capture a dream perspective from different points-of-view. Do you have a personal dream story to share with 8WomenDream readers? Click here to learn how to submit dream big articles for consideration.
Note: Articles by Guest Post Contributors may contain affiliate links and 8WD will be compensated if you make a purchase after clicking on an affiliate link.