Last updated on December 10th, 2010 at 12:12 pm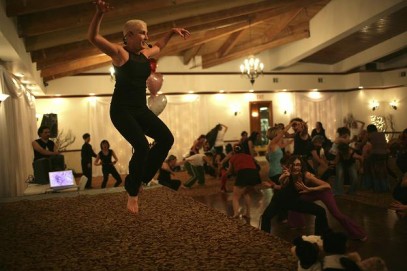 The road to being a famous mom rapper takes many a detour as I make a living to financially support my dreams. Right now I can't think. I just finished day 2 of my NIA Blue Belt. There is 50 people in my training and 3 men. I don't mean men aren't people, it's just always like that with NIA.
Today we had to do a relationship-to-the-music exercise. We had to listen to music for ourselves, then respond to the music, then perform (so to speak) for an audience.
Crap.
You know I sign up for this stuff, then realize it's (H E L L O O O O O O) totally hard and out of my comfort zone. I've done this my whole life and I still wonder why.
I'll never forget making my Mama go with me to some house in Sebastopol, California to do a hippie, Goddess gathering of some sort. Even then, at maybe 19, I was destined to do freaky dream shit and pay good money for it.
Maybe it's a spiritual quest of some sort.
I probably should have just done mushrooms and skipped the humiliation. Anyway, Haze (my Mama) and I are at this hippie chicks house and she says we need to lay on the floor curled up. When the music starts, we are to unfold like a flower.
What?
I look over at my Mama and she's all humped over, swinging her arms back and forth like a crazed circus elephant. I note she resembles nothing like an opening flower. I catch her eye and we both go hilariously helpless.
We were asked to leave.
Anyway, I'm getting in bed and resting my calves that feel like someone smacked them with a bat – repeatedly. I actually love it. I'm just looking for some sympathy.
To give you some idea what I do, what I teach and how I make my sisters get up and move check this out –
Go to nianow.com. What an awesome workout and so much more. At least I will be able to move in my rap videos.
What kind of freaky have your done for your dreams?
Did you drag your mother along?
Laurie
Laurie has several amazing dreams going on in her life at this time. She left 8 Women Dream in November 2010 to focus on Club B and her NIA business.

Enjoy this special 8WomenDream Guest Contributor story submitted by new and experienced big dreamers throughout the world, edited and published to capture a dream perspective from different points of view. Do you have a personal dream story to share with 8WomenDream readers? Click here to learn how to submit dream big articles for consideration.
Note: Articles by Guest Post Contributors may contain affiliate links and may be compensated if you make a purchase after clicking on an affiliate link.