Last updated on April 2nd, 2012 at 12:50 pm
Snoop Dogg Reaches Out to Mark Zuckerberg About Buying Sports Team
This is the headline I came across this evening. Rappers and billionaires, seems to be a theme. I've been checking out Mr. Zuckerberg, because I'm interested in seeing the movie based on his Facebook fame called, The Social Network.
I read that Facebook was named for the annual publication that collegiate upperclassman use to identify attractive freshman girls with low self-esteem.
Is this true? I mean I read it on the Dickipedia site, so who knows.
If it is true . . . wow. I wonder what their mothers think.
Mark Z. is a bit like a rapper – 3 years ago he had no car, no house, no job. He is a dropout and a hacker AND a CEO of a smokin'-hot site.
He is living a dream, he didn't know he had. But he was obviously following his passion.
That seems to be how it goes. When people ask me why I enjoy writing and performing rap, I'm at a loss for words. Why do we do what we do?
Because it is our path.
Snoop Dogg went from jail bird, cocaine dealing, hood rat to extremely successful artist. Mark Zuckerberg went from sleazy creator of Facesmash, a HotOrNot type site to CEO of an incredibly successful social-media site.
SHIT – CAN – HAPPEN.
Perhaps I will go from Mom, masseuse, aerobic instructor to White Chocolate, super rapper.
But I'm hoping we women dreamers offer the world a different view of entrepreneurial dreams and start-up passions. Can we do it without hurting the people we love in the process? Can we do it without turning our backs on the people who help us along the way? Can we show the world that women can be wildly successful – and still have fun?
Next week, my rap audition for Americas Got Talent will be posted and I'll probably be hangin'out with Snoop and Mark . . . Uh Oh . . . I feel a mini-rap a brewin' –
Hey, Mark and Snoop got nuthin' on me
I'll see those bitches on MTV
The American dream is for everyone
So pull up your bootstraps and get it done
I mean look at that Jersey shore gig
Come on "The Situation," he's such a pig!
But he's livin' his dream, and so should we
So do what you should . . .
To get where you should be.
I'm definitely going to see this movie and you should too! Should I say should again?
What do you think? Can women offer a different view of the billionaire role as more of us climb the economic ladder?
Will I win America's Got Talent?
Keep on Dreamin' Big ladies!
Love,
Laurie
Join club bitch!
It's a matriarchal re-birth
Club-bitch.com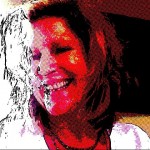 Laurie has several amazing dreams going on in her life at this time. She is known to many of her friends, both near and far as brave writer of screenplays. Her front dream at this moment is to get one of the Rap songs she has written (and recorded) to go viral and get 40,0000 women to join Club Bitch online at www.club-bitch.com Laurie's post day is Sunday evening (pst).

Enjoy this special 8WomenDream Guest Contributor story submitted by new and experienced big dreamers throughout the world, edited and published to capture a dream perspective from different points of view. Do you have a personal dream story to share with 8WomenDream readers? Click here to learn how to submit dream big articles for consideration.
Note: Articles by Guest Post Contributors may contain affiliate links and may be compensated if you make a purchase after clicking on an affiliate link.