Last updated on October 30th, 2019 at 11:06 pm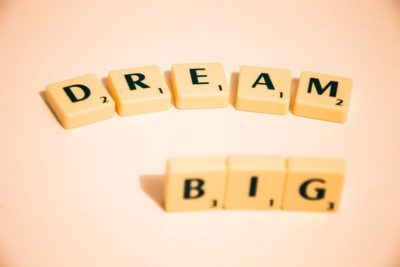 This week, I want to share with you Molly's words of wisdom from her Smart Pretty, Awkward blog that inspires me:
If you want to stand out in a room, be different than everyone else in the room."
So often, it's easy to be confined to one stage of life, one particular situation, one given moment. We get trapped and tricked into being forced to be like everyone else, to fit in. Well, here's what I have to say about THAT– not anymore.
Another one of my favorite quotes when dreaming big gets tough is from Sienna Miller:
I'm the most enthusiastic, excitable person I know, and I defy anyone to try to knock that out of me."
Instead of living mundane, ordinary, boring, and "pre-planned" lives, go wild. Be enthusiastic and excited about going after a big dream! What would happen if we let curiosity, enthusiasm, and passion truly lead you to take a chance on your dream?
I don't want to look at my life in one year/five years/ten years and feel regretful for not taking a chance on my big dreams. That's why I'm focused on avoiding shallow living, avoiding boring living, avoiding easy living, and spending time instead of working on my dreams. I want to see the world–MY world–from a new, heightened, exciting, terrifying, messy, and crazy perspective.
I am here to live out loud. I am here to live to the fullest of my potential. I am here to be the best I can be–the way I want to be. I am here to dream big! And so are you!
Andi Teggart
Andi Teggart is a travel and home decor expert who loves sharing her experiences on motherhood, travel, home decor, and other inspiration with her audience on her blog Luckyandi.co. Andi recently completed a dream of purchasing and renovating a 100-year-old home in Nashville, where she and her husband, her daughter Lucy, and dog Jack launch their life adventures as a family. Andi has been featured in Home Depot, Glitter Glide, The EveryGirl, and A Beautiful Mess.

Enjoy this special 8WomenDream Guest Contributor story submitted by new and experienced big dreamers throughout the world, edited and published to capture a dream perspective from different points of view. Do you have a personal dream story to share with 8WomenDream readers? Click here to learn how to submit dream big articles for consideration.
Note: Articles by Guest Post Contributors may contain affiliate links and may be compensated if you make a purchase after clicking on an affiliate link.