Last updated on April 8th, 2012 at 08:03 pm
8 THINGS YOU NEED TO KNOW ABOUT FAILURE
by Dale Galloway (pages 22-23) from his book, How to Feel like a Somebody Again.
1. To fail is not the same thing as being a failure
2. To fail is not the disgrace everyone thinks it is
3. Failure is only a temporary setback
4. Nothing worthwhile is ever achieved without running the risk of failure
5. Failure is a natural preparation for success
6. Every failing brings with it the possibilities of something greater
7. What you do with failures is up to you
8. Failings are opportunities to learn how to do things better the next time-to learn where the pitfalls are and how to avoid them
Last week in my post, Pursue Your Dreams: What are You Waiting For, I blogged about the importance of pursuing our dreams confidently and actively. It's something very easy to WANT to do and THINK about doing, but when it comes down to it . . . sometimes it's downright scary to pursue our dreams!
Often times . . .
We are scared of failure.
We are scared of messing up.
We are scared of falling short of our perfect, ideal goal.
Definitions of failure and success aren't limited to the lists I've included, but I think they pinpoint the reasons and benefits of embracing a "fail" and evolving that into a better and more exciting opportunity in the future.
Experiencing failures and mistakes will make the "success" of achieving your dreams and great opportunities more worthwhile and enjoyable. Channeling your fails into new, proactive experiences is just as important as making the conscious decision to not be scared of failure in the first place.
Rather than beating myself up for these small "fails" I am approaching the future by embracing them. No matter what age we are, we can learn lessons from our fails and fears and turn them into great things, great opportunities and great dreams.
I especially like the first bullet-point on the list:
To fail is not the same thing as being a failure.
How refreshing!
We are not defined by a temporary setback or fail we have. We are so much more than that, dreamers. We were created to pursue and complete great things. Don't label yourself as a failure just because things didn't work out as you originally plans.
Keep going, keep pursuing, keep running toward your dreams.
I can't wait to hear about them.
XO —Andi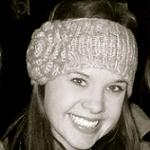 Andrea's dream is to graduate college from Ohio University in spring 2011, to find a job that allows her to utilize her public relations education and skills; to launch her own personal website www.polish-my-crown.com; and to become a certified life coach and motivational speaker.