Last updated on June 15th, 2012 at 12:03 pm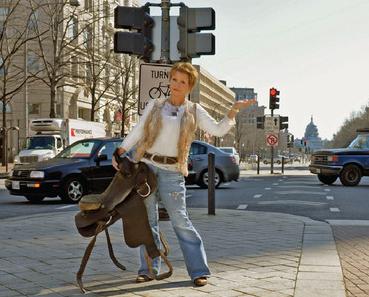 Today's guest blogger is from Kathie Truitt, a former radio personality and speaker in the South, where she was crowned Mrs. Missouri America.
She's the author of False Victim, a memoir about the nightmare of events that forced her from her home. She sells vintage-style clothing, accessories and jewelry at Hillbilly Debutante.
What is the No. 1 regret of hospice patients in their dying days?
"They wished they would have lived life the way they wanted to, not the way others wanted them to,  I am quoting an article by former palliative care worker Bronnie Ware.
I changed my life by necessity after a devastating series of events led to the loss of my home and career. Like many Americans who lost it all in the recent recession, I decided to go about things differently the second time around.
I got rid of the socialite sweater sets, the business suits and pumps, which were not me, and went to what is me — vintage dresses and cowboy boots. I live in the Washington, D.C., area because I have too. But I don't have to conform to how other people look, dress and behave here. I surround myself with the things I like; I have a country-style house, I drive a pickup, and, once a month, I take a ride out to one of the places featured in Southern Living magazine.
You don't have to have a lot of money to live a life truer to your spirit. I offer these 3 tips:
1.  Make location a state of mind.
Does your heart yearn to be somewhere else? You're in Kansas, but you long to live on the beach, or you're in the city but you're a country person, like me. If you can't follow your heart, bring that place to you. If you love all things Paris, for instance, decorate a room or your whole home Parisian style. Instead of going to the grocery store once a week, find a market and stop in every day for fresh food, the way the French do. Ride a bicycle; put a picture of the Eiffel Tower on your desk at work; eat lunch al fresco. Take a French class and maybe you'll meet some like-minded friends.
2.  Turn your passion into a career.
You don't have to give up your day job to pursue a career doing what gratifies and satisfies you. If you love playing music, set aside time to practice and write songs. Pursue opportunities to play at local events; create video recordings and upload them to YouTube (it worked for Justin Bieber!); offer to perform at your place of worship. Whether you dream of writing a novel, designing jewelry or being a race car driver, working at it even part-time will help you feel fulfilled.
3.  Take the plunge and start your own business.
In 2011, entrepreneurs started 543,000 new businesses each month, on average, among the highest startup rates in 16 years, according to the most recent Kauffman Index of Entrepreneurial Activity. With all the tax breaks and incentives being offered to small businesses now, it's a good time to open that restaurant you always wanted, or launch that graphics design studio. You'll never know until you try!
As for me, I would love to be back home in El Dorado Springs, Mo. Since I can't be there, I wrote a novel set in the small, southern town, which is struggling financially. I hope to fan interest in tourists visiting the town to meet the business owners described in my book, and see the sights.
To that end, I'm also organizing an Antique and Book Festival there on April 14, preceded by a Hillbilly Debutante ball — featuring vintage prom dresses and plaid tuxes — the night before.
There are many ways to live your dreams. You're limited only by your imagination. I don't want to be that person looking back on my life and regretting that I lived it by someone else's rules.
Katie Truitt
Kathie's second book "The Hillbilly Debutante Cafe" is a fun novel that has been compared to 'Fried Green Tomatoes'.

Enjoy this special 8WomenDream Guest Contributor story submitted by new and experienced big dreamers throughout the world, edited and published to capture a dream perspective from different points of view. Do you have a personal dream story to share with 8WomenDream readers? Click here to learn how to submit dream big articles for consideration.
Note: Articles by Guest Post Contributors may contain affiliate links and may be compensated if you make a purchase after clicking on an affiliate link.