Last updated on October 25th, 2019 at 01:43 am
Worry is a misuse of imagination.
I love that quote. Yet, even with all the wisdom in that saying penned to the front of my daily planner, I still worry.
Sometimes worry wraps itself around me like a warm blanket that goes unnoticed sitting upon my shoulders. That is until I stop for a moment to shuffle through my bills and my "to-do" lists and suddenly the weight of the blanket turns into a backpack weighing a hundred pounds.
My chest tightens as agitated thoughts march like soldiers into my subconscious if I let them and I begin to doubt all that I am doing. Worry thoughts are sociopathic bastards (sorry it was the only perfect word I could think to describe it) bouncing your mind all over the place like jumping beans in a hot tin can.
These have been some mad 3 years we've all dog-paddled through, don't you think?
Was I crazy to launch a blogging project right in the middle of an economic tsunami?
It's hard to guess what 20/20 hindsight will look like in the future when you are in the middle of your dream. Some days my heart sours like the wings of the hawks that fly above my home — strong and full of hope — and other days I feel more like the poor field mice trying to hide from them, worried and looking for a good place to lay low for a while.
This is all part of the territory when you decide to become a serious publisher and start an entrepreneurial pursuit on your dining room table. When you blog, you are a publisher. Welcome to the world of digital publishing — let's throw you in the middle of the lake and see how you do — now swim!
In the beginning, there's no agent to protect you, no editor to catch your exhausted mistakes, no publishing house team helping you get it "right." It's just you, some software and a lot to learn.
If you don't take it seriously and blog just for fun, you may never feel this way. But if you have bigger dreams, you will get this pinch in your side that you want this "hobby" endeavor to compete with the best-of-the-best on the Internet and stand on its own merits.
And whoosh, you are suddenly drowning in worry — wanting to be the very best.
Don't get me wrong, much of blogging is wonderful because you can showcase your "art" in front of the world — testing your talent without having to convince a group of company people that your work deserves acknowledgment and a chance to be seen.
You don't deal with 100 rejection letters before you finally get someone to give you a chance. You don't have to hear a thousand "nos" before your first "yes." You don't have an army of reasons why you are not writing. You just follow a few blogging set up steps and you can be published within a couple of hours.
Voilà ! Published author.
I guess I could have stopped there. But something kept pushing me. It wasn't enough just to write my thoughts. I wanted to blog professionally and be great at it. You know, be the new Erma Bombeck of the digital world. And I wasn't satisfied with just being Erma Bombeck. I wanted the look and feel of a professional publication and so I dove deep into that cold, harsh lake of online publishing and began to learn how to swim for my life.
Hitting that publish button just wasn't enough.
Little did I guess that my dream would turn out to be much, much bigger than that. It started off the size of a mouse and now it's the elephant in the room — in my dining room as a matter of fact. I can't tell you the last time my son and I ate dinner sitting at this table.
The bills sit here. The to-do lists are here as the dream elephant grows and grows like a Jeanie freed from the bottle. What used to be a list of three items a week has turned into a hundred with no end in sight. It's a self-funded dream with dreamer Heather running behind me (or some days ahead of me) helping to keep the dream alive.
She launched our first 8 Women Dream store on Friday.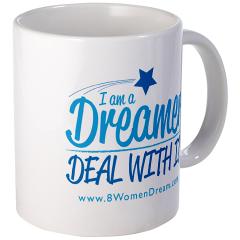 At first, I was elated (and don't get me wrong I am absolutely thrilled) but now I find myself worrying over the oddest details … what if "they" (the "they" is YOU by the way) don't like it AT ALL — EVER.
Then I stop to look over my shoulder at my worry backpack that is now pinching down on my spine and realize I have felt this way about every single aspect of my blogging dream since I first started playing with it in 2003 on AOL Journals.
Just call me Charlie Brown.
Through all of my "Charlie Brown" worries, I have managed to grow as a publisher.
I've learned Internet marketing, SEO, grammar mistakes, bad writing habits, affiliate advertising, HTML, content development, CSS, e-commerce, setting up PayPal, publishing an e-book, web analytics, and how to blog when you can't keep your eyes open. I think they call it blind-blogging, or blind-publishing.
But I haven't learned how not to worry.
Maybe I picked up worrying like Charlie Brown all those years ago ice skating around Charles Schultz at his ice arena here in my home town, who famously said, "That's the secret to life… replace one worry with another."
He seemed to do fairly well don't you think?
And our 8 Women Dream products are darned-cute if I do say so myself.
Catherine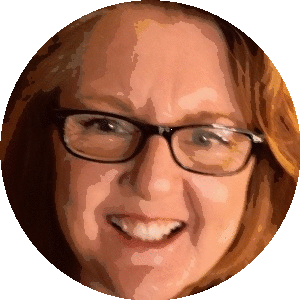 Catherine Hughes is the founder, content director and editor-at-large of 8WomenDream. She is passionate about helping women step out of their own way and strike out into a world waiting for their special talents. She's a published author and a former award-winning mom blogger. Catherine has helped companies both large and small create engaging web content, social media narratives, and unique blogging platforms. She claims to be a redhead, but don't hold that against her.
Note: Articles by Catherine may contain affiliate links and may be compensated if you make a purchase after clicking on an affiliate link.