Last updated on April 2nd, 2019 at 09:09 am
Cyber Monday is upon you and there's nothing like a little pressure and some online shopping to force you to start thinking about your big dream in the coming year.
I normally write about launching your big dream and how you can be successful sharing your big dream online, so you might be wondering why I'd post something about Cyber Monday and gift ideas for dreamers.
Recommending something to your readers is a great test for seeing how well you are connecting with them, as well as seeing if any of your followers are interested in buying something from you in the future.
You can get product development ideas this way and save your readers the trouble of hunting these interesting items down for themselves. Plus I love the idea of dream talismans for reminding you to take a chance on you and your big dream.
I enjoy a Dream Big wall plaque that hangs above my computer. It reminds me to do something every day for my big dream.
Cyber Monday Gift Ideas for Dreamers
1. Dream it. Pin it. Live it. Make Vision Boards Work for You
Give this book to anyone struggling to figure out their big dream.
When the vision is clear, the results will appear. Clarity about your dreams is the single most important step to success! In this book, Terri Savelle Foy shares her journey of using vision boards to accomplish great things and shows how you can too.
Discover how vision boards work, what to do after you've made them, and the hidden key to living your dreams. Find out how you can open your imagination and have that childlike faith to believe that anything is possible, and turn your dreams into reality. (Amazon)
Considered highly inspirational and deeply personal in nature, vision boards can be comprised of anything creative and meaningful to you such as photographs, collages, mementos, drawings, and quotes, all of which serve to create a visual layout of your big dreams and personal aspirations.
2. It Works: The Famous Little Red Book That Makes Your Dreams Come True!
It Works was first written and published in 1926. The author, R. H. Jarrett believes that making your big dreams come true begins with just 3 simple steps as outlined in his small book, It Works!
It Works is a concise, definite, result-filled plan with rules, explanations, and suggestions for changing your life.
Download this FREE pdf version of his little book here on 8WomenDream and have it printed and give it to that big dreamer on your gift list. Print-My-PDF.com is an excellent service which allows customers to upload large PDF files and have them printed and bound into a cost-effective manageable sized booklet.
3. Evelyn Hope Collection Dreamers Welcome Linen Message Throw Pillow
Dreaming and reminding yourself to think of your big dream as you move about your space is as unique as your style. Throw pillows are a great way to remind yourself that you deserve to dream big.
The pillow has a zipper so the cover can easily be washed or changed for any reason and season. Colors are neutral to match nearly every décor and color scheme. Made of polyester, mold resistant manufactured in the US.
Add throw pillow to a room to help with your creative visualization mental technique to spark your imagination to help make your dreams come true.
4. White Gold Rembrandt Charms Dream Catcher Charm with Lobster Clasp
It is thought that the wearing of charms may have begun as a form of amulet to ward off evil spirits or bad luck.
During the pre-historic period, jewelry charms were made from shells, animal bones, and clay. Later charms were made out of gems, rocks, and wood.
Charms were once coveted as protective shields and signs of status and are considered good luck. (Source: Wikipedia)
It only seems fitting that you add a dream charm to your favorite bracelet or necklace to keep your dream close to your heart.
5. Rise Up Planner: Dream. Plan. Hustle. Win.
Rise Up wants to know if you are living the life you were born to live.
Or, is your dream life still just out of your reach?
Making your dreams come true is life's ultimate prize.
Rise Up Planners wants to partner with you on your big dream journey. This loved planner helps you accomplish not just what you have to do, but also what you want to do.
Writing down your thoughts in this beautiful paper planner also boosts your creativity: Scientific studies have proven that the act of writing by hand actually inspires new ideas! So the more you write, the more ideas will flow from your pen, and the sooner you and your destiny will meet. Reviewers of this planner have said, "[…] priceless development exercises, applicable processes, and life-altering insight to dig deeper, love better, and serve whole-heartedly."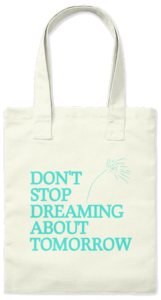 6. The 8WomenDream official "Dreaming About Tomorrow" Tote Bag.
Keep your big dream casual, fun, and inspiring with a dream reminder tote bag.
This classic tote bag with a reminder to everyone to never stop dreaming makes a touching motivational gift idea for the big dreamer in your life–or you!
Easily carry around your big dream planner. An inspirational quote in type says: Don't Stop Dreaming About Tomorrow.
Proceeds from the sale of this tote bag go towards offsetting web hosting fees. We thank you for your wonderful support.
Make a visual statement about your big dream with this stylish brass pendant keychain measuring 2.5″ long and is engraved With "DREAM BIG." It's a cute gift idea for the big dreamer in your life or for yourself.
Be reminded to dream big every time you pick up your keys.
Focused affirmations and reminders will make you feel better about your big dream and help you focus on your dream. Research has suggested that affirmations create chemical changes in the brain and offer benefits for people who use them.
8. The Guardian Angel of Big Dreams
It is believed that guardian angels are spirit angels assigned to protect and guide a particular person, group, country, or idea.
This particular Guardian Angel's job is to intervene on behalf of big dreamers everywhere, to remind you that if you believe, all things are possible.
Nothing like a hand-painted ceramic to make you smile and remind you to take that next step in making your dreams a reality.
Now, don't you know a big dreamer that needs one of these gift ideas for inspiring their big dream?
Happy Cyber Monday gift shopping!
Catherine Hughes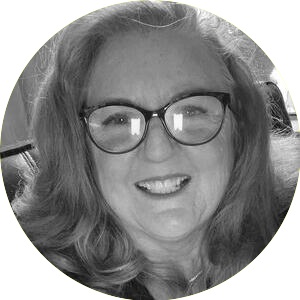 Catherine Hughes is the editor and founder of 8WomenDream. She's also a magazine columnist, content creator, blogger, published author, and former award-winning mom blogger. Catherine collaborates with companies to craft engaging web content and social media narratives. Her work, highlighting stories of the resilience and success of Northern California residents, appears in several print magazines. Outside of work, she treasures motherhood, her close friendships, rugby, and animals.
Note: Articles by Catherine may contain affiliate links and may be compensated if you make a purchase after clicking on an affiliate link.