Last updated on May 17th, 2012 at 07:51 am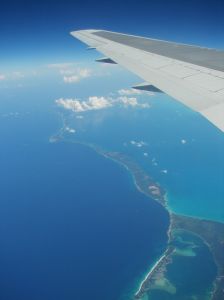 Returning to reality on a Monday after a holiday is rough, but not when it's Cyber Monday, and especially not when you have the best Cyber Monday travel deals, including an 8WD exclusive deal, right here.
If you want more travel in your life or in the upcoming new year, now is your chance to plot how to best use your next set of vacation days.
In order to get you closer to your travel dream, we picked out our top five cyber Monday travel deals, including an exclusive 8WD deal for a breathtaking sustainable jungle resort in Mexico, Tailwind Jungle Lodge.
1. Tailwind Jungle Lodge and Yoga Retreat Center – An 8WD Exclusive!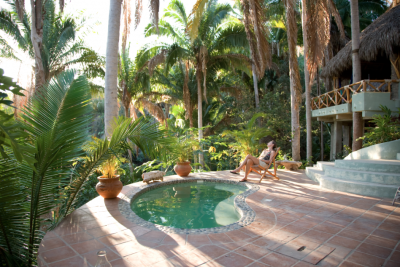 Photo: Casey Day
That's right. Nowhere else on the Internet on this Cyber Monday will you find a deal to this rare resort gem.
I should probably start off by telling you why this deal is exclusive to 8 Women Dream. Full disclosure: I know the owner of the lodge, and I'm also thrilled to share her magnificent corner of the world with you where she is living her dream of owning and running a sustainable jungle lodge on the beaches of Mexico.
Stay tuned for my post next Monday where I interview Tamara, the owner of the Tailwind Jungle Lodge, to get her story on how she and her family accomplished their dreams.
As for today, you can save 10% off your entire stay when you mention this 8 Women Dream blog post. What's more is that the lodge owner is generously extending this offer if you book by December 31, 2011. (That's enough time to surprise your lover with a trip or round up your girlfriends for a complete getaway.)
Sustainable Jungle Bliss on the Mexican Pacific
In their words: "Perched amidst majestically swaying palm trees, Tailwind is a sustainable jungle lodge, retreat center and adventure tour company on the Mexican Pacific. Our motto? Enjoy life! Between kayaking, hiking, surfing, yoga and relaxing around the lodge, it's definitely easy to do just that.
The Tailwind lodge was founded by the adventurous Jacobi family in 2007. The lodge is located on the spectacular coastline, just north of the charming town of San Pancho (official name, San Francisco)in the state of Nayarit. The lodge's creatively designed, tree-house like bungalows, palapas and casitas are nestled amidst 5 acres of truly stunning jungle ridges descending to white sand beaches and vast pacific ocean.
This is truly a natural playground of jungle, beach and ocean."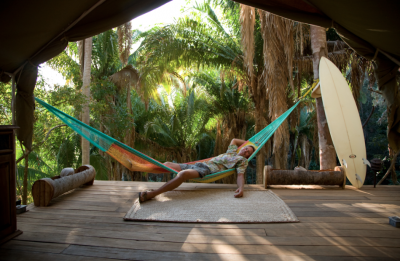 Photo: Casey Day
Whether you want to chillax in a hammock swaying to beat of the ocean waves or take advantage of the seaside adventures in the natural landscapes, this jungle retreat is waiting. As they say, "you can do everything or nothing and still have a great time."
You can book on their site – and check out more eye candy photos worth drooling over on the Tailwind Jungle Lodge website.
2. Abercrombie & Kent
This year, the luxury travel giant is making the high-end escapes more attainable by offering not one day, but six days of travel savings with their Six Days of Holiday Savings promo.
If you have always dreamed of taking an African safari or spend 11 days in India (now $2,455 was $5,595), now is your chance to save hundreds, even thousands on your travel dream.
3. Liftopia – Discounted Ski Lift Tickets
The ski set often get penalized with hefty prices for having such an expensive hobby. (I completely understand.) This year, my ski trip to Big Sky, Montana, will be little friendlier on the wallet since I booked my lift tickets from Liftopia and saved 20%.
Check out all their U.S. ski resort lift ticket discounts where you can save on Cyber Monday.
4. Best Western Hotels
See, there's something for everyone here–skiers and bargain hunters alike.
If you like your budget travel, then purchase a $100 Best Western hotels gift card online and receive $20 extra dollars.
5. United Airlines
Certain U.S. airfares start at $39 each way. If you want to get away domestically, see a new American city or visit distant family/friends, now's your chance to book for a steep discount.
Happy Cyber Monday Travel deal shopping!
Katie

Enjoy this special 8WomenDream Guest Contributor story submitted by new and experienced big dreamers throughout the world, edited and published to capture a dream perspective from different points of view. Do you have a personal dream story to share with 8WomenDream readers? Click here to learn how to submit dream big articles for consideration.
Note: Articles by Guest Post Contributors may contain affiliate links and may be compensated if you make a purchase after clicking on an affiliate link.