Last updated on November 14th, 2019 at 04:29 pm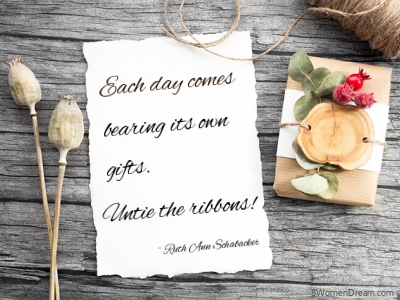 If your dream is to turn your big dream into a money-making opportunity, then you are an entrepreneurial dreamer. It's OK to be one; it can be a smart way to look at your dream.
Most dreamers, possibly like you, who take the necessary steps towards making a dream a reality tend to work obsessively whenever possible.
You may work a regular 9-5 day job that has nothing to do with your big dream idea, so you get out of bed each morning at 4:00 a.m. to work on your paintings or your novel or your fitness, or your studies–whatever supports your dream. Or maybe you work on your dream after everyone has gone to bed and the house is quiet.
This type of commitment is why entrepreneurs and goal-oriented dreamers are often considered workaholics. And once you start seeing positive movement forward on your big dream, it becomes more challenging to take downtime and recharge your batteries.
As a dreamer who tends to work all of the time, the biggest question I am asked around my birthday, holidays, special anniversaries, celebrations, and the like, is what do I need to help me relax more and take a break from my dream. It's funny because I don't think I'm working too hard on my dream until the night before my birthday when I am reminded that it is my birthday and I've refused to agree to any arrangements or discussed what I might enjoy doing to celebrate.
Time-off is always the farthest from my mind, and I think this is true of most entrepreneurs and committed dreamers–that is until my family throws their hands up at me. I've vowed to stop neglecting my offline life and those I love. So this week, I decided out of pure curiosity to search the Internet to see if any gift ideas might tempt me away from working or assist me in relaxing more. I plan to place them on a shared spreadsheet for my family to utilize at any time.
These are the eight of the many great ideas I discovered to support your entrepreneurial dream or the workaholic dreamer you know and love.
Enjoy!
8 Gifts for the Workaholic Dreamer
The highly-rated iPhone app Any.do is a 'To-do' list app specially designed with the busy entrepreneur in mind. What's great about this app is how it syncs between my iPhone, my desktop PC, my laptop, and my tablet.
Yes, I have that many devices!
The app syncs my iPhone calendar, with my Google calendar, any upcoming Facebook events, and my Outlook calendar. Any.do has a reminder feature for scheduled time, and that turns off when you've reached your destination.
With the daily planner, I can share lists and assign tasks to collaborate and get more done, with anyone.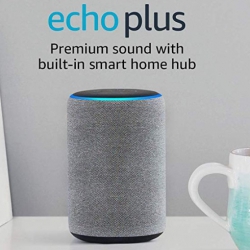 The Echo Dot features premium speakers for powerful 360° sound, and a built-in Zigbee smart home hub and temperature sensor.
I can merely tell Alexa to play music, answer a question, make a phone call for me, and provide me with real-time information like news, weather, and flight statuses. With the built-in hub, starting your very own smart home office is easy.
What I love about Alexa is that it's like having an extra pair of hands or a part-time personal assistant. It can also call into conference calls on time without me having to think about it or execute them myself.
I cannot tell you how many times I've been late for a conference call because I wasn't paying attention to the time while engrossed in work and then have to scramble to get the number and the information.
With Alexa, you can have it call into the conference for you on time.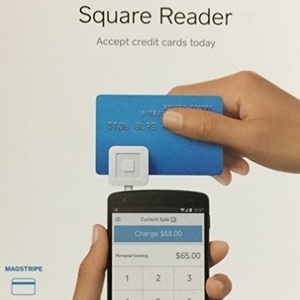 What I love about having a square card reader is the convenience of being able to take a debit or credit card payment on the fly. My big dream entrepreneurial pursuit doesn't involve any physical products, but I do book training sessions with clients, and I have offered boot camp exercise training classes.
Inevitably, someone will bring a friend along to a class without having registered ahead of time. If there is room for an extra friend in my class, then I can take their payment wherever I have a decent phone connection.
It's also great to have a card reader if your entrepreneur is a paid public speaker with physical products, like a book to sell at the back of the conference room or a convention booth.
If your entrepreneur has been contemplating selling a physical product, like jewelry they create or cookies they'd like to sell at a local farmers market, getting them a card reader might be just the thing to get them moving on their product idea. The card reader featured to the left comes in a two-pack because it is good to have a back-up reader.
Your entrepreneur will still need to register the device with Square before it can be used.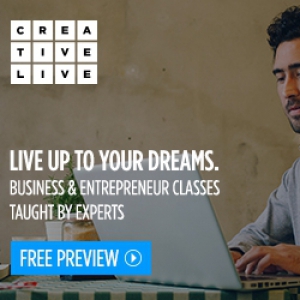 Being a successful entrepreneur is not just about following your life's passion, setting big dream goals and being great at what you do. Entrepreneurs also need to possess specific business skills and the mindset of a profitable business owner.
Does the entrepreneur in your life get things done without you having to remind them of their most important tasks? Are they comfortable with being their own boss? Do they have a completed business plan?
Are they strongly self-motivated and do they understand the ups and downs of running a business? Do they know how the economy works and what to watch out for when there are shifts in the market?
How good are they at organizing their schedule and managing different client deadlines? What about contracts and setting boundaries? How about the banking side of running a business?
Consider giving the gift of an online creative and fun entrepreneur or business class. CreativeLive offers all kinds of high-quality online business courses and self-improvement classes for entrepreneurs taught by leading industry experts.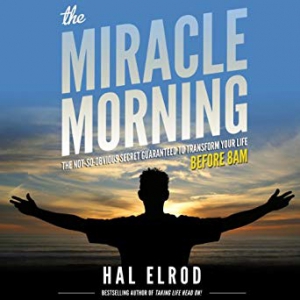 Does the entrepreneur in your life ever express the wish to miraculously wake up tomorrow and any or every area of their life is transformed? What would be different? Would you be happier?
Would they be happier? Healthier? More successful? In better shape? Would you both have more energy? Less Stress? More Money? A better relationship? Which of your life's problems would be solved?
What if best-selling author Hal Elrod told you that there is a "not-so-obvious" secret that is guaranteed to transform any, or literally, every area of your life, faster than you ever thought possible? What if Hal told you it would only take 6 minutes a day?
Enter The Miracle Morning. What's now being practiced by thousands of people around the world could perhaps be the most straightforward approach to creating a big dream life. It's been right there in front of us, but this audiobook has finally brought it to life.
Are you ready? Is the entrepreneur in your life ready? The next chapter of your lives, the most extraordinary dream life you've ever imagined is discussed in this audio version of Hal Elrod's wildly successful book of the same name.
You and your entrepreneur deserve an extraordinary life!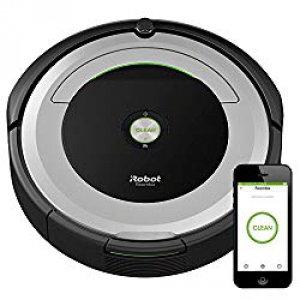 Let's face it, does anyone enjoy vacuuming the house or the office? I can almost certainly guarantee that the entrepreneur in your life finds such tasks a tedious waste of time.
Robot vacuums are wonderful. Really. The iRobot Roomba with Wi-Fi allows the entrepreneur in your life to connect to this vacuum from anywhere. Meaning, you are running late for a meeting in your home office, you can remotely start the vacuum and have your home or office or both nicely vacuumed before your guest arrives.
If you are under the impression that these round, odd machines don't pick up dirt and do the job that larger vacuums do then you are mistaken, I cannot stress to you how wonderful it is to not push a vacuum around the house of the home office.
You can program these machines with Alexa to automatically start to vacuum whenever you wish. You can get them to focus on one particular area, like the home office and re-dock themselves when done. The Roomba is specially engineered to loosen, lift, and suction everything from small particles to large debris from carpets and hard floors. Sensors alert the Roomba robot vacuum to clean more thoroughly on concentrated areas of dirt. From a Smartphone, your entrepreneur can simply press clean or schedule Roomba on the go with the iRobot home app or Alexa.
Plus having a robot work for you is cool.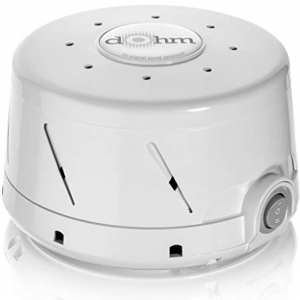 Does you or your entrepreneurial dreamer have trouble winding down and falling asleep at night? Does he or she have trouble relaxing once their head hits the pillow?
You may or may not know that white noise promotes relaxation before sleep by providing a constant, soothing sound for the brain to settle on. White noise helps quiet the mind and keeps you and your entrepreneurial dreamer from focusing on disruptive sounds which interfere with the process of falling asleep.
Once you've fallen asleep, white noise works all night long to drown out the random sounds that can you up, either entirely or just as partial 'micro-awakenings,' which may not be remembered in the morning. This means a deeper sleep, and waking up feeling more rested and restored.
Just plug it in and flip the switch to choose your volume and Ta-da!
Relaxation.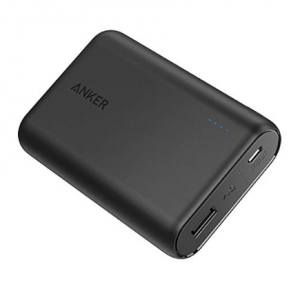 External batteries can be a life-saver, especially if your dream or your entrepreneur requires travel as part of the deal. Small external batteries are a revolution in high-capacity portable charging.
The Anker PowerCore External Battery is one of the smallest and lightest batteries. It fits easily into any pocket or bag, making it the perfect charger for sitting in a waiting room, on a plane, in a coffee shop, salon, or anywhere else a Smartphone, laptop, Kindle reader, or a digital camera needs a battery boost.
External batteries have saved me when I have been taking photographs, videotaping or offering a Facebook Live Event, or outdoor training with music–anything outdoors–anything that is a massive drain on my Smartphone.
I keep it in my pocket with a charging cord and plug my phone in to preserve its battery life full for continuous phone use.
I love this gadget!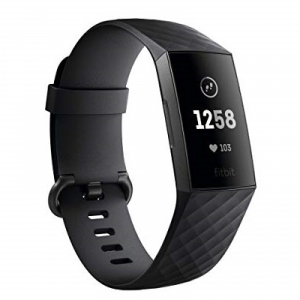 I must confess, I live by my Fitbit activity tracker.
I recommend them to everyone wanting to get in shape and lose weight. I rave about them to my clients who want to learn how to run marathons and train to be a triathlete.
I wouldn't be able to accomplish all of my health and fitness goals without it. Activity trackers help you gain a deeper understanding of your body, your health, and your fitness progress.
This particular Fitbit shown to the left is waterproof, counts steps, tracks your heart rate 24/7, captures your calorie burn, offers 15+ exercises, checks your goal progress, monitors your sleep quality and more.
Every day, a Fitbit will offer you valuable insights about your health that will empower you to take action, improve yourself and reach your health and fitness objectives around becoming a triathlete after the age of 40–should you or your entrepreneur so desire–which is why I recommend getting a waterproof fitness tracker.
I hope my suggestions help you with your big dream stress or the workaholic entrepreneur in your life both be more balanced, healthier, and able to enjoy some time off every now and savor this one precious life.
Heather Montgomery

Heather Montgomery is a fitness writer, triathlete, and serial entrepreneur who is devoted to sharing what she has learned about becoming a triathlete after age 40. She uses her Metabolic Training Certification to help other women struggling to get fit in mid-life. She lives and trains in Santa Rosa, California, the new home of the Ironman triathlon. You can find her biking the Sonoma County wine trails.
Note: Articles by Heather may contain affiliate links and will be compensated if you make a purchase after clicking on an affiliate link.