Last updated on July 12th, 2022 at 11:32 am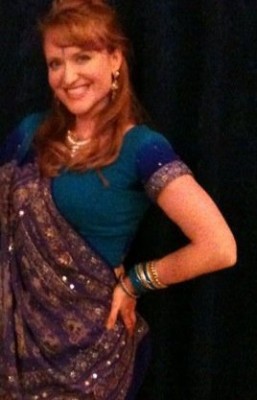 The fabric of my sari was like the sky at twilight meeting the sky at midnight, as one blue faded into another. The sequins sewn by hand onto the night blue glittered like stars.
I felt like I was wrapping myself in the universe.
My spiritual teacher Nithya Shanti's mom Shashi and Aunt Nilum were there to help me wrap it around myself. We were all in Bareilly, India for Nithya's cousin's wedding, and I was the family's guest.
Wearing a sari takes some practice, apparently, and they knew just how to drape and fold and pleat the fabric like a fan at the waistband so that this giant rectangular swath of silk was somehow transformed into an elegant evening dress.
Miraculous! I'll never forget my first experience wearing a sari, or attending an Indian wedding…
Another Scene in the Book!
Last week I dove back into writing new scenes for my book manuscript, Burning Down the House, and the wearing-the-sari scene was the first one I felt inspired to write. Last year, when I finished the first draft of this giant 459-page manuscript, I hadn't traveled to India yet.
When I returned from my travels in January, I wanted to let the transformational experiences I'd had in India soak in for a while. I wanted time to process it all. I wasn't ready to return to the book quite yet and didn't know yet exactly how the India stories would factor into it.
I knew the manuscript needed a lot of editing and some structural revisions. I'd been noodling over how to restructure the book to best tell this story. Yet I'd let a few months pass without making major progress in the writing or editing, and I knew that to achieve my dream of completing a polished manuscript this year, and sending it out to agents, I needed to be in motion.
It was definitely time to write again, and what called me to sit down in my writing space was telling stories about India.
It felt good last week to write a new scene in my book again, knowing I was making progress. And the universe rewarded me for taking action by introducing me to someone who can hopefully be a support and guide as I move forward with the manuscript.
Writing the Sari Scene
I was writing the sari scene at Flavour Cafe, a neighborhood cafe just two blocks from my house where I often camp out in Little Italy in Troy, New York. The baristas there and the owner, Charlie, are super sweet, and they let me camp out at the table in the window or on the plump L-shaped couch for hours while I work.
I'd exchanged pleasantries when I first entered the cafe with a man who was sitting at a table by the wall across the room from me. He'd been kind enough to hand me my keys after I left them by the coffee dispensers when I was selecting my coffee flavor of the day from amongst the dozen or so options.
"Are these yours, miss?" he'd asked.
I liked him right away because he said "Miss" and not "Ma'am" and I have never been able to see myself as a "Ma'am" (it sounds so matronly and I still feel like a kid half the time).
We each clicked away on our keyboards for a while as I worked on the sari scene and he did whatever he was doing, both of us clacking away, in our own little worlds.
Introduced By A Manuscript
Before he left the cafe, the mysterious friendly stranger in the black shirt, jeans, and glasses with wavy hair wandered over to me. He pointed to the massive manuscript on my table. "What's this?" he asked.
I told him it was my book manuscript, and we chatted about that. Turns out that he is also a memoir writer, working on his own book now, and that he teaches creative writing at St. Rose, a local college in Albany, near Troy. I've held the intention since moving back to Troy from San Francisco to launch a writers' group to read each other's work and provide support and constructive criticism.
Daniel and I, this professor and writer, agreed to launch a monthly writers' group so we could help each other get our memoirs finished, and cheer each other on along the journey.
The Universe Delivers
I love how the universe always delivers just what I need when I need it, as it did in this case. I felt like I'd been rewarded because, after a few months in which I wasn't making much progress in writing my manuscript, I finally camped out in a cafe for an afternoon to write.
Just so happens that the day I camped out there this memoir writer sat across the room from me, and Daniel and I ended up forming our writer's group–all because of serendipitous timing and a misplaced set of keys. This to me is synchronicity, and it's another example of how when you take action in the direction of your big dreams, the universe often rewards you, and meets us more than halfway.
Dreams Coming True In Amazing Ways
My coaching clients have stories like this. When they have moved in the direction of their dreams, amazing things have happened.
One committed to writing down a lifelong dream finally that she had been shy about speaking out loud, or committing to. It seemed too big and far away. How would she ever do it? Two weeks later, through a serendipitous connection, she had landed her first book contract to illustrate a children's book. Neither of us could have imagined it would click into place that quickly.
Another friend who is also a coach, with whom I trade life-coaching services, said that once she took some action steps to market her own business again, she received unsolicited emails from former clients asking her to submit a proposal the very next day. I find this so often, that when you move towards your big dream, the universe rewards you by providing something unexpected and wonderful that contributes to them. I think it is nudging you along, giving you the encouragement you need to keep going.
Take one step in the direction of your dreams, and the universe will often take two in your direction to meet you.
Expecting the Best
All of this reminds me of a quote that I have always loved:
Expect miracles, because you are one.
Maybe to some, bumping into another author and essayist who is completing his own memoir, and wants to join a writers' group, would seem like a small thing, a mere coincidence. To me, however, it is a minor miracle and just another reminder of how the universe seems to orchestrate things with perfect timing when you believe and are in pursuit of your big dreams.
Somehow, you meet just the person you need to meet at the right moment to move your dreams forward. Somehow, the money shows up or a client shows up or circumstances align in such a way that things just click into place.
A friend offers to forward your book proposal to their agent. Someone loans you a book that helps crystallize a key idea for your writing. You bump into a neighbor who knows a great editor. All three of these scenarios have happened to me, by the way. I realize that these moments may seem rare and that you can't just conjure them up. It requires a certain degree of faith, moving forward, and operating from a space of trust.
But to me, that is what living our dreams is all about. You have a vision and although you cannot guarantee that you can realize it, you keep moving forward, inch by inch, with great faith.
Faith plus action equals miracles, so often, because you are in motion, doing the work, and you are keeping the faith that the universe will support you in living out your dreams. When you operate from this space, you allow space for miracles in your life, because you believe in the possibility of it.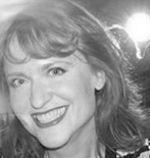 Lisa P. Graham is an inspirational writer, life coach, TED motivational speaker, and globe-trotter whose passion is to help others to find happiness and meaning in their daily lives. A political activist at heart, Lisa would like to empower more women to run for political office as a way to create positive change in the world. You can find her on her website or watch her TEDx speech on YouTube.
Note: Articles by Lisa may contain affiliate links and may be compensated if you make a purchase after clicking on an affiliate link.