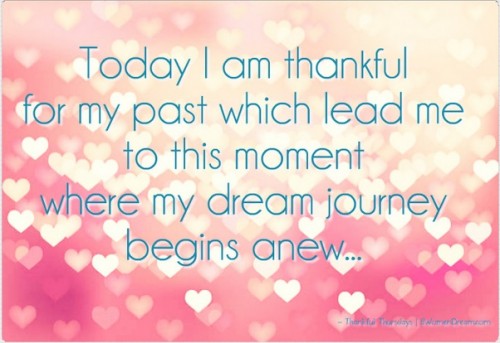 So many good things are happening in my dream journey. My new job is going well and my foundation is blossoming. There is much to be grateful for this week.
In gratitude for all the good that is happening in my life, this week I want to provide you with 16 gratitude quotes you can use as affirmations to remind you that gratitude will keep you going on your dream journey.
Gratitude Quotes and Affirmations —
1. I am grateful for the gift of 86,400 seconds that I have today for making my dream come true.
2. Today I am thankful for my past which lead me to this moment where my dream journey begins anew.
3. I am grateful for the path my dream is taking me down.
4. Today I am grateful for fear. For when my fear disappears, abundance appears.
5. I praise my dream and all that's in it by practicing gratitude in this minute.
6. Let me be grateful today to people who help me with my dream; they are the charming gardeners who make my dream grow and flourish.
7. I am so happy and grateful now that my dream has come true.
8. Today I am filled up with appreciation and gratitude for each step I take in making my dream come true.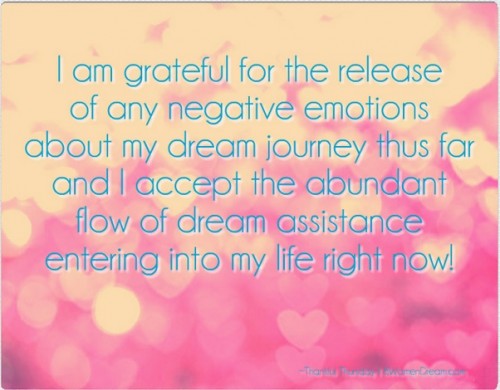 9. I am grateful for the release of any negative emotions about my dream journey thus far and I accept the abundant flow of dream assistance entering into my life right now!
10. I am grateful for the opportunity to make my dreams come true.
11. My dream needs are being generously met. For this I am thankful.
12. My soul rejoices for my dream experiences so I engage in gratitude in this moment.
13. I am grateful for my wonderful dream possibilities and the potential for making my dream come true on this day.
14. In gratitude I am unattached to specific dream outcomes; everything that comes to me is perfect for my dream success.
15. All that my dream beholds, sometimes difficult and slow is full of blessings and for this I am grateful.
16. My dream struggle ends when my gratitude begins, therefore I am grateful.
I want to give a shout out to Tony Robbins, Jack Canfield, and Oprah for taking some of their gratitude statements and rewording them into ones that dreamers can use.
Enjoy your Thankful Thursday. Be grateful for this day, dreamers.
Sue