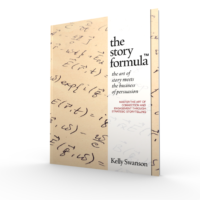 No Character, No Conflict, No Story
In my career of teaching public speakers and people in business how to use a story as a tool of impact, I see a common mistake.
People tell me stories that aren't really stories:
• A list of facts is not a story.
• Telling me how you got started in business is not a story.
• Telling me the history of your organization is not a story.
Those are facts.
Every story must have a character with a conflict; a pain they want to get rid of, or a desire they want to achieve.
If your speech, marketing materials, About Us page, and business doesn't have a clear main character with a problem that gets solved, you don't have a story.
End of lesson.
Kelly