Last updated on January 22nd, 2019 at 01:50 pm
Yep. Another dream baby. Not the flesh and bone kind. The paper and ink kind. I just completed another book.  And I'm so excited because this is the book that will help you tell your dream story.
People have been asking me for years to help them with their stories.  It was so easy for me to take their story and make it better. But I wanted to come up with a way to teach people how to do it themselves. On their own.
As you probably already know, I have been talking about the power of story for about fifteen years now. I'm a firm believer in its power and always have been. Now the business world and venture capitalists alike have chosen Strategic Storytelling as its current fad.
Technically, storytelling has been around forever.
The art-form is as old as human existence. A story has always been important to influence and persuade. But now everybody is realizing that it's the secret sauce to connecting on an emotional level with the people you want to persuade. So there you go. I was sitting on a gold mine.
Hence the birth of this book.
Back Story: I've started attracting business from people who want to learn how to write and tell powerful stories in business.  One client, in particular, is a group of scientists in Research and Development at a very large company.
Yes, I am going to teach scientists how to become better storytellers. I'm still laughing over that one.  But it's the coolest job ever because it has forced me to take my art and turn it into a formula.  I've broken down the components of powerful storytelling into actual equations that walk you through every step.
Mastering The Art of Connection and Engagement Through the Power of Strategic Storytelling
That's what it's all about – connecting and engaging through a story. We all want to influence someone, whether it's in sales, customer service, leadership, getting a promotion, convincing our spouse we need a new car, or making our kid clean up his room. We are all in the business of persuasion.
But most of us are doing it all wrong. We're focusing on data and facts, and wondering why it isn't working.
It's one thing to tell people what to do. It's another thing to make them WANT to do it. A story is the big secret. My book gives you the formula. I would LOVE it if you would order a copy, read it, and tell me what you think.
Here's to another dream checked off. How about you? What's keeping you from telling the world your story?
Kelly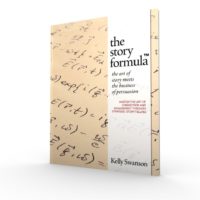 To order The Story Formula today, go to Squareup.com/Store/Swanson-Speaks-inc
Or purchase The Story Formula on Amazon
Kelly Swanson is an award-winning storyteller, motivational speaker, published author and TV personality who is passionate about helping women harness the power of their stories to connect, influence, and get the results they dream of accomplishing. Laughing the whole way, Kelly teaches women how to master the art of connection through the power of strategic storytelling. You can find her on The Fashion Hero show airing Fall of 2017 on Amazon Prime or on her website MotivationalSpeakerKellySwanson.com.
Note: Articles by Kelly may contain affiliate links and may be compensated if you make a purchase after clicking on an affiliate link.