Last updated on January 22nd, 2019 at 01:50 pm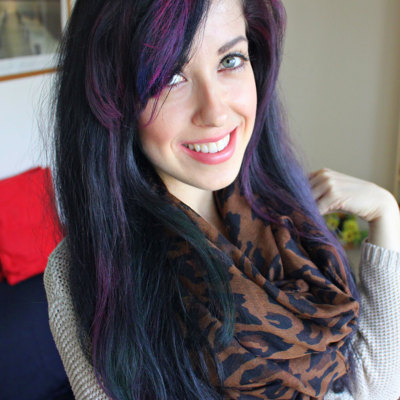 Today's dream story isn't about me (pausing for you to gasp in shock). My big dream article this week is about Violet, and how she uses the art of strategic storytelling to turn me from a stranger into a fan.
Meet Violet, Dreamer, Entreprenuer and My Hair Extension Queen …
This photograph is Violet. Isn't she precious?  (I'm at that age where I feel led to tell people how precious they are.)  I want you to meet her. Why? Because I love her.
No, we've never met. Violet lives in the UK; I live in the US. We met on ETSY–a shopping site I ADORE.
If you've been reading my public speaking dream articles here on 8WomenDream, you probably know by now I'm addicted to fake hair. Well, it's real hair (I have the dent in my bank account to prove it) it was just somebody else's hair first.
Hair extensions can be expensive, so I often shop around for the best deal at the best value. My hair extension frugality is how I met Violet.
A Reluctant Buyer Looking for the Best Deal
It can be tough selling any product in today's crowded market where buyers have tons of options, all wrapped in sexy brand language, but not all equal when it comes to the value delivered. When I'm shopping for hair, I want the best hair at the best price. Or at least I thought that's what I want until I found Violet on ETSY. There's one thing she does that ended my shopping search–and it isn't her prices.
She told me her story, but not just any story.  She shared her dream story about her connection to her brand.
As a public speaking salesperson, I am quick to tell other speakers I coach how vital product is but slow to say to them what their brand means personally. When speakers connect a personal pain experience to their speaking brand, the listener has an emotional connection with the speech. You bond, you connect, you share the same pain, and you can relate to each other. Emotional connection builds trust between you and your audience and when you use it, your audience will believe what you say about your product.
Don't forget that in public speaking you're selling yourself first. People do business with people they like, trust, believe, and feel like they know. Selling yourself is not new information. However, too many speakers continue to use old ways of "selling." They think data is what does it; along with features and benefits.
Nope.
Great selling is a story used strategically. Strategic storytelling is what allows you to become human to your buyer. It's a story enabling you to connect and engage with your prospective clients and audiences.
Violet's dream story made me choose her ETSY store. I still expected a quality product–and I received one. But her story proves to me that emotion plays just as big a part (if not bigger) in buying decisions.
Your story doesn't have to be fancy. It just has to be from the heart.  You must connect 3 stories:
1. Your Personal Story.
2. The Brand Story. 
3. The Customer Story.
Not sure how to write your story? Don't worry. I can help. Check out my StoryImpactAcademy, and I can turn you into an expert at selling yourself in no time.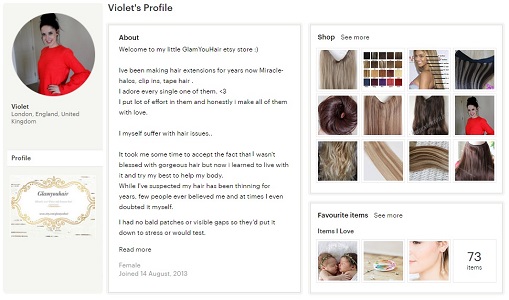 Violet's Dream Story–From Her Store on ETSY:
I've been making hair extensions for years now Miracle-halos, clip-ins, tape hair. I adore every single one of them. I put a lot of effort in them, and honestly, I make all of them with love.
I too suffer from hair issues.
It took me some time to accept the fact that I am not blessed with gorgeous hair, but now I've learned to live with it, and I try my best to help my body.
While I suspected my hair was thinning for years, few people ever believed me, and at times I even doubted it myself. Most of the GPs I saw reacted the same, despite my tears and protestations.
There were no bald patches or visible gaps so they'd put it down to stress or would test my iron and thyroid levels, which appeared healthy (apart from iron). I was low on B12, Iron, Vitamin D, and I had PCOS–all at the same time! After learning what was going on inside me, I felt awful for always blaming my "body" for my hair loss when my body was struggling inside and needed help!
Now I try my best to be healthy. I eat healthy, exercise, and take Multivitamin supplements recommended by my GP.
Some of my hair loss over the years is easily explained. I developed an eating disorder as well, and remember gathering clumps of hair off my bedroom carpet when I was under-eating. I was eating well, and then I wasn't eating at all–there was no balance. Weight loss, low iron levels, poor diet, and stress, along with thyroid and hormonal imbalances, can all cause hair to fall out. Hair needs healthy food and a well-functioning endocrine system to flourish.
Now you see, you are not alone–someone, somewhere can relate and know that you're not alone!
I have complete faith in the Lord that this will make me stronger. Keeping positive is on the list of my priorities. I am concentrating on the good.
Also, making hair extensions–not just for myself–but for YOU as well. If you've read to this point, I sincerely appreciate you! Thank you for taking the time to take a look into my world for a few minutes.
You can follow me on Facebook for discount codes, updates, and much more. 
Look At What Else I Did
Did you notice what else I did? I advertised Violet, her dream, and her ETSY store within my story. Did I do it in an apparent pitchy way? No. I told a dreamer's story–a far better way to build a community for Violet and her big dream over simply writing an ad–wouldn't you say?
Data compels, but your big dream story SELLS.
Kelly Swanson
Kelly Swanson is an award-winning storyteller, comedian, motivational speaker, Huffington Post Contributor, and cast member of The Fashion Hero television show airing on Amazon Prime. She is also the author of Who Hijacked My Fairy Tale, The Land of If Only, The Story Formula, and The Affirmation Journal for Positive Thinking. She was a featured entertainer for Holland America Cruise Lines, keynote speaker for the International Toastmasters Convention, and has keynoted major conferences and corporate events from coast to coast. She just launched her one-woman show Who Hijacked My Fairy Tale in theaters, and it is being booked all over the country. In July of 2022, she was inducted into the National Speakers Association Speaker Hall of Fame.
Note: Articles by Kelly may contain affiliate links and may be compensated if you make a purchase after clicking on an affiliate link.