Last updated on January 22nd, 2019 at 01:50 pm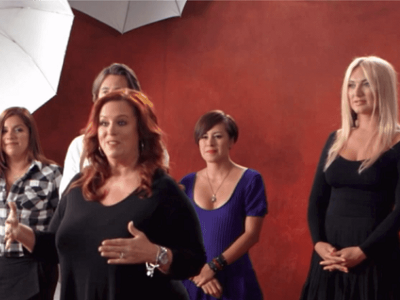 This picture most likely means nothing to you. But it means everything to me.  Why?
Because it is proof that dreams don't ever die.
The road of a paid motivational speaker is tough, and no matter how much I believe in myself, there are still days that I don't. Days that the phone doesn't ring. Comments that sting. Other keynote speakers who get better offers. Clients who choose someone else.
Days, when you think to wear all black, will make you look cool, but instead, the picture shows you just really look like a plus-sized bat.
So if you're out there struggling to make this public speaking thing work or fulfill your big dream-come-true, and it's not paying off, I GET IT. Public speakers have these kinds of days and they come around more often than we like.
It's a business without guarantees, with a lot of moving pieces that you don't see coming.   If you weren't depressed before, I've probably just pushed you even further out on the ledge.
But have faith. There's an upside to all of this. I promise.
While the cold hard truth is that you may not get the opportunity you want, there is another waiting.
While you may not get the audience you crave, there is another one listening.
While you may not be getting all the things you wrote out in your dream plan, there is another plan forming.
And it's just as big – maybe even bigger.  And it has your name written all over it.
So I need you to keep dreaming.
I need you to remember why this dream matters to you, where it began, when it began, and what it means to your soul. I need you to focus on who you're here to help–the pain they feel–the hope that only you can bring.
Only you.
I need you to be open to seeing another way – another path. I need you to loosen your grip that this is the only way to get there. Look outside this path. I know it's dark and scary out there but look anyway.
I need you to trust that other open door – that it might not be a wrong way, but the right way.  It might not look like something you had envisioned. But it just might be bigger and better.
I need you to believe that even when you don't get what you wish for, there is still the big bold chance that you will get something even better. If you continue to look, dream, pray, hope, and dance your way towards it.
There are so many things that have popped up on my yellow brick road that looked like potholes and distractions but turned out to be blessings, gifts, new adventures. Consider that in this pothole you just might find your legacy.
When this journey began for me, I dreamed I would have my book on a shelf in a bookstore. That was it. That was the colossal bigger than I could imagine dream. It would be my face smiling at you when you walked past the bookstore at the airport.
I never dreamed that I would:
• get 60-80 gigs, every year.
• that I would actually write three books, and I'm still going.
• that I would stand on stages so big it took my breath away.
• that I would meet such amazing cool people who are setting the world on fire.
• that people would look up to me for training, for mentorship.
• that I would get a check with these many zeros on it.
• that I would ever see a press release that says "Kelly Swanson appearing in a television show."
Yes, that's what that picture at the top is. Me on TV.  I still feel like I dreamed the whole thing, but there I am in living plus-sized bat clothing proof.
And guess what?
I never got my book on a shelf in the airport. In fact, I'm pretty sure it's not on any shelf in any store. And guess how many I've sold? More than I can count.
But no face in the airport. Do you think I care? Nope. I'm too busy to care.
So today's message?  Chin up my friend, your day is coming. Stay strong. Stay committed. Stay open to change. Stay in the knowledge that the best is yet to come. Just remember:
Dreams don't die. They just sometimes take a different shape.
Kelly Swanson

Kelly Swanson is an award-winning storyteller, motivational speaker, published author and TV personality who is passionate about helping women harness the power of their stories to connect, influence, and get the results they dream of accomplishing. Laughing the whole way, Kelly teaches women how to master the art of connection through the power of strategic storytelling. You can find her on The Fashion Hero show airing Fall of 2017 on Amazon Prime or on her website MotivationalSpeakerKellySwanson.com.
Note: Articles by Kelly may contain affiliate links and 8WD or Kelly will be compensated if you make a purchase after clicking on an affiliate link.