Last updated on July 7th, 2022 at 01:37 am
This is the blog post in which the author realizes that if she is ever going to get her book finished, she is going to have to bravely dive in and work on it, maybe daily, even when it feels difficult, for weeks or months, until it is finally, somehow, 100% polished and done.
Astonishingly, it is not going to write or edit itself. Amazingly, completing a 476-page draft manuscript last year was just the beginning of finishing this book!
It's time. It's time for me to recommit to living this dream. Even if it stretches me beyond what I have ever done before. In fact, especially if it does!
Why Won't Books Write Themselves?
This is what I have learned so far about writing a book. It won't write itself!
We all know people who have ideas about books. "Someday I'll write that book about… (fill in the blanks here)."
You've heard that before, right? Perhaps you've said that before? Everyone seems to believe they have a book inside them. Maybe everyone does! But, it still takes skill, time, and discipline to get that book down on paper. And a book is the literary equivalent of running a marathon, compared to which writing this blog post is basically like a casual jog around the block.
I know that I can jog around the block, and I know that I can get this post written by the time it needs to be done.
Writing a book is a much longer haul.
A 1,500-word article? Easy peasy. A 90,000-page book, with a compelling narrative voice, convincing scenes and dialogue, and a narrative arc that entices the reader to keep turning pages? Just a smidge more intense of a process.
I am in the cycle of living a dream that life coach Martha Beck calls "The Hero's Saga" in her book, Finding Your Own North Star. This is when we've done the dreaming and scheming needed to create the vision for what we want, and now simply need to stay in action, experimenting, working, and playing until we make it happen.
The mantra for this time is, "This is a lot harder than I expected it would be, and that's OK!"
Indeed! Time to just keep moving…
Training For That Marathon!
The literary equivalent of "training for that marathon" ~ that is, writing this book! ~ is a multifaceted process, I believe. It may include reading other books in a similar genre or studying other authors that we love. It may include taking writing classes, or "workshopping" our stories before we send them out into the world.
Most importantly, I think it requires simply "showing up" to do the work. It's impossible to train for a marathon if you never lace up your sneakers, get out the door, and run!
Creating a manuscript, one that you will be proud of, requires filling the page, over and over, writing and editing, over and over, and just, again and again, sitting down at the computer or notepad. Showing up!
A 476-Page Paperweight!
I'll be honest. I spent the first half of 2011 working on lots of other inspiring projects and initiatives in my life, and thinking about how I was going to get this book done. Without really, well, working on it much. My big, beautiful 476-page manuscript has adorned my coffee table for a while now. There've been periods where I'd schlep it around in the back seat of my car for months, "just in case" I felt inspired to dive in and edit it.
Honestly, it felt intimidating to jump back into it, after all the elation of finishing the first draft. I felt some of the despair that Elizabeth Gilbert mentioned in her great TED talk on genius, about how there was a moment when she felt like the book she had been working on long and hard (Eat, Pray, Love ~ you might have heard of it?) just wasn't coming together.
She decided she had to "hand it over" and asked the universe for some help again. After all, she was showing up to do the work (sitting down and writing!) and she called on her own "personal genius" for a little inspiration.
I am at that point now, where I am calling on inspiration. I also know I have to simply sit down and write!
Making It Feel Like Play Again
I also know myself well enough to know that I love work best when it feels like play. Luckily, my life is filled with lots of this kind of "work."
I love life coaching, which feels like playfully guiding people towards their own most inspired visions for their lives. I love organizing events, which I sometimes still do. I love helping organizations write strategic plans and mission and vision statements. And I have always loved writing. It's been one of the primary joys of my life since I was a little girl.
I have always loved words. I was one of these really nerdy children who used to read the Oxford English Dictionary, unabridged, just "for fun!" And books have always been my friends.
I can still lose myself in a bookstore for hours or days, pouring through novels, memoirs, poetry, and nonfiction books on topics that I find scintillating, like Buddhism or neuroscience.
Doing What We Love
Despite the fact that "finishing a book" can feel daunting, simply writing–sitting down, and creating something new on the page–is something I have always done. Happily. Ever since shortly after I first taught myself to read, at age 3! (as family lore has it!).
My prescription for myself here is what I would say to others in the same boat who are looking to finish (or to start!) a manuscript. Write one scene at a time. Focus on getting a few pages done per day or a certain number of pages per week.
And, for me at least, it helps to have some "external motivation" sometimes to keep me on track.
I just signed up for a "Transformational Author Contest" in which the winning entries are reviewed by the publisher of Eckhart Tolle's books. I have to submit a 20-page proposal ~ twenty days from now! Whoa! When you think about it though, that just means writing one good page per day. Surely that is something I can do!
I also had the offer to have my manuscript reviewed by a graduate school class that is working on developmental editing for books. I am still terrified of doing this, but also pushing myself to submit something, just to have the experience of having this manuscript critiqued!
Into the Home Stretch!
Returning to that marathon analogy, I do feel as though I have been training for quite a while now ~ my whole life if I'm honest! ~ to write this book. I've done all that hard work of running 20 miles a day, and now need to simply show up for the race, and finish it.
I can do this!
Here is My Approach to getting A Book Done
1. Find ways to make it fun again. I am going to come up with ways to reward myself for a "job well done" as I continue to make progress. These could include a beach day, blowing bubbles, time with friends, and a new dress. I'll be creative!
2. Remember that you are choosing to do this. I am reminding myself daily that I am writing a book because I love writing because I have a story that wants to be told and because I've always wanted to write books! So it's actually a privilege to get to spend time writing because for me it means I am living one of my biggest lifelong dreams.
3. Remember that the book is asking to be written. This book is about me, but more so it's about the journey to finding peace, and how I recovered from some very traumatic experiences earlier in my life. I'm writing it because I promised myself I would do so, years ago, when I survived a suicide attempt. And now I truly believe this book can help others. So writing it is about something bigger than me.
4. Remember that your job is to show up on the page, and then call upon inspiration to do its work as well. Watch the Elizabeth Gilbert video for more on this fun concept. She reminds us that the artist's job is to "show up" and do the work and that the results are part perspiration and part inspiration. When we relinquish needing to take total ownership of our own "genius," and trust in the mysterious intuitive process of inspiration, it's amazing what we can create.
Time to complete this first marathon! Let's get it done.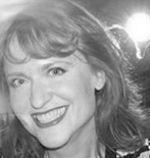 Lisa P. Graham is an inspirational writer, life coach, TED motivational speaker, and globe-trotter whose passion is to help others to find happiness and meaning in their daily lives. A political activist at heart, Lisa would like to empower more women to run for political office as a way to create positive change in the world. You can find her on her website or watch her TEDx speech on YouTube.
Note: Articles by Lisa may contain affiliate links and may be compensated if you make a purchase after clicking on an affiliate link.