Last updated on March 27th, 2013 at 09:26 am
No one ever said that living your big dreams was always going to be easy! And yet those who have done it are here to remind you that it is always worth it.
I have been tested so many times on the road to living my biggest dreams. I have been through a few of those tests in these past few weeks, and just kept walking through the fire (literally, this time!).
Here is a little peek into the world of an author and professional dancer who keeps persisting in the face of adversity, and sometimes against all odds. Join me on the journey!
The Perils of A Live Fire Act!
So two weeks ago I was featured in a cabaret review in Sebastopol, CA at the HopMonk Tavern. I danced to two numbers with a fire theme: "Burn" by Sister Inferno and "This Girl is On Fire" by Alicia Keys.
AND I debuted live fire dancing on stage!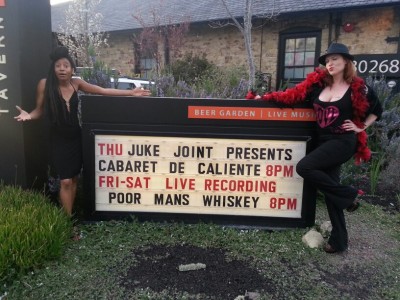 I had choreographed an intricate number for "This Girl is on Fire" by Alicia Keys (the INFERNO version, featuring Nicki Minaj). To start things off, I collaborated with a professional choreographer from Tampa, Florida, Ms. Tonya, and she created a floor routine for Nicki's Minaj's bridge in the middle of the song.
In one four minute and thirty-seven second song, I was going to feature table dancing, chair dancing, floor work, some "regular" burlesque AND live fire dancing.
The song was also choreographed in homage to Marilyn Monroe, since Nicki Minaj talks about her in the intro to the song, so I had a portrait of Marilyn on an easel on-stage, and I uncovered it by removing a black cloth that was draped over the portrait, partway through the song.
I also lit candles on stage on a little table in front of the easel. All in all, it was a complex and elaborate performance and stage set – which also meant more room for things to go wrong!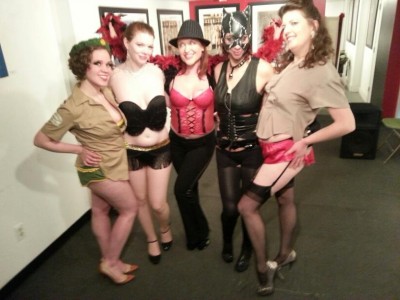 Working With My Fire Safety Staff
At HopMonk Tavern, they are properly insured for live fire in their acts of course, and also require that you have your own fire safety person stageside with a fire extinguisher, fire blanket, etc. I brought my lindy hop friend Wesley Cook to the show to be my "Fire Man."
Wes had the unique double-role of being there in case I caught on fire, and also, if my palm torches for some reason did not light up, to light me on fire!
I had been practicing in the parking lot before the show with my palm torches, and it turns out that dousing them with just the right amount of kerosene before lighting them is somewhat of an art! I poured on too much at first, and the flame burned hot dangerously close to my hands.
Then I poured not quite enough, and it wasn't showy enough. There is that "Goldilocks" zone when playing with life fire, when you douse the palm torches with just enough kerosene to make the show dramatic, but not enough to light yourself on fire!
We finally got the formula right, and Wes and I agreed that we would douse the torches a few minutes before I went on so the kerosene would be fresh and light up well. We were all set to go…
Until The Snags from the Stage Crew!
All's well that ends well. And yet along the way to living the big dreams, things do not always go quite as smoothly as planned! That was the case in Sebastopol.
The stage crew accidentally cued up the wrong song for me (whooops!) and I had to stop, run back to the Green Room, and get them the CD. So they put the last act on before me – and I got to be the closing act for the show, which was perfect! (It is what every performer wants – to close out the show!).
We had poured the kerosene over the torches before the music got screwed up and so I ended up going on-stage about 10 minutes later than planned. Unfortunately, this is enough time to allow some of the kerosene to evaporate…
I got through the opening part of the song and the first few choruses with no snags but one: the candles in front of the Marilyn portrait would not light! D'oh!
I just kept on dancing, and knew that Wes would have to light me up later – so his job would be to set me on fire after all (since I had planned to light my palm torches myself from the candles, which now were not lighting!).
The audience seemed perfectly content to watch me dance and all was going well. Until the time came for the big finale with the live fire…
Wes Lit Me Up!
Wes did his job and lit my palm torches when the time came, with about 60 seconds left to go in the song. One caught fire and one barely glowed.
Oh well! The show must go on, live fire burning bright or not! I danced through to the end and got a rousing round of applause regardless.
I learned in my first stage show featuring live fire that there is plenty of room for things to go wrong with fire! However I am confident that the next time I dance with live fire on-stage I will get it right.
We have to learn as we go sometimes, and I was proud of myself for tackling something new, and for being brave enough to do it in the first place!
Not everyone would light themselves on fire and dance, after all!
And All's Well That Ends Well
The good news is that I had brought a music video producer to the show with me that night, and after watching me dance, he said I was hired! I will be dancing in some music videos soon, a gig that will be great fun for me and that pays handsomely.
Ironically, things going wrong during the show may have helped to get me hired! The drummer for the band that will be featured in the music videos with me was at the show as well, and he said that watching me roll with the punches when things weren't going my way just showed him what a true pro I am.
"I loved the look in your face," he said, "like you were just having the best time, and everything was cool." Indeed throughout it all I just kept smiling and dancing, dancing and smiling, doing what I love and grateful for it.
And the audience loved it!
How Will This Help Me Get My Book Published?
One might wonder what this dance experience has to do with the long-term big dream of publishing my first book. It has a lot to do with it, actually!
I will need to be able to move gracefully through challenges as I work on getting this book published. No one promised me that it would all go smoothly on the first try with an agent or publishing house, although of course that would be nice!
Persistence is the name of the game if you truly want to be successful. I can be a true pro in the publishing world, as I have in the dance world, just persisting even when things are catching fire all around me, or if they are not when they are supposed to be on fire!
I have the confidence that I can do anything at this point in my life, with enough patience and persistence. I am willing to put the time and work into it to make my big dreams come true!
I love being on this journey with you and would love to hear your stories this week about moving through the fire and not getting burned. Rage on, dreamers!
Lisa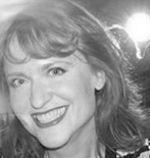 Lisa P. Graham is an inspirational writer, life coach, TED motivational speaker, and globe-trotter whose passion is to help others to find happiness and meaning in their daily lives. A political activist at heart, Lisa would like to empower more women to run for political office as a way to create positive change in the world. You can find her on her website or watch her TEDx speech on YouTube.
Note: Articles by Lisa may contain affiliate links and may be compensated if you make a purchase after clicking on an affiliate link.