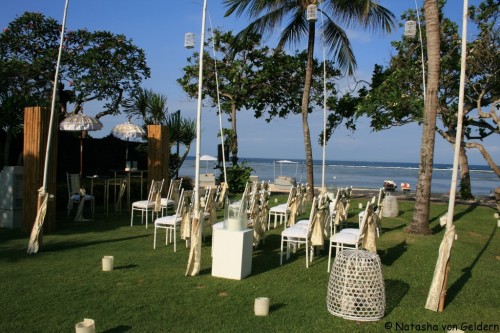 When you ponder a travel dream destination I'm not sure how often you think about getting married.
Travel dreamers tend to think mostly about where to go to get away from everyone, see something that hasn't been seen before, or cross a destination off a bucket list and continue on, but have you ever thought about traveling abroad to get married?
Does the idea of traveling to some exotic spot make the idea of getting married sound more inviting?
Bali was once a quiet travel dream destination until Elizabeth Gilbert put it on the map for wanderlust middle age women with her wildly popular book, Eat, Pray, Love. Since then, women of a certain age have been flocking to this paradise to find themselves, write a book, or somehow capture the magic of Gilbert's soul-searching journey.
Bali itself, is located between the islands of Lombok and Java in Southeast Asia and is actually known as the most romantic place to get married. The exotic island paradise is the ideal backdrop for a romantic wedding day. It's not impossible to see why Elizabeth Gilbert fell in love on this island and decided to change how she lived her life.
Recently, I was invited to a friend's wedding in Bali and now Bali has been added to my list of the most romantic places in the world for couples to get married.
And I was married in Italy!
There are plenty of services set up to help you plan your perfect ceremony, which fall into two types of help: hotels and independent wedding consultants.
From the Bali Wedding guide at baliguide.com:
Bali is part of the Republic of Indonesia and is subject to Indonesian Laws. Every couple considering getting married in Bali must comply with these Laws.

In accordance with Law No. 1 of 1974 concerning marriages in Indonesia (Article 2 (1): "a marriage is legitimate if it has been performed according to the laws of the respective religious beliefs of the parties concerned."

All couples who marry in Indonesia must declare a religion.

Agnosticism and Atheism are not recognized. The Civil Registry Office can record marriages of persons of Islam, Hindu, Buddhist, Christian-Protestant and Christian-Catholic faiths. Marriage partners must have the same religion, otherwise one partner must make a written declaration of change of religion.

The Religious Marriage under Islam is performed by the Office of Religious Affairs (Kantor Urusan Agama) in a ceremony at a mosque, the home, a restaurant, or any other place chosen by the couple and is legal immediately after the ceremony.

A Christian, Hindu or Buddhist marriage is usually performed first in a church or temple ceremony. After the religious ceremony, every non-Islamic marriage must be recorded with the Civil Registry (Kantor Catatan Sipil). Without the registration by the Civil Registry these marriages are not legal. Recording by Civil Registry officials can be performed directly at the religious ceremony for an additional fee.

Persons of non-Islamic faith are required to file with the Civil Registry Office in the Regency where they are staying first a 'Notice of Intention to Marry' as well as a 'Letter of No Impediment' obtained from their consular representatives.
Complete details for what it takes to get married in Bali can be found here.
For my complete story on destination weddings in Bali see my article, A destination wedding in Bali.
Where do you dream of traveling to get married or attending a marriage ceremony?
Natasha
Natasha von Geldern is a travel writer, editor, and blogger who is passionate about making the pages of the atlas real by traveling the world. She is a contributor to Travel Wire Asia, Wild Junket Magazine, Yahoo! Total Travel, and Travelbite. You can find her on her travel website and blog, WorldWanderingKiwi.
Note: Articles by Natasha may contain affiliate links and may be compensated if you make a purchase after clicking on an affiliate link.