Last updated on March 26th, 2013 at 12:34 pm
What happens when you have dream success?
If you are creative guru Alessandra Lariu, you take your dream success to the next level every day. I had an opportunity to chat with Ale about her latest projects and how female leadership is changing the way we do business.
Ale has quite the background in the creative industry. Most recently, she was SVP Group Creative Director at McCann, where she had some clients with personalities almost as big as hers, like MasterCard, General Mills, Kohls, Nikon and Verizon. Oh yeah, in 2010 she was picked by Fast Company magazine as number 29 out of the 100 most creative people in business, beating Tom Ford, Jamie Oliver and the co-founder of FourSquare. Ale also teaches at Hyper Island, Miami Ad School and BDW. She writes a monthly column on digital culture for Info, the Brazilian equivalent of Wired magazine. [Source: shout]
The former creative director with a mantle full of awards was happy to talk about several of her most recent endeavors. SheSays, an award-winning organization running free mentor-ship programs and events to support women in the creative and marketing businesses. The perfect tie in to SheSays is shout, where the About Us page caught my attention with this sentence:
We have a small dream: to be the best place for women to work in the world
Her involvement with Feast and iStockphoto gave her an opportunity to both mentor young designers, and be involved in the process of reinventing the school mascot. As part of Feast's Monthly Topics, Ale was asked to participate in "October: Think Women Leaders".
When I asked her how she got involved with the project on Feast, she told me the classic story of running into a friend at an event that led to a chat over coffee. The October project covered a "varsity project" with a goal to develop new ways to interpret the classic sports mascot. Ideally to introduce the feminine mascot to sporting events. The problem they were having was that typically mascots represent male leadership – aggressive and intense.
That led to questions about what does female leadership look like?
She was dedicated to doing the project and added the opportunity to contribute to shout.Unfortunately, at the time there were very few illustrators so the project didn't get the response on shout she was hoping for.
The Feast project "October: Think Women Leaders" was an excellent alignment of what Ale is all about – making the world better for girls and along the way, add a look of feminine leadership to the school systems.
Mentoring is a recurring theme with all of Ale's projects – from Feast, shout, to the SheSays 'Who's Yr Momma' mentoring program active in New York, London and Sydney.
I asked Ale what she loved about mentoring on all these venues. Ale let me know that the best part about mentoring is that you learn a lot along the way. You get the opportunity to hear what young creative's troubles may be, what young creatives are like today, and of course she loves interaction. She mentioned that it always keeps her learning new and different things.
It was very obvious that Ale values the importance of pursuing your dreams. I asked about her own dream success that she has realized over the years. The list she gave me was impressive!
Ale considers there to be two different types of dream success – career and personal.
She has both experienced and supported women leadership in her own field. Someone who can push the industry forward even though there's still a lot to do. A trait she admits to having that keeps her going: She is never satisfied. There are loads of ideas and Ale wants to always push forward to what is new, what's next.
Ale tells a story of an design instructor that told students that "IQ is overrated. You will achieve more through motivation and determination and never being satisfied to make your dreams come true."
Just a few items on Ale's personal dream success list that she has achieved:
Building a house from scratch – although she did mention that was a huge pain, it was definitely a huge accomplishment accomplishment.
Goal to travel to more than 40 countries – she's over 44 as of today.
To speak more than two languages – she currently speaks five languages.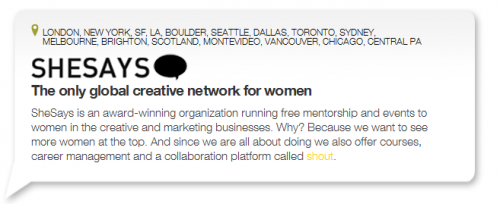 Ale's experience in women's leadership had me asking what her thoughts were on what needs to change to empower women to lead. SheSays co-founder, Laura Jordan Bambach, mentioned to Ale that all inventions came from the male/masculine mindset.
That comment got me thinking as well. Ale believes that this simple idea means there is so much that can still be done to add feminine thinking to the world in all areas. Her excitement bubbled up as she asked me this question.
What would the world look like with initial feminine input?
Just for a few examples of imagining a different outcome with the female perspective, Ale asked what would Facebook look like? What would car designs look like? How would the products we use every day change? How would leadership and management styles be impacted?
Ale continued to add that women lead in different ways. Until we recognize the way we lead and changed the infrastructure to allow different perspectives, we will not get to the place of true leadership quality.
More examples of the male influence comes in how we work everyday. Work hours are typically a 9-to-5 day. Maternity leave was created by men. All we need to do is to change is to look at it from a different perspective.

As the super busy woman that Ale Lariu is, I asked what her biggest passion is, and how she finds time to foster that creativity ongoing.
Ale says that is the key trying to find time to foster our passions.
I work, I live in a blended life-work-play environment. There's no switching off at 5 PM. If I have an idea Sunday at 4 AM I will work on it. I'm not sure this helps, but it helps foster your dreams! That's what makes them a passion – you will always find time because it's not work.
One of her favorite things to say about the SheSays project, is that it should be called "She Does" – The site is all about doing the things not just talking about it anymore. SheSays was recently included in Fast Company's "League of Extraordinary Women".
I had to pick Ale's mind about what are some of the myths about women in leadership roles. I have to agree with her answers as I still see this in professional environments.
The biggest myth to overcome is that you need to be a hard-core bitch in order to succeed. Women have a different style, we are more nurturing but not soft.
Ale continued that women actively pursue helping people grow. Watching people launch the room careers can be very motivating.
Words of wisdom from Ale Lariu
I really expect all creatives to think in a very integrated way to find solutions to solve the problem. Not "traditional" versus "new media" but everything. Really develop your personal brand. What is your unique style? How interesting are you as a person? This is very interesting times for marketing and media in general and new things are coming up every day. You got to love to learn in this environment.
Just launched is the "Find a Token Woman" project –
We are always being asked for great women.

This is not a power-suited, stuffy closed or inaccessible list. It is a living-breathing document where everyone can contribute. Users are free to add, comment and curate.
Take a look at this new interactive application in the sidebar – and add who you think should be on the list!
I have to say the best thing about talking to Ale was her palpable excitement about everything that she's doing. This is a woman who is working 24 seven on several endeavors and is truly living her dream. I took the opportunity to join shout myself to find out more about the opportunities that she's offering for women to collaborate on marketing projects worldwide.
As with most dreamers we look for role models someone who's been-there-done-that to provide motivation for something to shoot for. After having a chance to talk to Ale I can confidently add her to my list of motivators.
What is your motivation when you think about your dream success?
~ Heather
To read more about Ale's projects, check out these resources:
Want to get involved with Feast? Check out the initiatives they have planned for the rest of the year: http://feast.istockphoto.com/

Heather Montgomery is a fitness writer, triathlete, and serial entrepreneur who is devoted to sharing what she has learned about becoming a triathlete after age 40. She uses her Metabolic Training Certification to help other women struggling to get fit in mid-life. She lives and trains in Santa Rosa, California, the new home of the Ironman triathlon. You can find her biking the Sonoma County wine trails.
Note: Articles by Heather may contain affiliate links and will be compensated if you make a purchase after clicking on an affiliate link.