Last updated on October 25th, 2019 at 02:10 am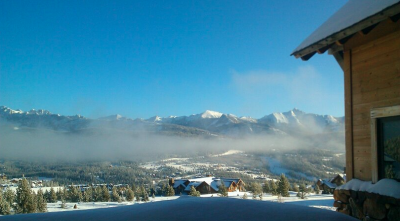 Every year over the Superbowl weekend, I latch onto a ski trip. It's perfect because usually the snow has had time to accumulate into a nice base below my skis and you can still find "off-season" rates for rentals in some places.
This year, I found myself in the middle of nowhere surrounded on all four sides by mountains and endless blue skies in, you guessed it, Big Sky, Montana.
As an elevationally-challenged Midwestern native, I know the annual ski trip adventure is a must-do. The midwest is home to many fascinating sights and destinations, but mountains are not one of them–oddly enough, you can still "ski" there.
I grew up skiing on the rolling hills of central Missouri on man-made snow, or as we called it, "snow-cone skiing," due to the consistency of the icy pebbles that passed for snow but could have been put to better use by dousing with flavored syrups and eating. By the time I was old enough to finance my own ski rentals, it's been a yearly pilgrimage out to a mountain range for me. At this point in my life, I have seen my fair share of ranges and resorts–both domestically and internationally. I try to never go to the same place twice.
But after Big Sky, I already booked the same house rental, and here's why:
Top 8 Reasons to Ski in Big Sky, Montana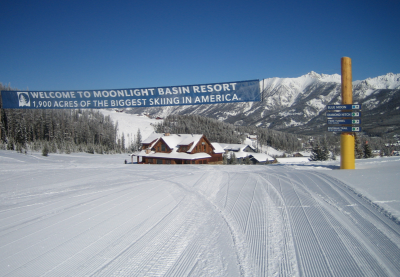 1. The biggest skiing in America. 
No joke. That is their tagline, and they are sticking to it. With 5,532 skiable acres and 220 marked trails runs spread out over three separate mountains, nothing in America comes close to the sheer size of what the glaciers carved out in this neck of the woods.
That house in the background was our true ski-in, ski-out rental. See #7 for more details.
2. Non-existent lift lines.
Go to many well-known ski resorts in, say, Colorado, and chances are you will wait, and wait to get onto the ski lift to start your descent downhill. (As you can see in this picture below, there was just one guy, my friend, who is the only skier you can see inching toward the top of the lift.)
We literally owned the mountain. There were times I had to stop myself while in action to pause, hear the Montana stillness and appreciate the natural beauty in my peripheral.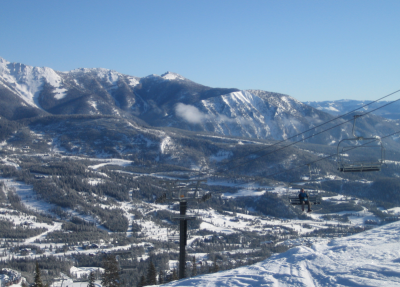 3. Breathtaking scenery. 
I felt like I was back in Switzerland skiing in Zermatt, home of the famous Matterhorn, which kind of resembles this peak I stumbled upon seeing while gliding down a three-mile ski trail with just me, myself and I on the run.
4. They actually have snow.
The snow gods drop 400-plus inches on snow on these MT peaks every year. Every day I spent on the mountain, I was able to find untracked territory that was filled with fluffy, powdery snow. This is a big deal especially this year because ski resorts throughout the country–from Tahoe to Colorado–have been hurting from low amounts of snowfall.
In fact, this same weekend, a few of my friends planned a ski trip to Tahoe. They were to fly into San Francisco to meet with others and then drive to Tahoe. It was almost 60 degrees in Tahoe this weekend with less-than-stellar snow conditions. Needless to say, they canceled their one ski trip they were treating themselves to for the year.
5. Friendly people.
Even though Montana shares it's northern border with Canada, you get a strong sense of southern hospitality and the genuine helpfulness of midwestern people. It's a massive state, but the entire thing is a small town.
The first shirt I saw at the airport when I arrived read, "Montana: The Last Best Place." Scenery+Friendly People alone could make that statement true.
6. Rustic wild west meets chic resort town.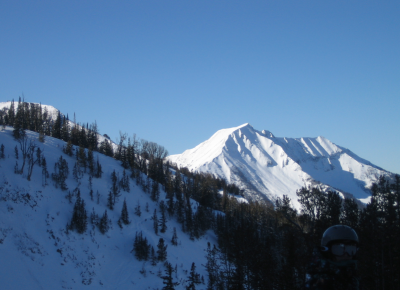 Bison burgers. Elk brats. Moose antler chandeliers. $3 million Swiss chalets with four-car garages. On-call private ski yoga instructors. Natural hot springs. Old-time saloons with wagon wheels out front. This place is as fancy or as down-home as you want it to be–all within a few mile radii.
7. Ski-in, ski-out rental houses that mean what they say. 
Let me explain this one. For those of you who have never heard of or seen a ski-in, ski-out rental house, I'm sure you could piece together that this *should* mean you can walk out your backdoor, strap into your skis and take off down the mountain while having the capability to ski back to your door when you choose to call it a day.
I have stayed at places in Tahoe and Utah that made the ski-in, ski-out claim but involved many obstacles, such as boulders and far-from-the-ski-area distances, in order to reach the ski lift by skis. Not here. Thank you, Montana.
Here's looking out our side door. The hot tub was convenient to my right.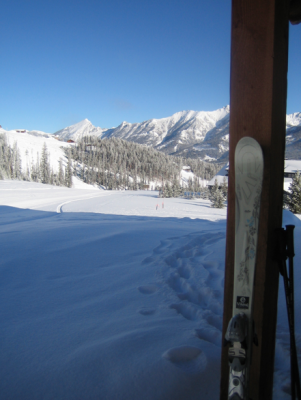 8. The never-ending big sky.
A pinkish-purplish sun setting behind the peaks. A color gradient for miles. And night-time stars numerous enough to outshine the morning sun.
If people look up to find heaven, then these Montana skies must be a part of it.
For more information on Big Sky, Montana and skiing there, check out their site.
For more information on scoring kick-butt vacation rentals, like the one pictured here, visit Vacation Rentals By Owner.
Katie

Enjoy this special 8WomenDream Guest Contributor story submitted by new and experienced big dreamers throughout the world, edited and published to capture a dream perspective from different points of view. Do you have a personal dream story to share with 8WomenDream readers? Click here to learn how to submit dream big articles for consideration.
Note: Articles by Guest Post Contributors may contain affiliate links and may be compensated if you make a purchase after clicking on an affiliate link.