Last updated on August 8th, 2012 at 03:18 pm
They call it "riding the bull," and I was game to give it a shot.
I was out on a rubber raft in the middle of Class 3 White Water rapids in Whitefish, Montana. I'd spent the whole nine mile long journey in the front seat of the raft, getting splashed and setting the pace for the strokes for the rest of the eight member crew.
Now it was time to up the ante by climbing onto the front of the raft, feet dangling over the edge, hold onto a rope, and ride through the Class 3 rapids without falling off! We plunged over the peaks of the frothing rapids into the dips and swirls below, and I rode the waves for a good 1/4 mile or so before we reached still waters again.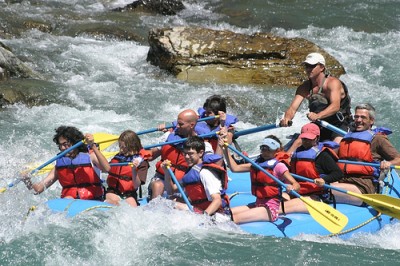 Hooray for Adrenaline!
I loved it so much that I told my sister that I was thinking of scrapping all of my current plans to move to Montana and become a white water rafting guide (perhaps not a likely scenario, but at the time it felt and sounded good to me!).
My sister Margaret and I had volunteered for the front seat, since we're both adventure junkies. Nothing like a good shot of adrenaline to make the day fun!
She and I are the biggest risk-takers in our family, the ones always up for roller coasters, parasailing, jumping in a cold lake or into the river from the raft, just because it keeps life interesting, and we like to challenge ourselves.
Our raft guide, Curtis, kept things light, cracking jokes and entertaining from the back as he steered the direction of the big blue rubber raft. We kept an eye out for grizzly and black bears, which are plentiful in that region, but didn't see any (just as well in my book, since I'm not so sure I want to get close to a bear!).
The river borders Glacier National Park, and the views are spectacular. The jagged mountain peaks rise above the river water, which is green-blue and clear. It was cold enough to take your breath away, as Margaret and I found out when we jumped in briefly before getting pulled back onto the raft.
Big Sky Adventures!
My parents and I were out visiting my sister for five days. Margaret, who is 24, is living and working on an organic farm called Purple Frog Gardens. We wanted to check out the beautiful part of the country where she lives, and to get a sense of her work and community.
The farm features several greenhouses and hoop-houses, including a big white hoop-house that the owners had named "Obama-Rama." There were contiguous fields, with several garden plots featuring rows of lettuce, beets, carrots, basil, kale, cucumbers, sugar snap peas, rhubarb, and fields of wild grass and fields of bright pink poppies.
As we walked around, Margaret identified plants and herbs, and gave us leaves of herbs and greens to sample: chocolate mint, basil, mustard greens, sage, kale. I'd never tried chocolate mint before and it's delicious – truly minty and with a hint of chocolate (which perhaps was partly the fact that I expected it to taste like chocolate, but still!). Who knew nature could create such a thing!
There is a chicken coop housing 150 hens, clucking and sitting on little piles of in a series of red cubby holes, like the kind where kindergartners store their shoes and artwork.
There is a small wooden structure with three walls with a large stainless steel counter, tables and sinks. Here, the farmhands prepare orders for nearby restaurants and for CSAs (community sustained agriculture, or weekly orders of produce that people pay for in advance to support the farm).
Every day is a new farm adventure, with different crops to be harvested, weeding to be done, eggs to be gathered, and orders to be packaged. Purple Frog also sells their produce at two different Farmers' Markets, in Kalispell and Whitefish, and it's a beautiful sight to see the bunches of kale, chard, rhubarb, raspberries, all boxed and bundled and ready to sell.
Farmhand for A Day! 
I had volunteered to help out on the farm, and spent a few hours one morning with Margaret, attaching cucumber stalks to the inside wall of the "Obama-Rama" hoop house with green wire. It felt like a scene from Jack in the Beanstalk, lifting the curling cucumber stalks with large green heart-shaped leaves and yellow flowers from where they were piled on the earth, uncurling them and pulling them up straight towards the sky.
I cut the wire and held the stalks in place and Margaret clipped the wire to the stem of the stalks in a few places, so the stalks stood tall. It was satisfying to see the stalks lining the wall, when they have previously been in tangled piles on the ground.
Margaret said that it was a special task she'd never done, and that I got lucky that day to have an especially fun one!
We gathered eggs as well. I slid a giant blue rubber glove on my left hand, so the hens wouldn't peck me when I reached underneath their warm feathery bellies to scoop eggs out of the indentation in the hay where they sat. I'd never collected eggs before so that was another fun adventure.
A Ride Through the Park
My parents and I spent another day, when Margaret was working at the farm all day, driving through Glacier National Park.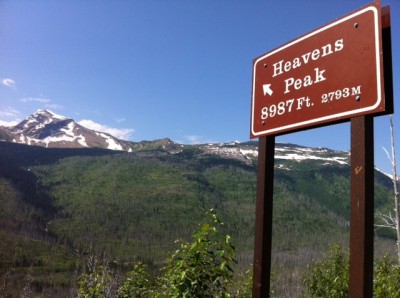 We stopped at several viewpoints to snap pictures of the peaks, the highest of which reaches up 10,466 feet. We snapped iPhone pictures at Heaven's Peak, about halfway through a looping trail that leads from the west end of the park to the east side.
The peaks were capped with snow beneath a clear expanse of endless cerulean sky. We stopped at the glacier viewpoint, and saw off in the distance what looked like giant fields of snow in between a few high peaks.
There had been an avalanche recently, so we had to stop several times on the snaking ride with dramatic drop-offs and views, while construction crews repaired broken sections of guardrails.
It was a reminder of the awesome power of nature, and of the beauty that surrounds us. I agree with Margaret that Montana features some of the most beautiful landscapes in the country, with Hawaii nudging it out just slightly in my opinion (I'm partial to Kauai!).
What Big Sky Country Taught Me
Being in "Big Sky" country was a reminder that we live in a spectacularly beautiful world, that the food on our plates is lovingly grown and harvested by farmers somewhere out there, that working for the good of the earth is a noble profession.
It reminded me that I love adrenaline sports and need to be out there having fun in new and wild ways more often!
Most importantly it reminded me that life is about so much more than our problems and challenges, that can seem overwhelming at times when we're in the midst of them.
We are surrounded by endless horizons, and reminded that climbing the peaks of life is made worthwhile by enjoying the steps and views along the way.
Here's to your beautiful journey of living your dreams, under a big sky!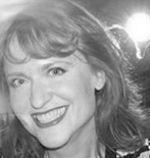 Lisa P. Graham is an inspirational writer, life coach, TED motivational speaker, and globe-trotter whose passion is to help others to find happiness and meaning in their daily lives. A political activist at heart, Lisa would like to empower more women to run for political office as a way to create positive change in the world. You can find her on her website or watch her TEDx speech on YouTube.
Note: Articles by Lisa may contain affiliate links and may be compensated if you make a purchase after clicking on an affiliate link.