Last updated on October 25th, 2019 at 02:02 am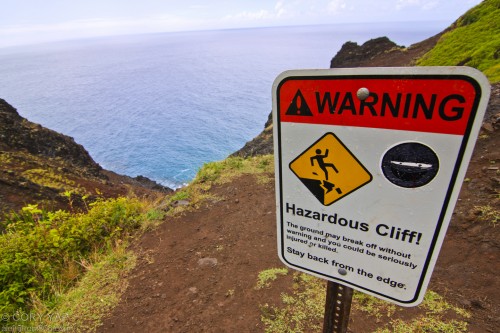 The sign said, "Hazardous Cliff." I stepped closer to read the finer print.
The ground may break off at any time without warning, it cautioned, causing "serious injury or death."
"Stay back from the edge!" it warned.
I would have happily stayed away from the edge, had that been an option, but the paths we were navigating on the trail were only six to eighteen inches across, sometimes with room for only one sneaker tread.
I wasn't really sure how to "stay away from the edge" on such a narrow path, but since the drop-down the sheer rock cliffs to the ocean below was more than 1,000 feet, I was going to do my best to not fall to my death.
Living on the Edge on the Kalalau Trail!
I am definitely a proponent for "living on the edge" in life and taking important risks to make life more fulfilling and exhilarating. I didn't mean for the universe to take that motto quite so literally, however!
Yet here I was, hundreds of meters above sea level, navigating steep cliffs with no guardrail or safety fence, on a path where the ground did indeed crumble sometimes, pebbles and earth sliding under our feet. How had this happened, exactly?
My brother Shanti, sister Margaret and I had decided to hike the famously beautiful and rugged Na Pali coast trail in Kauai, Hawaii, and to camp out at Kalalau, the secluded beach surrounded by cliffs that is only accessed through the narrow cliff trails, or by boat or helicopter (there are no other roads leading there).
We decided that we'd spend one day hiking in, which turned out to be do-able if ambitious, since the 11-mile trail is mostly ups and downs, and often at high altitude. It is by far the most challenging hike I've ever done.
Then, we'd camp out in Kalalau for one day, and then spend one more day hiking back out.
Ups and Downs on the Kalalau Trail
The 11-mile Na Pali coast trail is rigorous. The cliffs and ridges that we were hiking are 1,200 meters at their highest, and sometimes it feels like you are climbing up, up, up forever. Then, once you round the corner to the next ridge, you're headed down.
Then up. Then down. Then up. Then down….
By the third day, when we hiked out after camping and resting for one day, which also included four-plus miles of hiking into the valley near Kalalau Beach, we were aching all over. I never realized how much you use your ankles when hiking up and down cliffs, or how sore your ankles and knees can get from hiking for 26+ miles over a few days.
It was a challenge, for sure, but also one of the most spectacularly beautiful experiences I've ever had in nature. The flora was so diverse, changing from cliff ridge to cliff ridge.
We walked through sections of forest trail, where the path was shaded by tall trees and there were giant spiky green-leaved plants, taller than us. Sections of the trail had a carpet of purple verbena flowers, and in other sections white blossoms had fallen like snowflakes on the path.
We walked through sections of tall grasses, past bushes with tiny orange and yellow flowers, and red earth trail, muddy trail, rock trail, dry crumbling sections of trail.
And The Views on the Kalalau Trail!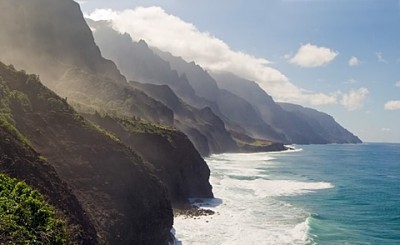 Of course, there's nothing like looking down over the Pacific Ocean on the Hawaii island coast from thousands of feet up. The water is turquoise, waves crashing against the rock cliffs.
The north shore of Kauai is famous for its huge waves in the wintertime; surfers travel here from all over the world to take advantage, and it's incredible to see them crashing from so far above the shore.
From vantage points all along the series of cliff ridges that comprise the trail, you see the ocean far below, the endless stretch of blue sky, the palm trees, flowers, red earth, winding cliff paths along the other rides that you have just traversed.
It's stunning, absolutely breath-taking, and there were so many moments on the trail when I almost couldn't believe I was really "there."
This is definitely a trail for adventurers and risk-takers, and for us, the ones who like to "live on the edge" a bit, it's so worth it! I'd approach the Na Pali coast trail with caution if you are incredibly afraid of heights or not up for a very vigorous hike; you may want to start with a gentler hike and work your way up to something like this.
Do the research before you go, and check the weather conditions. It's not advisable to hike the trail when it's raining, as flash floods can block off sections of the trail, or wash parts of it away.
It's supposed to be safer to do the trail in the summertime, and you can also kayak to Kalalau in the summertime if you'd prefer to skip the steep cliff-side trail.
Worth Every Painful Step on the Kalalau Trail!
For us, it was worth it. It was a great reminder that it's worth "going for it" sometimes and walking, literally, right through our fears.
Traversing the "Hazardous Cliff" section was much easier on the way out than the way in since I already knew it was coming, and since we were climbing uphill this time, which feels safer somehow. I'd rather be clinging to cliffs, moving up, with my body weight forward, then sliding down them.
The most hazardous section of the trail is only about one scary quarter-of-a-mile and we made it through. One definitely feels like an intrepid adventurer after navigating that. We all felt we'd earned T-shirts that said, "I survived the Na Pali Coast Trail!"
Someone could probably turn a nice profit selling those at the end of the trail on the way out; I definitely would have purchased one!
7 Happiness Lessons from the Kalalau Trail
Hiking the trail reminded me of some simple, basic life lessons about happiness and being in the moment that was oh-so-true in this case!
1. Take it one step at a time
On a steep, winding, challenging 11-mile cliff trail that is constantly shifting from up to down, the only way to make it through the journey is to focus on the step that you are taking now.
Literally, for your safety, you need to pay attention to each step to be safe on the trail. And it's the way to experience the beauty of the moment. We hiked each section of the trail on step at a time and stopped often to take pictures and to appreciate the viewpoints along the way.
2. You never know what's around the bend
On the Na Pali coast trail, you most often literally can't see and don't know what's around the bend. Will the trail keep heading up, up, up, or start heading down again? Will the landscape change? Will you be back in the forest or on open cliffs again?
You don't know, and it is part of what makes the journey manageable (you just keep going, since who knows what's coming!) and exciting. Life is like this, actually; we think we know what's coming next but life so often manages to surprise us. When we can learn to enjoy the surprises of life, vs. being frightened of uncertainty, it turns the journey back into an exciting adventure!
3. The universe always supports you
At the moments on the trail when I was most afraid, there was always help when I needed it. My brave sister Margaret, a fearless and Zen 24-year-old, walked ahead of me and offered a hand when the trail got most slippery.
There were times when I wanted something to hold onto and there would suddenly be roots growing out of the red earth on the cliff trail that you could hold onto, like a handrail. I never felt unsupported on the trail, and believe the same about life. When we move in the direction of our dreams, I believe the universe is always supporting us along the way.
4. Go beyond your comfort zone
I debated whether or not to hike the trail and to camp out at Kalalau; it would have certainly been easier to skip an 11-mile cliffside hike and to stay back at my sister's condo, play with the kids and head to the beach every day.
But I wanted to see the views from the trail, to experience having conquered it, and to have the experience of camping at the paradise that is Kalalau. So I pushed myself to do it, even though it did feel a bit outside my comfort zone.
As another hiker said to us on his way out as we were on our way in," It's worth every painful step!" And it was.
5. Vanquish your fears by walking through them
Sometimes the only way to conquer our fears is to walk right through them. I was definitely scared when I saw that hazardous cliff sign and navigated the trickiest part of the trail.
But I had to make it through that section to experience all the beauty on the other side and to make it to the slice of paradise that is the hidden Kalalau beach. I proved that I could make it through simply by doing it, by walking through my fear one step and breath at a time.
6. Life is beautiful
Even on the most challenging parts of the trail, and even on day three when we were sore and ache-y, every moment along the way was beautiful. I was privileged to see some of the most beautiful views on planet earth.
How did I get so lucky?
Life is beautiful, now; I find there is always something to appreciate in life, wherever we are. Finding the beauty in each moment makes life worth living.
7. The MAGIC is now
The true magic of life is in each moment. It is all about experiencing the moments fully as we live them, and truly appreciating them. Sometimes we let the magic of life pass us by when we are too caught up in our own thoughts, worries and anxieties.
Life is this incredibly magical journey, and it's here for us now.
Pay attention to your journey and may you find happiness in the difficult this week.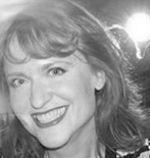 Lisa P. Graham is an inspirational writer, life coach, TED motivational speaker, and globe-trotter whose passion is to help others to find happiness and meaning in their daily lives. A political activist at heart, Lisa would like to empower more women to run for political office as a way to create positive change in the world. You can find her on her website or watch her TEDx speech on YouTube.
Note: Articles by Lisa may contain affiliate links and may be compensated if you make a purchase after clicking on an affiliate link.