Last updated on December 8th, 2013 at 02:15 pm
It was a birthday bonanza over the holidays, with cousins, niece and nephews, siblings, my best friend's dad, and now my mom celebrating birthdays.
It was a good reminder to celebrate our lives and what we have.
Birthdays are such a great occasion for reflection, for starting anew, for celebrating what we have and finding happiness in the moment.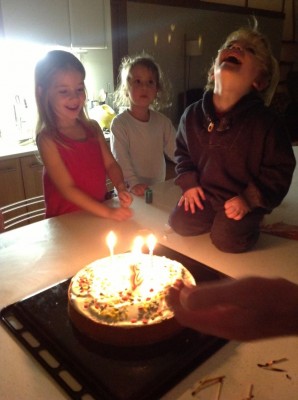 The Birthday Launch!
My nephew Nico and my brother Michael kicked it off. Nico turned three on November 25, one day after Michael turned 29.
Nico was born on Thanksgiving three years ago, early, surprising all of us. He celebrated his third birthday in Spain.
My sister Carrie sent pictures and videos. She said that Nico was happy and excited all day.
In one of my favorite pictures, Nico is kneeling on the table, near the cake with candles, laughing uproariously. Overjoyed only begins to describe it!
Nico's older sister, my niece Luna, would turn five just six days later on November 30th, the same day that my cousin Bridget turned 21.
A group of us cousins, including my brother Michael the birthday boy, took her out to celebrate the day after Thanksgiving.
We got to the bar at 10 p.m., technically two hours before she would turn 21. The first bartender turned her down, and the second one waived that and allowed her in.
She was still nervous about trying to buy drinks, so we took turns buying them for her. At midnight, a bunch of the cousins did a birthday shot with Bridget.
Across the Atlantic Ocean in Spain, my niece Luna would be waking up soon to start her day full of birthday celebrations.
Birthday 2 in Spain!
My sister Carrie threw Luna a birthday celebration with three cakes, lots of savory food, and lots of her friends from school. Carrie said Luna woke up with a smile on her face and was happy all day.
Back here on the East Coast, birthday girl Bridget headed back to NJ with her family. And I headed back to NY, where I would celebrate my best friend Stephanie's father's birthday on Sunday.
Bob was turning 69! We started the day on Sunday with brunch at Carmen's, a little neighborhood place that serves Cuban food. Then we went to see Hunger Games 2: Catching Fire.
Phase Three of the birthday was brownies and ice cream in Stephanie's apartment, along with a few other friends.
Mom's Birthday Today
Today, my mom turned 67. I'll be celebrating it with her later this week in Massachusetts.
My Grandmom and Great-Aunt died at age 56, and I remember how nervous I was the year my mom was 56. It was such a relief when she turned 57!
Ten years later, she's still going strong, working, being the world's best mom, wife, sister, Grandmom.
And she looks like she's about 47. My mom is amazing.
What Do Birthdays Mean to You? 
A chance to celebrate?
A chance to start again?
A chance to make some new goals, or revive old ones?
A chance to be with those you love most?
So many birthdays over the holidays, and so much fun! I'm so thankful for it!
How will you find happiness over the holidays?
Lisa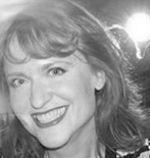 Lisa P. Graham is an inspirational writer, life coach, TED motivational speaker, and globe-trotter whose passion is to help others to find happiness and meaning in their daily lives. A political activist at heart, Lisa would like to empower more women to run for political office as a way to create positive change in the world. You can find her on her website or watch her TEDx speech on YouTube.
Note: Articles by Lisa may contain affiliate links and may be compensated if you make a purchase after clicking on an affiliate link.