Last updated on August 25th, 2011 at 09:44 pm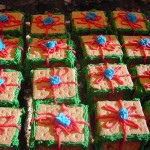 The holidays are upon us and I'm way off my dream of being 30 pounds lighter and living a healthy lifestyle.  I've decided to temporarily embrace my weaknesses during this time and resolve to start anew on January 1st.
8 Reasons Why It's Good To Be Fat For The Holidays –
1. You don't have to turn down any desserts.
2. You can eat a lot more food before you get full.
3. You don't have to unbutton your pants after eating because you're already wearing elastic waist pants.
4. You can eat all the treats your husband brings home from the gifts he gets at his office, and not worry about gaining weight.
5. Â The extra insulation keeps you warm when you go out looking at Christmas lights.
6. You'll fit better into your Mrs. Claus costume.
7. The rolls and rolls on your stomach gives you something to play with when you're waiting in line at the stores.
8. You don't have to insult anyone by not tasting all of their baking and cooking efforts.
I wrote this post in the hope that you will find humor in your setbacks when trying to move forward on your dreams — especially during the holidays.
Every now and then you just have to eat some holiday treats.
Then start your dream work again.
Kim
Kim accomplished her dream by traveling to New York with her teenage daughter June of 2009. She lost 20 pounds and overcame her intense dislike (do we say fear?) of flying to accomplish that dream. She rotated off the blog in February 2010.

Enjoy this special 8WomenDream Guest Contributor story submitted by new and experienced big dreamers throughout the world, edited and published to capture a dream perspective from different points of view. Do you have a personal dream story to share with 8WomenDream readers? Click here to learn how to submit dream big articles for consideration.
Note: Articles by Guest Post Contributors may contain affiliate links and may be compensated if you make a purchase after clicking on an affiliate link.