Last updated on October 1st, 2012 at 12:01 am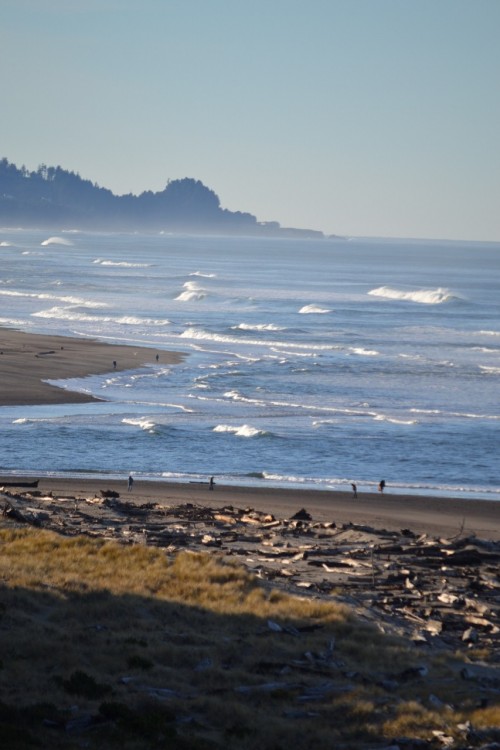 I was celebrated for three full days, by the people I love the most in this world, in the place I love to be, doing exactly what I dreamed of doing for my birthday.
My tummy was flipping over and over as I baked the "Company's Coming Apple Cake" to take with us, from my new, very favorite cookbook, "The Beekman 1802 Heirloom Cookbook."
I stood in line for  three and a half hours at Williams-Sonoma at 23rd in Portland, to have Dr. Brent and Josh sign my keepsake edition of this fabulous work.
I am crazy about it.  I hope everyone who enjoys excellence in food growing, meal preparation and sharing deliciousness will have this cookbook in their lives.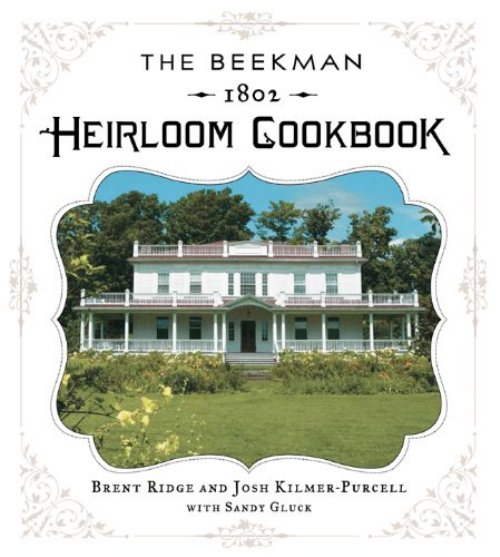 Just the thought of being at the coast for two whole nights, with my husband and children was a juicy enough deal to get me all revved up, but to know that I was going to go crab fishing in season and be able to hike back to our condo rental perched high above the Pacific on the Or. coast, well, it put me over the moon.
All packed up, gear in the mini van, chickens and kitty cats fed and watered and we were off for a short and spectacularly gorgeous drive to the coast.
The sunset was my very favorite color of a mixture of hot pink and orange I call, "Porange."  I took it all in from the deck on this albeit cold, but dreamily clear and calm January 11, 2012, twilight time at the sea.
I was raring to go with the brilliant sunrise on my birthday morning.
Another unbelievably beautiful day.  Wow.  That song from the movie, The Sound of Music kept going through my head as my husband served me my hazelnut breve latte, "somewhere in my wicked, miserable youth, I must've done something good," to deserve this kind of a day.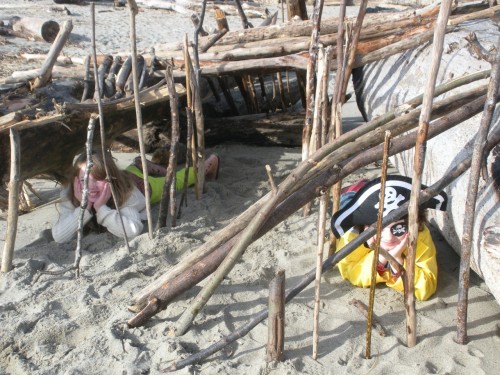 The kiddie-darlins and my husband, Bryan and I, walked on the street the mile or so down to our crabbing spot, as we needed to swing by the market for the chicken legs to bait the crab trap.
With Bryan carrying the small ice chest, I had one hand gripping "The Crab Max" crab trap, and with my  free hand tucking into my jacket pocket, was delighted to recognize the familiar feel of a bill of some sort.  I pulled out ten bucks!
It was like it was my birthday or something!
My perma-smile was in place as we skibbled inside the local IGA market to purchase the bait and we hung around the ever-so-small meat and seafood section just long enough to have the butcher/fish monger guide us over to the four pack of poultry parts perfect for crabbing.
This saved us exactly ten dollars for not having to purchase the picnic package of chicken, not to mention where we were going to have to store this bait, as I was hoping to get at least one crab for the ice chest.  You can't just leave your bait out and about for the seagulls. I have seen them root around back packs and bags for food on the beach, so phew…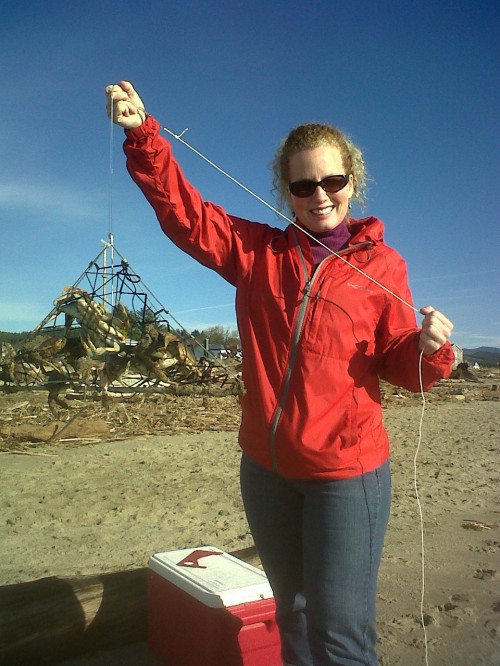 I am not even kidding you here. Within five minutes of tossing my "Crab Max" out, I pulled in a male, legal Dungeness crab.
Did I care if the well-seasoned, leather skinned old timers thought I was silly jumping up and down singing, I GOT ONE, I GOT ONE?
Nope.
I giddily threw my line, "lasso-style", back into the bay, waited a few minutes and hauled in more crab.  This time they were reintroduced to their salty home as they were all too small, but the laughing and squealing was no less enthusiastic then it was for the keeper.
Two glorious hours later we were on our way back to the condo, hiking in the sand and over the dunes with five, "jewels of the sea" for my birthday dinner.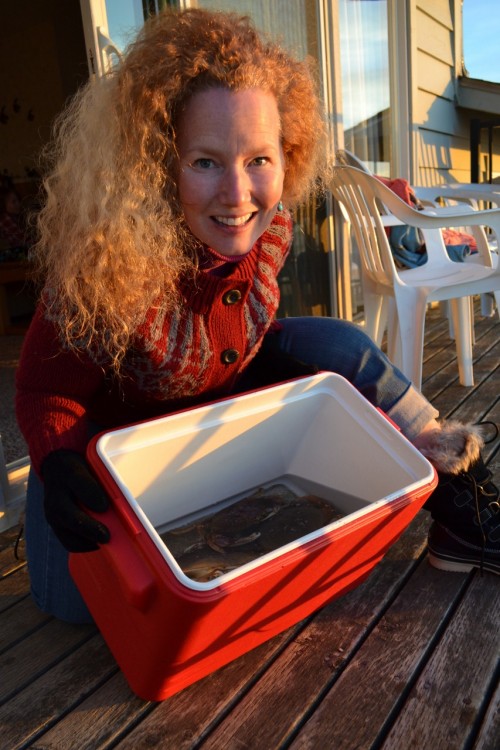 Half way back I found the perfect driftwood log upon which to enjoy my birthday cigar.  It's a treat I indulge in once a year. My little quiet pleasure and gift to myself that has been a personal tradition for a nice long time.
I felt wonderfully devilish when my little son and daughter caught sight of their mama doing something so shocking.  I giggled at their words to each other about the sight, and thought, "Yep, there's a thing or seven about me that doesn't have anything to do with laundry, dishes, dusting, vacuuming or home schooling."
I was having a perfect moment.  The sun on my face, the babes building sand forts and my husband doting on me adoringly, with little more than a slight breeze a blowing.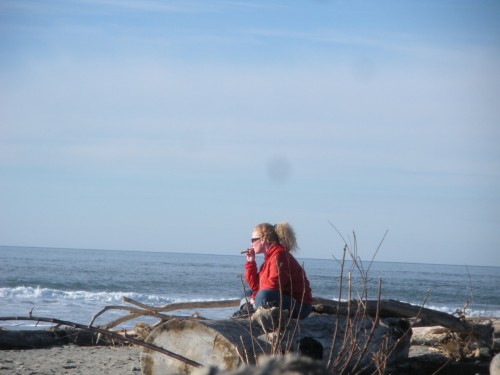 Sitting there until I didn't want to sit anymore, and after having finished a long list of out loud "Thank you's" for the people and experiences I have loved and learned from in my past year, I decided I wanted to get my crab feed on.
Oh my, did we.
My children passed on the whole affair, this time, because they were more involved than ever before with the catching and the cleaning of the crabs.  I didn't care a bit.  More for me.
With the incredibly tasty crab, I had only one accompaniment– My husband's chardonnay, which is known around the winery as "Shellie-chardonnay," as I was his muse, he says, for this rich, round, succulent, luscious wine that was French oak barrel aged to perfection.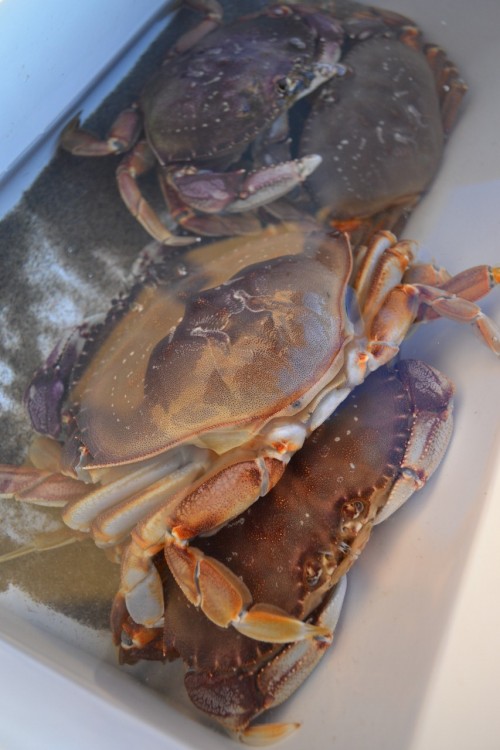 We ate all five crabs while listening to the ocean waves crash on the shore and watching "Julie and Julia," which my Bryan rented for me as another sweet surprise.
I thank you, my darling husband-love, for this day when I felt deliciously certain that you are glad I was born and that you celebrate all that I am and have become.  I promise to continue to do everything that I possibly can to age as gracefully as your beautiful wines.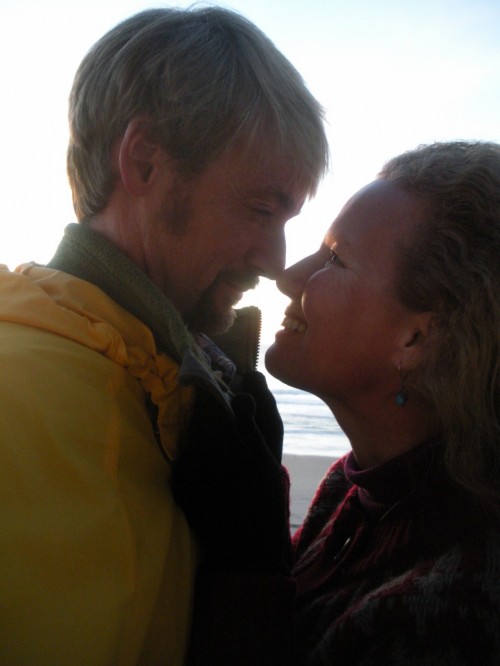 Yours, with everlasting love and adoration,
Shellie

Enjoy this special 8WomenDream Guest Contributor story submitted by new and experienced big dreamers throughout the world, edited and published to capture a dream perspective from different points of view. Do you have a personal dream story to share with 8WomenDream readers? Click here to learn how to submit dream big articles for consideration.
Note: Articles by Guest Post Contributors may contain affiliate links and may be compensated if you make a purchase after clicking on an affiliate link.