Last updated on January 22nd, 2019 at 02:56 pm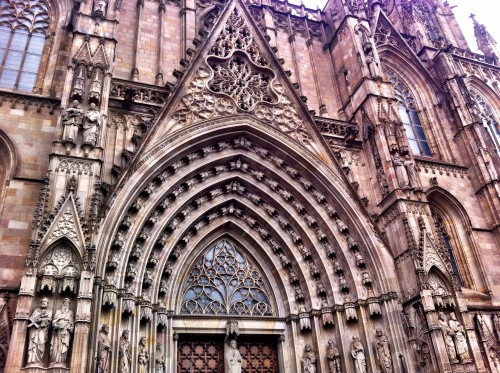 For a dream European city break, Barcelona is a top choice. From its Roman beginnings to its proud place as capital of Catalonia, Barcelona has it all – arts, culture, food and a vibrant street life.
Here are my top 8 things to do on a trip to Barcelona:
1. Go Gaudi
Did you know that Barcelona is home to no less than nine buildings that have been named in the Unesco World Heritage List? Most famously these include the 'modernista' works of Antoni Gaudi and seeing some if not all of these should be high on your dream travel list for Barcelona.
You've still got plenty of time to watch the artisans working patiently on the magnificent Sagrada Família as it is not due to be completed until around 2026 (construction started 1882). Casa Battlo, La Pedrera, Parc Guell, Casa Vincens, they are all amazing.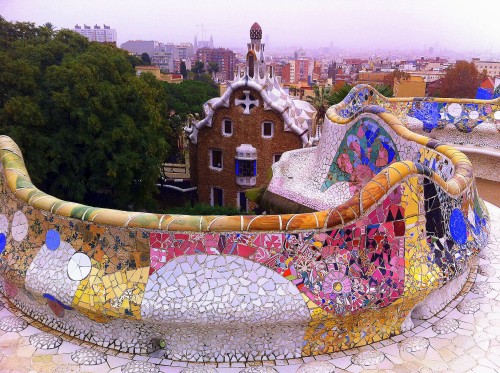 2. Go to Montjuic
I love Montjuic mountain in Barcelona. It is a good walk up there and both the Botanical Gardens and the Laribal gardens are gorgeously leafy. The views are fabulous over the city and you can also take a look at the buildings from the 1992 Olympic Games, including the Palau Sant Jordi and the stadium.
Also up there is the Fundacio Joan Miro Centre for the Study of Contemporary Art, which has a great collection (most donated by Miro himself).
3. Go on a food tour
Barcelona is famous for its food but the first time I visited I didn't really manage to get away from the tourist trap restaurants. On my second trip to Barcelona last month, I want to savour some of the best of Catalan cooking. The perfect way to do this is on a food tour with Devour Barcelona.
This offers an introduction to Catalan culture via its gastronomy, with nine or 10 tasting stops spread over a four-hour walking tour. It really is a fantastic way to get to know the city better. And eat divine taste explosions such as this: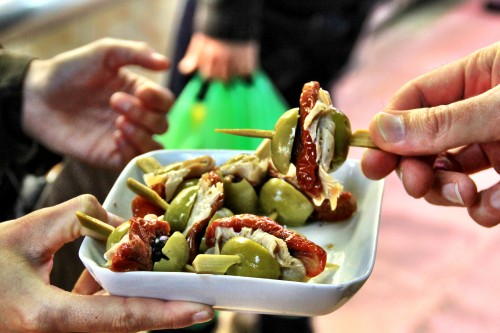 4. Go for a (big) lunch
Don't do this on the same day as the food tour but it is a Barcelona tradition to spend a long time over lunch. Armed with my new-found knowledge and a wealth of tips on where to eat in Barcelona, I headed straight for La Paradeta in the Born neighborhood.
Seafood is the name of the game here – picked from the spectacular display of super fresh haul and cooked to order, accompanied by salads and crusty bread and wine.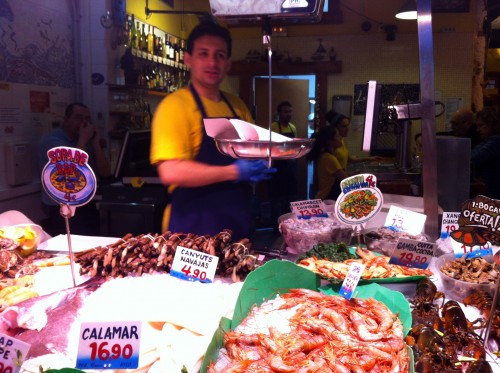 A couple of other foodie tips for Barcelona… Make sure you try the latest trendy tipple in Barcelona. Vermouth is perfect to accompany tapas and as an aperitif. My favourite bodega in Gracia was Cal Pep. And for the best patatas bravas in town go to Bar Tomas in the Sarria neighbourhood.
5. Go to the beach
Barcelona has over four kilometres of beaches and the district of Barceloneta is cheek by jowl with the beach of Sant Sebastia. Most beaches have restaurants and bars, nearby to the sparkling Mediterranean. Just make sure you keep a close eye on your belongings.
6. Go to the football
The rich cultural heritage of Barcelona is world renowned but it is also home to one of the world's most famous football teams. Attending a football match at Camp Nou is a once-in-a-lifetime experience!
7. Go off the beaten track
Once you have imbibed all the history and culture you can in the Barri Gotic, Eixample and Born districts, spend some time away from the central touristy areas and explore some of the lesser known neighborhoods.
Gracia is a perfect example of this. Once an outlying village it is full of quiet streets and charming public squares, friendly locals and trendy bars and boutiques.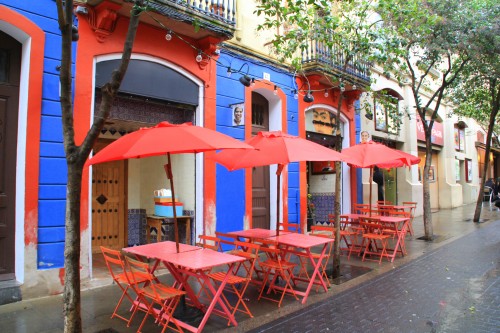 8. See Font Mágica de Montjuïc Barcelona
The world-famous Font Màgica de Montjuïc, or the Magic Fountain of Montjuïc is a fountain located at the head of Avenida Maria Cristina in the Montjuïc neighborhood. The fountain was built for the 1929 World Fair by Catalan architect, engineer, inventor and author, Carles Buïgas and something children of all ages enjoy checking out.
Have you been to Barcelona before? Offer your things to do on a trip to Barcelona in the comments below to help other world travel dreamers plan their perfect trip to Spain!
Natasha von Geldern
Go see the World!
[fbcomments]
Natasha von Geldern is a travel writer, editor, and blogger who is passionate about making the pages of the atlas real by traveling the world. She is a contributor to Travel Wire Asia, Wild Junket Magazine, Yahoo! Total Travel, and Travelbite. You can find her on her travel website and blog, WorldWanderingKiwi.
Note: Articles by Natasha may contain affiliate links and may be compensated if you make a purchase after clicking on an affiliate link.