Last updated on January 23rd, 2019 at 10:36 am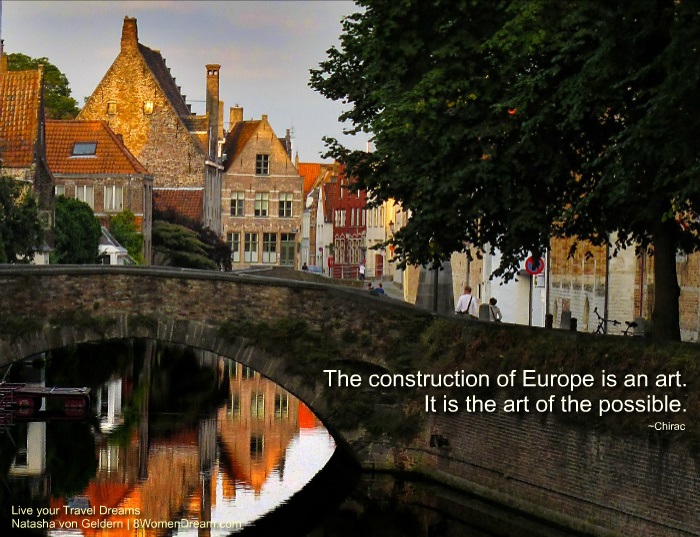 This time of year I think about European dream vacations.
During the months of November-March it is usually the cheapest time to fly to Europe if you can purchase your tickets at least a month or more in advance–providing it's not the holidays or school breaks.
For many people a dream trip to Europe is the most expensive and highly anticipated travel of their lives. Traveling at certain times of the year can help cut down the expense.
With so much history, culture, architecture, landscape and food to experience it is also common for travelers to Europe to suffer from travel burn out. Cramming 10 or more countries into a trip of only weeks can be a recipe for disaster.
It goes without saying you're going to want to include visits to London, Paris and Rome on your Europe dream trip itinerary. I've had the luxury of eight years living and travelling in Europe so to help you in your travel dreaming and travel planning.
Here are my top 8 things not to miss on your dream European trip:
1. Must-See on a European Dream Vacation: Florence Art
I called Florence my own art history school when I first visited during my early European travels. A treasure house of Renaissance art, Florence richly deserves to be on any dream Europe trip itinerary.
Yes Europe is full to bursting with great art museums but if you pick just one, let Florence be it. The Uffizi, the Accademia and the Pitti Palace are a good start. The churches are works of art in themselves, from Brunelleschi's Duomo to San Miniato up on the hill.
And when you've exhausted your appetite for art, collapse in the warm shade of the Boboli Gardens.
2. Must-See on a European Dream Vacation: Prague Architecture
If you've only got time for a quick foray into eastern Europe, let Prague be your goal. Explore the elegant New Town and the medieval Old Town.
Cross the Charles Bridge to the castle hill and look out on red-tiled rooftops beside the shining Vltava. Indulge in Art Nouveau architectural fantasies and drawn design at the Alphonse Mucha museum.
Get to know two famous Czech musical sons–Antonin Dvorak and Bedrich Smetana at their respective museums.
3. Must-See on a European Dream Vacation: Italian Hill-towns
After the busy streets and artistic intensity of Florence, the Italian countryside is the perfect contrast. In many villages life continues as it has done for centuries with that unique Italian flavor.
Rural Tuscany and Umbria are wonderful for agritourismo stays where you can eat home cooked food made from locally grown produce. The whole area is dotted with hill towns–once medieval fortifications–but now delightful experiences beautifully packaged.
San Gimigano is probably the most famous one in Tuscany and my favorite in Umbria is Orvieto.
4. Must-See on a European Dream Vacation: Greek Islands
I've never been a big fan of European beaches, often pebbly or dirty or just plain crowded. But in the Greek Islands it is possible to find a deserted cove beside an emerald sea.
There are approximately 1,400 islands in the Aegean and Ionian seas (although only 227 are inhabited) and each has its own flavor, so it may not be easy to choose.
You may want to visit one of the very famous Greek Islands such as Santorini and Mykonos, which are very worthwhile. Then contrast that with a smaller, quieter island such as Paros and discover the authentic way of life in the villages.
5. Must-See on a European Dream Vacation: French Villages & Wine Regions
France is a land of a thousand beautiful villages and experiencing their ancient charm and varied local cuisine is a must-do on your dream Europe trip.
Again, it is so difficult to identify just one region, but I'd plump for the area around the Dordogne Valley, with a side trip to the wine region of St. Emillion to tour the vineyard tasting rooms.
Exquisite villages like Sarlat and Collogne-la- Rouge will give you a wonderful flavor of the joys of French villages.
6. Must-See on a European Dream Vacation: Lisbon
I think Lisbon is one of Europe's most underrated capitals but I loved it. The imposing ramparts of the Castello tower high above the historic barrios of Lisbon, the Portuguese capital.
They overlook the magnificent cathedral and the busy shopping streets of the Baixa, as well as the mighty Tagus River, from whence explorers have set out for centuries.
There are also a number of day trips from Lisbon – such as to the summer royal retreat of Sintra – that make exploring this part of Europe very rewarding.
Finally, make sure to go to the 19th century Antiga Confeitaria de Belem and taste the famously delicious pasties de Belem, a rich custard in pastry tart.
7. Must-See on a European Dream Vacation: Catalan Passion in Spain
Barca, Barca, Barca!
This is Spain but not Spain, and the Catalan passion for their city of Barcelona is fully justified.
Wandering Las Ramblas; wondering at Gaudi's creations; roaring with the fans at the Nou Camp football stadium.
Barcelona is an unforgettable city with a heart that beats warmly with color and flavor.
8. Must-See on a European Dream Vacation: Mountain Air in Switzerland
This pocket-sized country is so perfectly picturesque with its mountains, pastured and steepled villages, it almost seems too good to be true.
Hiking in the Swiss Alps is very rewarding but even if you're not an outdoors type there are a number of day trips you can take in Switzerland that utilize cable railways and gondolas, making the most beautiful mountain scenery accessible. My pick would be the area round Luzern – a picture postcard city in its own right.
Here you can take the 'Golden Round Trip' to the 360 degree views from Mt Pilatus. Another day enjoy the spectacular views from Mt Rigi, from the summit of which you can see 13 Swiss lakes and into Germany and France.
Until next travel dream Saturday …
Natasha Von Geldern
Go travel!
[fbcomments]
Natasha von Geldern is a travel writer, editor, and blogger who is passionate about making the pages of the atlas real by traveling the world. She is a contributor to Travel Wire Asia, Wild Junket Magazine, Yahoo! Total Travel, and Travelbite. You can find her on her travel website and blog, WorldWanderingKiwi.
Note: Articles by Natasha may contain affiliate links and may be compensated if you make a purchase after clicking on an affiliate link.