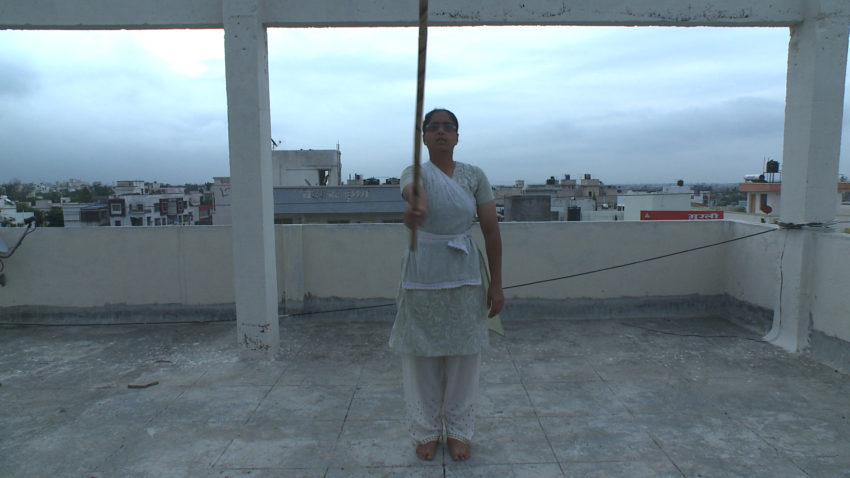 Nisha Pahuja's award-winning film takes us inside the strikingly opposing worlds of two young women in India
In her timely documentary THE WORLD BEFORE HER, which took the top prize at last year's Tribeca Film Festival, filmmaker Nisha Pahuja examines the role of women in India and the stark choices both women and the country itself are being forced to consider.
With the safety of women in India making headlines around the world, Pahuja's film brings attention to the historical and modern forces that are impacting on the very survival of girls and the rights of women who today are forging their own identities.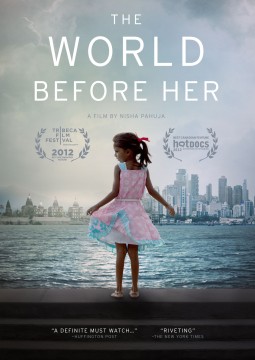 The theatrical release of THE WORLD BEFORE HER in 15 U.S. markets during the week of May 6 is the third film in Cinedigm's (NASDAQ: CIDM) new DOCURAMA multi-platform film brand and inaugural series of national theatrical screening events.
The DOCURAMA film series is attracting national attention for its unique series that is bringing 7 award-winning documentary films in 7 weeks, from April 22 through June 16. THE WORLD BEFORE HER releases on DVD and digital platforms on August 6.
THE WORLD BEFORE HER is a tale of two Indias.
In one, Ruhi Singh is a small-town girl competing in Bombay to win the Miss India pageant—a ticket to stardom in a country wild about beauty contests. In the other India, Prachi Trivedi is the young, militant leader of a fundamentalist Hindu camp for girls, where she preaches violent resistance to Western culture, Christianity and Islam.
Moving between these divergent realities, the film creates a lively, provocative portrait of the world's largest democracy at a critical transitional moment—and of two women who hope to shape its future.
The film opens with 20 young women from across India who arrive for an intense, month-long beauty boot camp – they are the hand-picked contestants for the Miss India pageant. Winning the coveted title means instant stardom, a lucrative career path and freedom from the constraints of a patriarchal society.
In another corner of India the film takes you to a camp for young girls run by the militant fundamentalist movement. Through lectures and physical combat training, the girls learn what it means to be good Hindu women.
Moving between the transformative action at both camps and the characters' private lives, The World Before Her creates a lively, provocative portrait of the world's largest democracy at a critical transitional moment.
THE WORLD BEFORE HER was the Best Documentary Feature at the 2012 Tribeca Film Festival, Best Canadian Feature at the 2012 Hot Docs Film Festival and the Best Foreign Film at Michael Moore's Traverse City Film Festival in 2012.
In partnership with GE FOCUS FORWARD-Short Films, Big Ideas, a curatorial program inspired by GE's vision of innovative people being the catalyst for world change, DOCURAMA will present a 3-minute short documentary with each feature film that has a complementary theme or subject matter. The Honor Code, from filmmaker Katy Chevigny, will be shown before every screening of THE WORLD BEFORE HER.
If we change the way we think about honor, could we make the world a better place?
Film showings in the US:
• Arizona:
Phoenix/Scottsdale – Harkins Shea-Scottsdale
• California:
Encino – Laemmle Town Center
Los Angeles – Laemmle Claremont, Laemmle Monica, Laemmle NoHo
Palm Desert – Cinémas Palme d'Or
Pasadena – Laemmle Playhouse
San Diego – Media Arts Center
• Connecticut:
Hartford – Cinema City at the Palace
New Haven – Criterion Cinemas @ Movieland
• Montana:
Helena – Myrna Loy Center
• New York:
Ithaca – Cinemapolis
New York – Cinema Village
• Ohio:
Cleveland – Cedar Lee
Columbus – Gateway Film Center
• Pennsylvania:
Pittsburgh – Southside Works
• Texas:
Austin – Alamo Drafthouse Village, Alamo Drafthouse Slaughter Lane
San Antonio – Alamo Drafthouse Park North
• Virginia:
Richmond – Criterion Cinemas @ Movieland
• PBS Premiere on POV: September 16, 2013
More about the film: www.docuramafest.com/the-world-before-her
Natasha
Nisha Pahuja is a documentary filmmaker, researcher and writer. She recently co-wrote and directed Diamond Road, a three part series on the global diamond trade which explores the diverse realities of people whose lives revolve around this gem – from the impoverished miners of Sierra Leone to the wealthy dealers of New York. The series has been broadcast on ZDF/Arte; NHK; TVO; History and Discovery Times among others. It received the 2008 Gemini award for best documentary series. The feature version of Diamond Road premiered at IDFA in 2007. Pahuja's Bollywood Bound, has screened at numerous film festivals and was widely telecast around the world. It was nominated for a Gemini in 2002. Her print writing has appeared in Elle magazine and various anthologies. She has recently done some writing for filmmakers Deepa Mehta and David Hamilton.
Natasha von Geldern is a travel writer, editor, and blogger who is passionate about making the pages of the atlas real by traveling the world. She is a contributor to Travel Wire Asia, Wild Junket Magazine, Yahoo! Total Travel, and Travelbite. You can find her on her travel website and blog, WorldWanderingKiwi.
Note: Articles by Natasha may contain affiliate links and may be compensated if you make a purchase after clicking on an affiliate link.