Last updated on December 9th, 2014 at 02:27 am
Who Hijacked My Fairy Tale?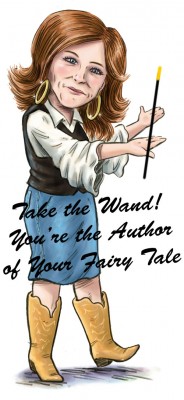 So I'm in WallyMart the other day, which is where I usually go when I'm wishing I had more children, because nothing kills the urge to have children better than five minutes in WallyMart. It's much cheaper than birth control.
And guess who I run into? Cinderella.
Yep.
Right there in the flesh – in the antacid aisle.  She's older, and at first I wasn't sure it was her (with the oxygen tank and all). But when I saw her glass slippers I knew it was her. I didn't want to crowd her, but I couldn't resist. I haven't met that many famous people.
And it turns out she was really nice in a pathetic, washed-up fairy tale princess kind of way.
Turns out that "and they all lived happily ever after" was not the end of the story. Turns out a handsome prince, a kingdom, and a carriage available at the snap of her fingers was not really all it was made out to be. It just so happens that being skinny was not the answer to all her problems.
Cinderella said she got bored just sitting around the castle. All she had been taught to do was look pretty and sing while leaning out of windows cavorting with blue birds.
And as soon as her looks were gone, so was that charming prince who – despite his new love handles – had no problem finding a younger princess while frolicking through the woods.
That's when Cinderella turned to alcohol, Lucky Strikes, online dating, and girls night out with:
Snow White who has intimacy issues
Beauty who is no longer turned on by the Beast
and Robin Hood who has to come to girls nights since  his merry men became uncomfortable with the way he has started to really live into his tights – snap!
The luster of Cinderella's youth is now replaced with crow's feet that have been holding water since the 60's and an oxygen tank which limits her from dancing and candlelight dinners.  As I said goodbye to her at the cash register, she gave me a final piece of advice, "Don't believe the fairy tale. It never turns out the way you think you it will." 
Then they declined her card.
She's right. Those fairy tales did a number on us, didn't they?
Setting us up to think all we had to do was:
Binge and purge our way to a size zero
Learn to sing a "happy tune"
Find a handsome man of royal lineage with dimples, who could double as a department store mannequin, and we would be set for life
Even if we didn't buy that lie, I still think we all had some sort of magical notion about how our life was going to turn out. So far I haven't met anyone whose life turned out that way.
Fairy tales are a bust.
Dreams Not Going the Way You Planned?
Right now you're probably thinking "This woman is the least motivating person on the planet, and she should turn in her motivational speaker's license for a fast food uniform."
Everyone knows motivational speakers should be encouraging, not depressing.  Good grief, you're probably wondering what I tell my kid –
"Sweetie, don't believe those fairy tale myths. You don't stand a chance of living happily ever after. You're going to grow up broke, overweight, and addicted to snack cakes like the rest of us."
Just hang with me for a minute – I promise I get better at this whole positivity thing. I'm simply being realistic, because the first part of dreaming is getting real about where you are stuck and what you want in life. I am all about dreaming, and dreaming BIG!
But if you think you're going to click your heels three times and live happily ever after – well, then you just go ahead and answer that email from the deposed president of an impoverished country who has promised you an inheritance.
Bless your heart.
So, do we abolish fairy tales?  Of course not.  It's fun to dream, meet princes, and arrive at the ball in a coach conjured from a pumpkin.
Who wants to read a children's story that ends with …  And they all lived happily ever after until the charming prince ran away with his secretary, the princess got hooked on crack, and the fairy godmother got hit by a bus on her way to singles bingo?
We shouldn't kill dreams and fairy tales. We should teach people how to turn dreams into reality, and even more importantly, teach them what to do when the life they envisioned meets the life they got.
Like when I realized…
I didn't look like a princess, but I looked more like Androgynous Pat from Saturday Night Live
Losing five pounds did not mean I would look cute in a tank top
That I had a hair growing out of the mole on my cheek five minutes after I filmed a television commercial (Explain to me why I'm losing eyelashes and eye brow hair at the speed of light, yet every day I find a new hair on my chin.)
My New Year's resolution of being skinny with toned arms by the end of this month was a bust, and instead I'm pretty sure that my muffin top got the collagen injection I was planning for my lips
There you have it. We all:
Come to that place in our fairy tale where the next page gets ripped out
Get stuck in the pothole along the yellow brick road of life
Arrive at the point where we say, "Um, excuse me, but this was not the life I ordered."
Who hijacked our fairy tale? I'm sure some of us are blaming an ex-husband, a mother-in-law, or the fact that we never made the cheer-leading squad. Some of us are blaming sickness, or that lost job, or that circumstance we had no control over. Many of us are hanging on to an old story as if it were a security blanket.
In reality, the only one with the power to truly hijack our fairy tale is us. No, we don't get to control what life throws at us.  But we can control how we react to it. We have a lot of power over getting the life we want, in the long run.
A friend of mine said, "Kelly, it's not that easy. Some of us have serious problems that we can't walk away from. I had a husband who had serious issues – physical and mental – and a child with issues of his own. It's not as easy as just saying get over it." 
And she's right.
We can't always walk away from our garbage by repeating some snappy saying sure to "turn our frown upside down." I asked her if the situation was better now, and she said yes, much better than it used to be. I asked her what changed.
She said, "I just got to the point where I refused to accept that this was going to be my normal. It was the hardest thing I had to do, but I left. And it turns out, it was the best thing I could have done. My leaving made him face his problems and get them fixed. I'm back now. We still have problems, but it's a lot better. And I'm happy."
So there you go. In the same paragraph she went from telling me it's not so easy, to proving my point.
I don't want to minimize your problems. But I do want to ask if you might have minimized your power?  Are you letting the problem own you, or are you owning the problem?
There is a big difference.
You Are the Author of Your Fairy Tale Dreams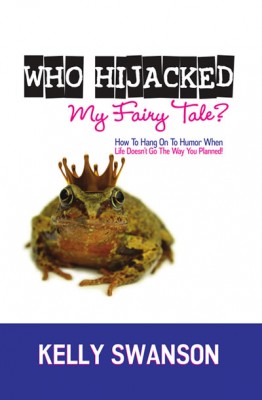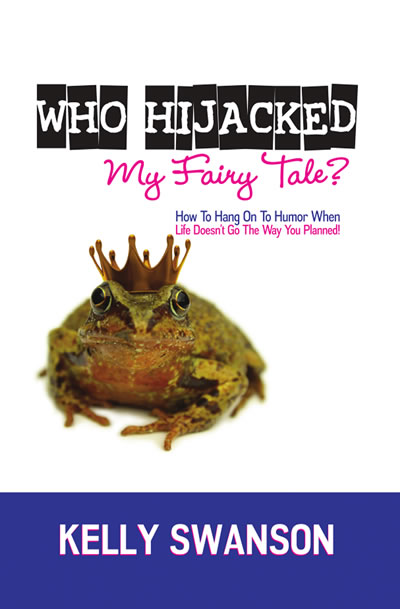 So maybe your life didn't go as planned. Maybe this next chapter of your fairy tale sucks. That's the bad news. The good news is that you get to choose what you're going to do in response.
No, you might not be able to change the circumstance.
But you can change your story. You are not the reader of this fairy tale. You are the author. Pick up the pen, and let's write a new chapter.
Together.
It will take time. No, it won't be easy. But the fairy tale will be yours.
That's why I'm here, by the way – to walk you through the potholes in life. I don't have the answers, and never claimed to. But I think I might be asking the right questions.
So today's questions:
Are you owning your problem, or is your problem still owning you?
Do you know (deep down) that you can change your story?
Is it time to write a new one?
(P.S. Cinderella has decided to write a new ending to her story. I'm not sure what it is – but I heard it involves Vegas and a pole. I'm not sure how the oxygen tank will work into the act, but her new story is sure to inspire a Rick James hit. Stay tuned.)
Until we meet again – stay on the funny side.
We all come to those moments in our lives when we realize that we aren't what we hoped we would turn out to be. How disenchanting to find our wings are tarnished. And then comes that beautiful moment where we realize that we aren't what we hoped we would be – and somehow that is perfectly okay.
Or even more than okay.
Because we can still dance – we can still dream – we can still fly – even if our wings are crooked. And sometimes we realize that we aren't what we hoped we would be – but, in fact, something better. And therein lies the true joy and the true peace of a life well lived. And somehow we find a way to bless the crooked wings.
–  Kelly Swanson
Update:  Cinderella is now starring in her own reality TV show – "Where are they now"
Kelly Swanson is an award-winning storyteller, motivational speaker, published author and TV personality who is passionate about helping women harness the power of their stories to connect, influence, and get the results they dream of accomplishing. Laughing the whole way, Kelly teaches women how to master the art of connection through the power of strategic storytelling. You can find her on The Fashion Hero show airing Fall of 2017 on Amazon Prime or on her website MotivationalSpeakerKellySwanson.com.
Note: Articles by Kelly may contain affiliate links and may be compensated if you make a purchase after clicking on an affiliate link.