Last updated on April 27th, 2014 at 12:47 pm
Mother's Day is be one of the busiest days of the year in the food industry and for anyone who has a mother, or is a mother for that matter.
Mothers never rest, even on Mother's Day.
Some of us are lucky enough to have mothers still with us on earth, while others have to rely only on memories and creating new traditions with other women.
I have wonderful memories of Mother's Day with my family — some quite hilarious. But there's one special memory of a Mother's Day spent with just my mom and me that I'd like to share with you.
A Special Mother's Day Recipe
My mom was much older than most mothers of people my age.   I was adopted.  My mother was in her late 40's when I was born so a lot of people who didn't know our story thought she was my grandmother. My mother was Sicilian.  Her first name was "Domenica" which means "Sunday" in Italian.  She was 5 feet tall and almost as wide.  She was a native "hardcore" New Orleanian with a thick New Orleans' accent.  She spoke "Yat."   Yat is a dialect in New Orleans, Louisiana with a thick accent.   For example,  she pronounced my name, Maria as " Maaarrrhhhea."   She called a sink a "zink", oil was "earl", foil was "ferl".
One of her favorite pastimes was eating.   Anything.
There wasn't much she wouldn't eat, but I recall one time I took her to eat Sushi (she was a Sushi virgin).  I watched her as she moved the food around on her plate and picked on different things.  I asked, " Ma, are you doin' ok with this?"   She leaned over and whispered, "Maaarrhea honey, I love Asian people, but now I understand why they are so thin."
My mom and I were used to spending Mother's Day with our family sitting at a big table filled with Italian food, wine, and the echo of loud voices filling the space and spilling out into the yard.  But not this particular year.   I'd gone to pick her up at her house, but I'd forgotten to make reservations at a restaurant.    I said, "Ok Ma, here's what we are going to do today.  We are going to get in the car and see where the wind takes us.  I'm thinking we should go to the French Quarter, eat, hear some music, maybe go on the riverboat, and eat some beignets."
She liked the idea so we went.
First, we walked to a flower shop because we had a tradition of buying her a corsage for Mother's Day.    She picked the flowers she wanted and the florist made her a beautiful corsage and pinned it on her dress.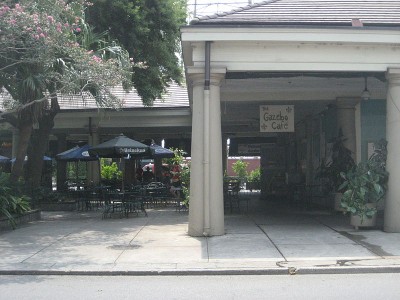 There is a place in New Orleans called, "The Gazebo." It's outdoors and there is a bar (where isn't there a bar in New Orleans?), tables to dine at, and a piano.
There is a space which always becomes a dance floor.  Someone is always playing the piano and other musicians sometimes join in to create awesome jazz and old classics from The Great American Songbook.
We stopped there first and sat down.
I purchased cocktails for us and we listened to the music.  I ordered some appetizers because, God forbid, my mother not have food within reach. I could see she was enjoying herself.  She was singing to the old songs along with everyone there and telling me stories around particular songs.
An older, distinguished man walked up to the table and asked my mother if she would like to dance.    I will never forget the look on her face.  My mother was anything but shy, but for a minute she looked like a little girl.  She looked at me like she was almost asking approval.  I said, "What are you waiting for?  The song is playing!  Go for it!"
The gentleman took her hand and they danced for several songs.   She kept looking over at me and I was warm all over because I could see her beaming.  She was having one of the best times of her life.  This was all that mattered to me for it was "her" day.
It was time to leave the French Quarter when her knees started to hurt.  I got the car, picked her up and I asked her where she wanted to go next.   "Barnes and Noble," she said.   It was one of her favorite places to go and I used to take her there often.
My mother wasn't fortunate enough to graduate from high school and had a spotty,  short-lived education.  She had to go  to work at a very early age so she was robbed of many things in her life.    She was an avid reader who loved to read travel books and romance novels set in exotic locations.  She told me one day, "I read these books because it takes me there.  I don't  think I will ever travel to these places but i can travel there in my mind."
We went to Barnes and Noble bookstore and stopped inside the cafe for coffee and dessert.   She couldn't wait to browse the thousands of books.   I told her I would check on her in 30 minutes and off I headed to the food section (there's a shocker).
I didn't cook for her that day, but if I would have if she would have requested:  Seafood Gumbo, Italian Green Salad, Rib Eye Steak, Baked Potato and Cannoli.
Most of you make Mother's Day plans at restaurants and some of you probably cook as a family.   I know many people have barbeques and in Lousiana, there are lots of crawfish boils happening.
Whatever you do during the day, cook something for your mother or that reminds you of a mother.  Even if you have restaurant reservations,  make her a cake, a savory quiche, or one of her favorite things to eat.  This small treat can mark the day in your memory.    I have no doubt this is equivalent to when you drew your hand on construction paper and gave it to her.    It's from your heart and a restaurant meal cannot replace what comes from you.
For those of us whose mother's are with us in spirit,  talk to them while cook something nice for someone who is like a mother. Remember, food bonds and is shared love.
I leave you this week with a great recipe for Asparagus, Leek and Gruyere Quiche.    Gruyere is an aged swiss that marries well with eggs.   Make it with love for your mother and be grateful she is with you.  Losing your mother leaves a gap that never seems to fill.
This recipe is dedicated to Domenica Rita Famiglio Vieages or just " Mimi" which is what everyone called her.
I miss you mom.
Maria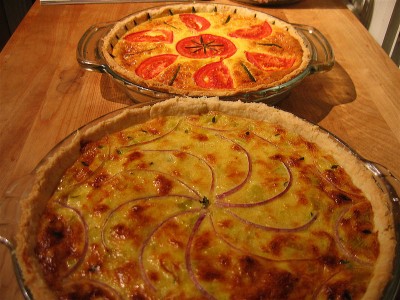 Asparagus Leek and Gruyere Quiche
Serves 6
1 tablespoon butter
1 leek (white and light green parts only), halved and thinly sliced, then well washed
Coarse salt and ground pepper
1 bunch (1 pound) asparagus, tough ends removed, thinly sliced on the diagonal
4 large eggs
1 1/4 cups half-and-half
Ground nutmeg
Your favorite frozen pie crust
1 cup shredded Gruyere cheese
Preheat oven to 350 degrees, with rack in lowest position. In a large skillet, melt butter over medium. Add leek and asparagus; season with salt and pepper. Cook, stirring occasionally, until asparagus is crisp-tender, 6 to 8 minutes; let cool. In a large bowl, whisk together eggs, half-and-half, 1/2 teaspoon salt, teaspoon pepper, and a pinch of nutmeg. Place pie crust on a rimmed baking sheet. Sprinkle with cheese; top with asparagus mixture. Pour egg mixture on top. Bake until center of quiche is just set, 50 to 60 minutes, rotating sheet halfway through. Let stand 15 minutes before serving.
*NOTE: To make sure the vegetables are distributed evenly, spread them in the crust before pouring in the egg mixture.

Enjoy this special 8WomenDream Guest Contributor story submitted by new and experienced big dreamers throughout the world, edited and published to capture a dream perspective from different points of view. Do you have a personal dream story to share with 8WomenDream readers? Click here to learn how to submit dream big articles for consideration.
Note: Articles by Guest Post Contributors may contain affiliate links and may be compensated if you make a purchase after clicking on an affiliate link.