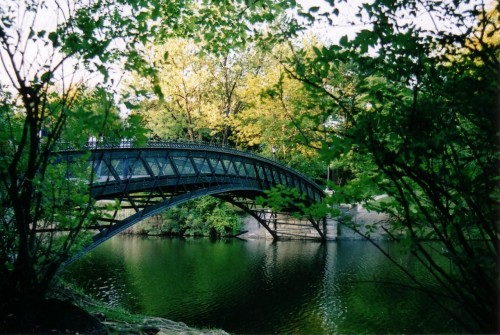 There is a high degree of serendipity in the little-bitty-city where I live. With fewer than 50,000 people living in Troy, New York, right alongside the Hudson River, generally within easy walking distance of one another, we all tend to bump into one another, reconnect, and make plans spontaneously.
A morning at the Farmers' Market can result in lunchtime and evening plans, and in realizing new dreams, just because you showed up and said hello to friends while shopping for the freshest organic lettuce.
Last Saturday was like that for me. I met up with one set of friends first thing in the morning to finish recording the audio track for a DVD celebrating Troy's Quadricentennial. They were getting together with other dear friends I hadn't seen in ages that same evening, so I called that second set of friends to say hello, and got invited to join in on the dinner plans.
I then dashed to the Farmers' Market to catch the last few minutes of shopping in the light summer rain before it closed at 1 p.m. There, I bumped into other friends I hadn't seen in a while, and they invited me to join them for lunch…
Sailing Into A Dream Vision…
We walked over to the Illium Cafe on Monument Square in Troy, right at the heart of the downtown. I sat across from an old friend, with whom I had collaborated on multiple community projects in the past. Don is the city historian for Schenectady, New York.
While I munched on roasted vegetables over greens, Don shared with me the latest of his successes, which included building an accurate replica of a Dutch ship from the 17th century. Don had the vision, years ago, to reconstruct New York's first ship from 1614, using the same materials and building techniques that were used back then.
Over the past three years, he managed to assemble a dedicated volunteer crew and donations in the millions in order to make this vision come to life. The ship is now on the water, and will be used as a floating museum for New York state history.
"You have to keep looking beyond the 'No,'" Don said. "It's natural that many people will be skeptical when you present them with a big dream vision," Don said. "You have to go beyond the "no's" and keep looking for the "yes's" as you build your "dream team."
Don could see it happening, held onto his beliefs, and stayed faithful to his mission. And, his dream came true.
Lunch, Dinner and A Movie
Don also presented an opportunity for me to live a lifelong dream of mine. He helped recruit a filming crew to shoot their next big dollar, Hollywood picture in Schenectady. The film crew is looking for 50 locals to play parts in the film, in addition to a few hundred extras.
I've always thought it would be fun to be in a movie (who doesn't want their moment on the big screen?). I'm going to submit my resume and head shot, because, well, why not? It could be a fun and once-in-a-lifetime opportunity.
I love it that bumping into friends at the Farmers' Market turned into lunch, which led to me auditioning soon for a movie role. If I hadn't met up with friends earlier that morning, and dashed to the Farmers' Market, late, I likely wouldn't have had lunch with these gang of friends, which resulted me learning about one big dream realized (Don's successful replica of The Onrust), and to another opportunity for me to live a dream.
I love serendipity.
Learning From New Friends
I also met a new friend, Irwin, through a long-time friend of mine, Greg, who also joined us at lunch. Irwin was at the Farmers' Market with his wife, Elise, and we were talking about his new job.
I told Irwin what I do, and he said that he had worked with a career coach for years, and had in fact just taken an exciting new job. He shared with me a formula for success that his coach had shared with him.
It really struck me as an important way to frame things. This was the formula that his coach shared:
Thoughts + Feelings + Actions = Results
I have used another formula with my life coaching clients:
Vision + Action = Dream Realized
Yet I realized that my formula was missing an important piece. Because if you don't truly believe in your dream, or think you will be successful, i.e. if you can't "see" it and feel it, it can be hard to make it a reality.
The world is full of challenges and obstacles to our dreams, and in order to push past them, we have to believe we can. As Don said, you have to get beyond the "no's."
And these include the "no's" in your own mind. If you have a vision, but don't really believe in it fully yet, or don't trust in your own ability to accomplish the dream ~ if you cannot see and feel yourself accomplishing it ~ it can be challenging to get it off the ground.
When we feel sure that we'll live our dreams, when we can visualize it happening, and when we already have mentally experienced that joy of what it will be like to "receive" and experience our success, a dream can almost take care of itself.
How To Feel Your Way To Your Dreams
This was such an important reminder to me that how we feel is also critical to living our dreams. If you are moving towards your dreams but feeling discouraged or hopeless, it's harder to muster up the energy it takes to put the extra time in, to summon creative inspiration, to push past obstacles.
So how can we cultivate that feeling of success and accomplishment? How can we continue to feel good in the face of challenges as we work towards our dreams?
I think it is a matter of knowing what helps us perform at our best, whether that includes exercise, meditation, eating healthy, positive thought affirmations, or other practices. I think that it helps tremendously to surround ourselves with a "Dream Team" of people who believe in us and who will cheer us on as we work towards our dreams.
And I think that it's important to regularly visualize ourselves achieving success, until it feels natural to imagine it. We can produce those feelings of joy and success within ourselves by seeing our dream as a reality already.
Finally, I think it's important to just do things regularly that make us happy. Our happiness is not frivolous. Being filled with joy in general in life also makes us more energized and ready to tackle whatever life throughs our way.
So if playing music, or dancing, or hiking in the woods, or being with children, or caring for animals, or gardening, makes you happy, then be sure to include that in your life regularly to help ensure your happiness, which will in turn help you live your dreams.
Be Happy First
The Law of Attraction teaches that being happy brings more happiness and more success. When we feel down we feel less energized and less willing to fight for our dreams.
When we're happy, we're ready to do what needs to be done to live our biggest dreams. And, life is fun in the meantime, which matters since it's all about the journey in the end.
To summarize, here is what Irwin's formula and Don's dream sailboat reminded me about living our dreams:
1. Visualize success.
See yourself living your dreams. When you can see it in your mind's eye, you can achieve it.
2. Do things that make you happy.
Cultivating our own happiness is a gift to ourselves, those in our lives and the world, because we're more likely to be successful and live our dreams when we are happy. Society usually teaches us that it works the other way around (we have to live our dreams in order to be happy) but I would argue that being happy often comes first.
3. Take action regularly.
Keep moving towards your dreams and they will eventually become reality.
5. Move past the "No's" to the "Yes's!"
In both your own mind and the outer world, keep presenting your dream vision and find those who will say YES to it. They are your Dream Team and can help you make it happen.
6. Work with your Dream Team to achieve success.
Here at 8womendream, we are fortunate to have each other as a cheering squad as we live our dreams. Surround yourself with positive people who help you make your dreams come true.
Can you envision realizing success for your biggest dreams this week? And remember to be happy and enjoy all the moments of your life ~ this too will help your big dreams come true.
Lisa

Lisa Graham is an inspirational writer, life coach, motivational speaker, and globe-trotter whose passion is to help others to find happiness and meaning their daily lives. A political activist at heart, Lisa would like to empower more women to run for political office as a way to create positive change in the world. You can find her on the Madam President Project.
Note: Articles by Lisa may contain affiliate links and 8WD will be compensated if you make a purchase after clicking on an affiliate link.